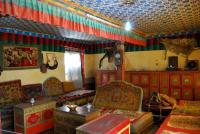 Ten minutes' driving from Gyangtse, Pala Manor is the best preserved manor of a slaveholder family in Tibet. It provides a valuable insight into the lifestyle of wealthy landed family who once lived here.
The former owner of the Manor was a Bhutanese chief named Pala who moved to Tibet with his family where in due course he became a local official. At the time of the Tibet Democratic Reform in 1959 he left Tibet along with the Dalai Lama to live in exile. Over the long history covering more than 300 years of the prosperity and decline of this big family, there were altogether five people who held the important post in the old Tibetan government. Benefited from their wealth and position, the Pala family held a number of manors and many slaves. However, only the Pala Manor in Shigatse is in a good condition and is now a tourist attraction that has proved to be popular with visitors from all over the world.
Today the Pala Manor still has 57 houses on an estate of 5000 square meters. The manor faces south and two tall poles carrying an abundance of sutra streamers stand before it. The main building is a three-storey structure which is richly decorated with exquisitely carved beams and painted rafters. The building consists of a sutra hall, drawing room, bedroom and a special hall purely for playing mahjong. Exhibits include examples of rare food, dish wares, rare wine and very precious fur clothes. Many sutra books and Buddha shrines which are still in perfect condition are also displayed here.
More Attractions in Shigatse
Recommended China Tours Including Pala Manor Shigatse