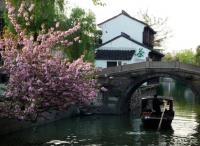 Located in the Wuzhong District, 18 km east of Suzhou, Jiangsu province, Luzhi Ancient Town is considered as one of the six classic water towns in Southern China. In 2003, the Chinese government published a list of "Ten Famous Chinese Historical Townships", with Luzhi featured on this list. In 2004, Luzhi was awarded a Township Preservation Award by UNESCO.
On entering into the ancient town, visitors will surely be impressed by the clear water, the peaceful environment and the scenic spots and historical sites that are spread all over the town.
Nine main ancient streets paved with cobble and granite runs in front of the houses, most of which were built in Ming and Qing Dynasties decorated with beautiful patterns on the walls. Beside the river are houses as well as ancient ginkgo trees which add color and luster to the streets of the town.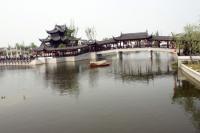 Luzhi is also called Bridge Town, as it is home to 41 bridges of the Song, Yuan, Ming and Qing dynasties, including large stone bridges with several arches, small stone bridges with one arch, wide arch bridges, narrow flat-top bridges and sister bridges.
The poem "Scene of Puli(the forename of Luzhi)", written by a Tang Dynasty recluse poet Lu Guimong who retired in Luzhi is still regarded as the most accurate description of the scenery in the ancient town. A walk in Luzhi is a walk into the ancient tranquil and serene atmosphere of the poem:
Long bridge short bridge with willows
Front stream rear stream with lotus
People watching banner over wine store risen
Seagulls escort boat to home of fishman.
More Attractions in Suzhou
Recommended China Tours Including Luzhi Ancient Town Suzhou