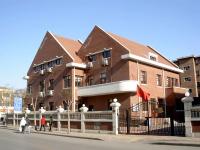 Renowned as "World Building Exposition", Five Great Avenue in Tianjin is the most attractive humanities tourism destination which fully shows the city's charisma and historical situation. Authentic western architecture that lines along the avenues in this British concession area makes the visitors feel as if in Europe.
Five Great Avenue refers to a rectangular region in the Heping District which is formed by five main streets crisscrossed: Machang Street, MunanStreet, Dali Street, Changde Street and Chongqing Street from east to west. In this former concession, there are 22 roads with a total length of 17 kilometers and a total area of 1.28 square meters.
Five Great Avenue really deserves the reputation of "World Building Exposition". According to the Tianjin Department of Historical Building Protection, there are more than 230 buildings of various styles, like the style of England, Italy, France, Germany, Canada, courtyard-style and Chinese-Western mixed style. Most of the foreign villas and mansions here were constructed during the late Qing Dynasty (1644-1911) when Tianjin became a colony of Britain. Since then, the Five Great Avenue area has been served as the most important social venue for expats in Tianjin and the starting point of the western lifestyle that later spread across the city.
Another reason for the reputation of western buildings in this area is more than 200 former residences of celebrities, including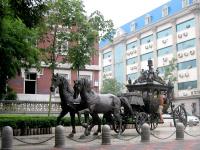 two presidents of the Republic of China, seven Premiers or acting Prime Ministers, famous educators Yan Xiu and Zhang Boling, well-known industrialists Zhou Xuexi, Li Zhuchen and Song Peiqing.
This area is free of charge and the best visiting time is between May and November, especially in autumn when the fallen leaves paved the avenues with romantic golden color. An illustrated map which contains detailed introductions to some of the oldest buildings is recommended to buy. The most characteristic visiting way of this area is horse-pulled carriages.
More Attractions in Tianjin
Recommended China Tours Including Five Great Avenues Tianjin