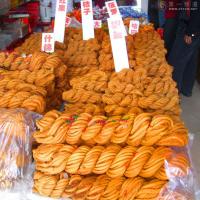 Tianjin culinary culture is well known throughout China, and not only the traditional Tianjin snacks, but the cuisines from other parts of China can also be found. Legend has it that Emperor Qianlong, the fourth emperor of Qing Dynasty (1644-1911) who ruled from Beijing, so admired Tianjin food that he even once awarded his yellow jacket, a symbol of honor, to his chef and appointed him a fifth class official. In Tianjin, you can see an endless array of flavors streets and restaurants, offering delicacies that captivate your senses.
Where to eat:
Nanshi (Southern City) Food Street
The food street is located in Nanshi (southern city), where the city's hustle and bustle is. An exquisite parade of palace-like classic buildings house over one hundred restaurants that offer luxury dishes, snacks and flavors of styles from all around the country.
Beitang Seafood
Tanggu District is quite famous for its seafood due to its proximity to Tianjin Port.
Tianjin snacks are famous in China, and the top three will be introduced here.
Shibajie Mahua
(fried dough twist in Shibajie Street)
It has more than 70 years of history, founded by a pair of brothers. Their original Mahua stores were located at Shibajie Street, hence the name. Each bar of dough is made with quality flour and then fried in peanut oil. For Chinese, it is a great souvenir from Tianjin. Since it can be preserved for 3 months, you can take some of this crispy specialty back home to share with family.
Goubuli Baozi (steamed stuffed bun)
With a history of 150 years, now it got its official name with "Go Believe". Compared with other Chinese buns, the restaurants pay great attention to the selection of materials, preparation of dough and appearance of buns. It is so popular that you must try it while there, otherwise, you are believed to visit Tianjin in vain.