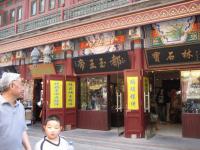 Best travel time Tianjin
Tianjin has semi-moist continental monsoon climate with four clearly defined seasons. The hottest month comes at July, with temperature above 26 C (79 F) and the coldest month is January, with temperature below -4 C (24.8 F). The end of spring and beginning of fall are the best time to travel around Tianjin, with moderate and comfortable climate.
Tianjin Safety Tips
Tianjin is a rather safe city like the other cities of China, just watch out your belongings at public transportation or scenic sports since pick-pocketing has been reported.
Follow the locals when crossing the road and don't take unnecessary risks.
When taking the taxi, ask the driver turns on the meter or you will be asked to pay more you than you expected; if he refused, just ask for a stop and change to other cab.
Tianjin Shopping Tips
Whatever you are looking for, modern commodities or local craft works, Tianjin can fulfill your desire: Binjiang Dao Business street and Heping Lu business street are the busiest and most prosperous shopping center, with famous or chain stores available.
Gu Wenhua Jie is a particular venue holding kinds of ancient stores and local craftworks, with traditionally designed buildings line either side of the street. Representative Tianjin craft works are Zhang's clay figurines, Yang Liu Qing New Year Paintings, Gui Fa Xiang Ma Hua and other Chinese arts and crafts.
Eating in Tianjin
Tianjin cuisine has both traditional and modern features, sometimes incorporating touches of ancient bunchberry fruits.
There are several Tianjin snacks are famous around China: Shibajie Ma Hua (fried dough twist), Goubuli Baozi(steamed stuffed bun) and ear-hole fried cake, thin pancakes and so on. Most of the local snacks could be found on Nanshi Food Street
Nightlife / Entertainment in Tianjin
Tianjin boasts several famous recreational art forms, such as cross-talk, Jingyun Dagu and Tianjin Kuaiban; and these traditional performances are available in some local theaters.
Modern entertainment centers like Bars, cafes, pubs are easy to find.