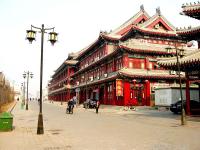 Yangliuqing is a millennium ancient town which lies in the western suburb of Tianjin. It is famous for the unique craftsmanship of New Year pictures and the old residence Shi Family Compound.
Yangliuqing New Year picture
Hailed as a treasure of traditional Chinese folk art, New Year picture is a delighted art form among Chinese people especially in countryside in the history and usually are pasted on doors, windows and walls as decorations during the Spring Festival to wish a propitious year. Characterized by the combination of block print and colored hand drawing, the Yangliuqing New Year picture is the first of the Four Chinese Wood Engraving New Year's Paintings, boasting for its distinctive art features, wide range of subjects, rich and complicated content and auspicious implied meaning.
Yangliuqing Town is an old timer in making of New Year Paintings with a long history of over 600 years as early as in late of Yuan Dynasty (1206-1368), and has reached its prime in Qing Dynasty (1636-1911) when the works were sold to various regions over the country. Even today, there are about two fifths of the residents in the town still operate this painting business, offering various galleries and workshops that enable tourists to appreciate local New Year paintings.
Shi Family Compound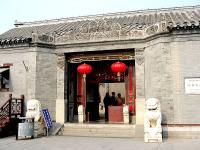 The Shi Family Compound in Yangliuqing Town was the old residence of the Shi family, covering an area of 6,080 square meters. As one of the eight prominent families in Tianjin in the Qing Dynasty, the Shi Family Compound was also called the "No.1 Mansion in North China". Built in 1875 in the late Qing Dynasty, the compound has four rows of buildings of antique flavor boasting exquisite brick, wood and stone carvings.
Now the compound has been transformed into Yangliuqing Folk Customs Museum, displaying folk art folk customs of Tianjin, including Yangliuqing New Year paintings and brick carvings, which are the most attractive artworks in the courtyard.
More Attractions in Tianjin
Recommended China Tours Including Yangliuqing Ancient Town Tianjin