Crucial Safety Tips for Seniors Travelers to China
China Senior Travel Tips Crucial Safety Tips for Seniors Travelers to China
More and more international travelers come to China for their holidays, which made it the fourth most popular destination in the world in recent years. Generally speaking, China is an extremely safe country to visit. There were very few violent crimes against foreigners. The ladies can walk alone at night without any problem. Therefore, there is no need to worry if you plan a trip to China. Here we would like to give you some useful advice and tips for senior travelers to China, so that you can protect yourself and stay safe and healthy while traveling in China.
Tips for safe senior travel in China:
1. Travel Insurance
The travel insurance is essential to all the travelers, especially the elderly people, who are more at risk of falling down, getting sick, or needing emergent medical care during their trip away from home. Please consult different insurance companies or your travel agent to find the best plan for your trip. Even the best planned trips and vacations don't always go as planned. If anything goes wrong, a good insurance plan with full coverage can get you out of the troubles soon. Keep the documents and contact with you all the way during the senior trip to China.
2. Plan in advance
For the elderly travelers, traveling to a country like China needs good preparation, after all, there are loads of differences between the country and rest of the world. So plan in advance, you will have enough time to look for an ideal travel agent, who knows about China and can offer valuable advice and elder assistance during the trip plan, so that you will learn as much as possible and get ready before landing on the mysterious land.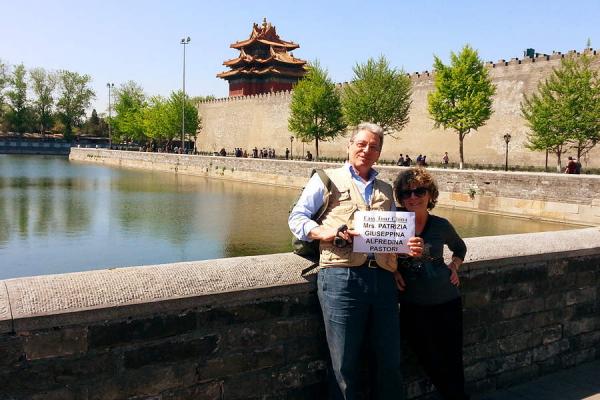 3. Air travel
Air travel is the most popular and convenient mode of transport, especially for the long-distance journeys. For your safety and comfort, senior travelers are suggested to consider the direct flights and avoid those connecting ones, which may stop a couple of times at those unfamiliar airports for international transit. You have to catch another flight in a limited time. This is not that easy sometimes for elderly people. If no direct flight is available, then request the flights with more transit time, therefore, you don't have to be in a big hurry. The same policy should be applied to domestic air travel and train travel.
4. Accommodations
It is important to select a hotel that suits senior travelers' needs. There are so many options available. You should obtain adequate info before booking an accommodation. Ask the hotel or travel agent to arrange a room close to the elevator if you can't walk very far, or a room at the lower floor if without an elevator. After you enter the hotel room, don't leave the valuables in the hotel room, and lock them in the safe box when going out. When you leave the hotel on your own excursion, keep a hotel card in case that you can't find the way back, or you can simply use your smart phone to take a photo of your hotel with its name on it. Easy Tour China has experience of arranging private China tours for seniors tourists for over 20 years, we offer a selection of hand-picked senior-friendly hotels.
5. Food issue
China is a paradise for gourmet, its vast territory offers you varieties of food options from east to west and north to south. The seniors tend to have more sensitive tummies, while some delicious Chinese dishes are quite oily, spicy or salty, which may cause unwellness and pain of stomach and intestines. A good health is the basis of a smooth trip. The elderly travelers in China are suggested to take on relatively restricted diets, just keep the heavy, spicy, greasy food to the minimum.
6. Airport and Train Station
When international visitors are traveling in China, they are amazed by the grandeur and crowdedness of the airports and train stations. For the elderly with limited mobility, try to take full advantage of special transportation services offered by airlines and trains to board and alight safely, often via wheelchair. You can tell your travel agent about your request, if the service is available, they will arrange it for you. In the busy places like the train station, keep cautious. There are no many acts of stealing in China now as more and more Chinese don't carry cash on hand, but pay by mobile phone. When in a busy spot, you still need to keep your belongings safe, and be cautious of the strangers close to you.
You may be also interested in:
Flying with a Power Wheelchair in China – Air Travel Tips
ETC Starts Wheelchair Simulation - Disability Awareness Training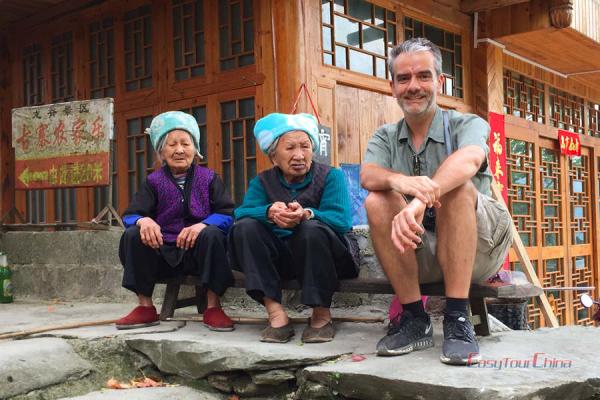 7. Medication
For senior travelers to China, medical supply is also a must-pack item like cash and passport. You may prepare two dosages of medicines: one set with you in the carry-on bag, another set in checked luggage. Please also check with your doctor whether the medicines are safe to go through the metal detector. If you have a pacemaker or other medical device on the interior or exterior of body, don't forget to keep the medical device ID card with you during your China trip. You are also recommended to write down the names of any essential medicines on paper (2-3 copies) in case that you need to buy them in China, both the brand name and generic name.
8. Other Miscellaneous tips
If you have a smart phone, it is recommended to have a translation APP like Google Translate, Microsoft Translator or Waygo installed in your smart phone, which you can use it offline. So when you get stuck somewhere and need some help from locals, you can use your phone to communicate with Chinese people.
Wearing a pair of comfortable shoes during the trip is a must, which can protect your feet and ankles during the walk. Some parks in China are quite big with many stairs, like the Great Wall, the Forbidden City.
When you walk along the street, someone comes up to you and likes to practice English, he/she might be a student or avid English learner, or possible not. If you are asked to go to any place you are not sure like art gallery, handicrafts shop, KTV or bar, please decline his/her invitation. It can be scam awaiting you there.
Consult your travel agent to book an escorted tour package to China at a good season: not too hot or cold, less chance of rain, which will make your visit smoother and reduce risk of illness. Try to avoid the holiday season of China like the first week of October, all the places of interest are packed with Chinese tourists.
Related Reading: