Travel Tips for Senior Citizens: Must-knows for Seniors Traveling in China
China Senior Travel Tips Travel Tips for Senior Citizens: Must-knows for Seniors Traveling in China
Walking on the Great Wall, observing the Terra-cotta Warriors, cruising down the Li River, and so on, all these scenarios in the mind inspired millions of visitors from other countries to come to China. Seeing is believing. Only when you set foot on this land, will hands-on knowledge of the country accrue to you, which might not be what you expected and imagined at home. As a China-based tour company, ETC's mission is to help international travelers to see an authentic China, a unique and distinctive civilization well existed for 4000+ years.
After all, China is a country with a different cultural background and language, it is not so easy to explore a vast and strange country for the travelers in their golden years. Here we list some tips and must-knows for seniors before and during the trip to China.
Before your trip to China:
■ Insurance
Nothing is worse than to be in a foreign land and find yourself in a situation where you run out of medication and not knowing what to do. For senior travelers, please pay close attention to evacuation insurance, which covers the substantial expense of getting you to adequate medical care in case of an emergency.
■ Get ready for the trip physically and mentally
To understand your health condition, a physical exam is recommended, especially for those who will take a 2-week or longer trip to China, or visit some specific areas like high-altitude Tibet and extremely cold Harbin in winter. Do some proper exercises before departure to keep your body in a good condition. Gather adequate information before the journey from your tour planner and other sources (friends, books, internet, etc.). Get mentally prepared so you will have less stress/anxiety and better enjoy the holiday.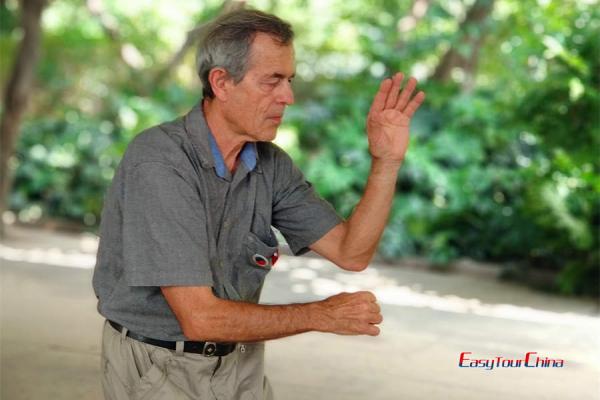 Tips of planning a trip that suits you well
■ Book in advance
Don't make your reservation at the last minute. So you will have enough time to exchange ideas with your travel agents, compare and settle down what tour you will have. Or you can ask a close family member help you to make the reservations if he/she really knows about you. If you book a China tour package for seniors with us, we'll make your trip smooth, satisfied and a life-time experience.
■ Traveling during the right time of the year
As a tour destination, China is much bigger than most of the countries on this planet. The altitudes, topography and climates of the country vary considerably from place to place. Generally speaking, September and October is the best season to come thanks to the mild temperature and better chance of good weather. Just avoid coming during the first week of October, which is the National Day holiday for Chinese. It is over-crowded everywhere.
■ Duration of your holiday
According to your physical condition and interest, you can simply select some of most notable destinations in the country like Beijing, Xian and Shanghai, plus 1 or 2 featured cities Chengdu or Guilin/Yangshuo. The duration of your trip is usually recommended to be less than 2 weeks, unless you are sure that you can manage a longer journey (or your doctor says OK to it)。
■ The idea of slow travel
For the elderly travelers, it is not necessary to make your trip a hectic and exhausting one, especially in an unfamiliar country. Don't attempt to squeeze as many places as possible into your holiday. If it is a tour of more than 10 days, one or half relaxing day in the middle of the journey is a good choice for you. Simply sleep in and enjoy a brunch with your beloved one. This can be a perfect break during your trip and get yourself recharged.
>> You may be also interested in Top Destinations in China for Seniors and Retirees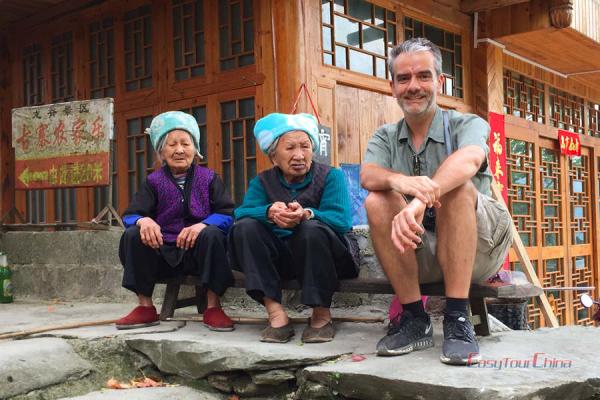 ■ Specify your expectation
Different people have their own demands and expectation towards their trips. It is important for senior travelers to fully discuss with the tour planner about your interests and preferences like hotel, food and mode of transport, etc. It will be really helpful to create a successful trip that meets your needs.
■ Visa application
Visiting China requires a visa for most foreigners, which is typically a single entry visa with duration of 30 days. If you will go to Hong Kong/Macao from Mainland China, then back to Mainland China. Then you need a double entry or multi-entry visa. Under the policy of "One country, two systems", travelers will pass through the customs and border check at the land ports between Mainland China and Hong Kong.
At first, you can search online to find the China's embassy or consulate which serves your residence area. Download a form to fill in and prepare other documents needed. For those elderly applicants, if you are tired of handling the red tape, it is also possible to authorize a visa service center to do it for you and pay for an extra fee.
■ Packing and others
Have a pack list before packing up. We suggest that you may pack light with less mental and physical burden, which is much easier for you to travel in a huge country like China. Generally speaking, the airports, train stations and scenic spots in the country are probably bigger than you could imagine. So rollaboard suitcases (wheeled) and backpacks are recommended. Laundry service is available in most of the hotels accommodating international travelers.
For those travelers with pacemakers or ICDs, ask your doctor to figure out whether it is safe to be checked by the metal detectors or hand wands. Take your medical device ID card with you and tell the security personnel that you have an ICD or pacemaker, and request an alternative way of inspection.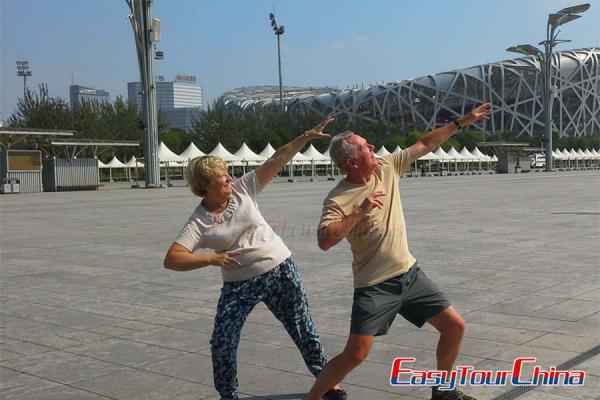 For the sakes of safety and convenience, it is recommended to put your important medications into the carry-on, instead of checked luggage. Make sure to bring some extras for your trip because travel arrangements could change; in case that the medication could be lost or stolen, keep a paper note with the names of much needed medicines you take and their dosages, even the brand and generic version.
During your trip in China
■ Tiredness/Jet lag after long flights
For international tourists, it is common to travel across several time zones to reach your destination from home, which can be truly exhausting. The difficulties in resting properly, lack of exercise and water supply on flight can possibly result in some discomforts in the body, especially for senior passengers. Some travelers are prone to leg swelling, wearing compression socks or stockings may ease the symptoms. Selecting an aisle seat, every 2-3 hours you can stand up or walk around when possible. To rest well and keep warm is a must during the long-distance flights. This will ensure you a good start of your trip in China after landing.
■ Pay attention to the travel rhythm
Before getting absolutely worn out, you need to keep a good pace of your trip. Don't make the tour programs too strenuous. It usually takes more time for senior tourists to get fully refreshed. Let your guide know your feeling whenever is beyond your capability. You can ask for a siesta, or give yourself some down time to relax. Don't risk your health while traveling abroad.
■ Stay connected with your beloved ones at home
While traveling in China, you can't access Facebook, Twitter, Gmail, Instagram and many other websites as they are all blocked. So you have to purchase a VPN service and install an APP on your smart phone. Then you can remain connected with those living out of the country regularly during your journey. Or in China, there is also a recommended APP available for instant communication purpose: Wechat. You need to register an account at home with your mobile phone number, and log in whenever internet connection or WIFI is available. Your travel consultant in ETC can help you with that.
■ Pick the senior-friendly hotels to stay
With the 40 years of rapid development, China witnesses the dramatic change in every field. You will have loads of accommodation options in big cities, there are even some cozy boutique hotels in the remote areas. For international senior travelers, you are recommended to stay at 4-5 star hotels, which can provide adequate amenities and safety guarantee. Most of the 3 star hotels or lower can't offer a decent breakfast, which is important to Western tourists. Staying at a family-run small hotel or inn in the countryside is also a good idea in certain areas, a perfect way to appreciate the local culture and lifestyle of Chinese farmers. Just make it clear if it is equipped with an elevator, and ask for a room close to it or on a lower floor, so you don't have to walk much.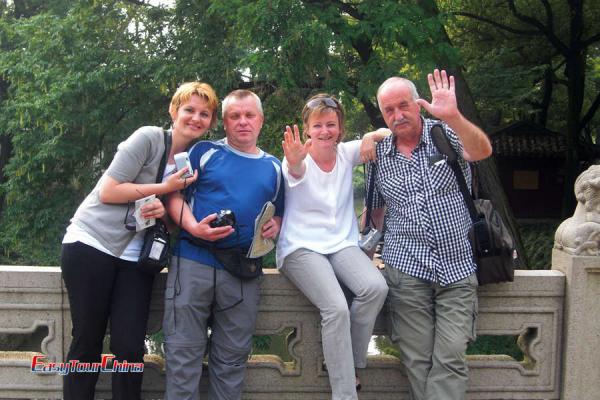 ■ Watch what you eat in China
On many occasions senior tourists tend to have more sensitive tummies and are frequently on restricted diets. China is well known for its culinary culture. Countless food options will never let you down. Sometimes it is quite hard to resist the food temptations while away from home, but doing so could have undesirable side effects. Better not eat the street food, which may upset your stomach and ruin the whole trip. Try to keep the heavy, spicy or greasy items to a minimum.
Wearing a pair of comfortable shoes during your trip can reduce the risks of discomforts and impairment on your feet, especially after a long walk during the day. The walking shoes (or flats) can help elderly travelers to keep steady on their feet. Heels, even small ones, can make you more prone to spraining an ankle or falling. During the hot days, drink more water (bottled) to prevent dehydration, and wear loose, breathable, fast-drying clothes. The sunglasses, hats and sunscreen lotions are also good to protect yourselves while traveling in China.
Further reading: