According to the recent surveys, if conditions permit, the majority of retirees anticipate annual after-retirement trips, no matter travel domestically or go abroad. Age can never remove the wanderlust hidden deep in the heart of senior travelers. It may not necessarily be a big journey or adventure, just something new, inspiring and educational. For different people, adventures are different. In China, there are loads of travel adventures for seniors, which will definitely excite and amaze you, and broaden your horizons from its magical civilization.
Once you have the time, stamina, and budget, put China on your travel list and make plans. Here below are some China adventure ideas for retirees and senior travelers, who want to have a more active journey with in-depth experience of this country. >> Check directly our private China tours for seniors
As the travel icon of China, the Great Wall is one of the most popular tourist spots in the world. If you are of more active and adventurous type, then do not have to see the sections packed with other tourists. The Great Wall hiking tour is a perfect solution for you to appreciate the man-made wonder in a different way by walking along the wall from 1 up to 5 days. You will have chances to see the ancient architecture in the wildness, stay overnight at local farmer's guesthouse or countryside inn, taste the organic food grown locally and enjoy the mesmerizing view of starry sky above the wall.
Please visit ETC webpage at China Great Wall Tours, our travel specialist will customize a Great Wall hiking trip for the elderly to suit your needs based on your physical condition. Please also note that the Great Wall adventure can be a small part of your China trip, after all, there are so many interesting spots available in the vast country for your exploration.
Hiking and cycling in Guilin/Yangshuo
Many people believe that the Chinese landscape paintings were inspired by the sceneries in Guilin. Its neighboring small town Yangshuo has not only the stunning limestone peaks, but zigzagging paths among the hills, which are wonderful walking and cycling trails for senior travelers. Right here, you can spoil yourself in fresh air, feast your eyes with lush vegetations, tidy cropped farmlands, tooth-shaped peaks, peaceful and clear rivers, etc. For senior travelers, it is really worth a stay for a few days, so that you can walk or ride a bike to the middle of nowhere to fully enjoy the best view of the area.
You may consider the following trips if you plan to visit Guilin and surrounding areas:
3-day Guilin Biking Tour.for seniors, more bike tours all over China at China Cycling Tours.
Guilin Hiking Adventure for seniors, more tours to different parts of China at China Walking Tours.
We can also combine mixed experiences of hiking and cycling in one trip upon your request.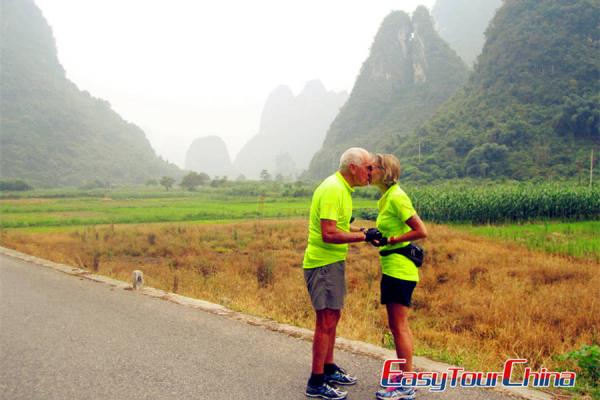 Giant Panda Volunteer Program
Giant Panda is another important icon of China besides the Great Wall, and it is also a symbol for global wildlife conservation efforts. Travelers at all ages, including the elderly people, would love to see the adorable creatures in China. To help people better understand the animal, the giant panda volunteer program has been launched at some Panda bases, in which you will have a chance to work as a keeper there to clean the animal enclosure, feed them, clean the bamboo leaves and make panda cakes, besides, you will watch a documentary of giant pandas and explore the museum to learn more knowledge. This is a special experience for retiree travelers while in China.
Please visit our website for more details: Panda Volunteer Program at Dujiangyan Panda Base.
Attend a Miao's festival in Guizhou
Nestled in the mountainous area of Southwest China, Guizhou is less known outside China. Home to 17 ethnic groups, the province boasts diversified cultures. Due to the inaccessibility until the early 1990s, old traditions and customs have been well preserved as they were hundred years ago. Take an adventure to Guizhou and Attend a festival of ethnic people, which is absolutely an amazing experience for senior travelers from other parts of the world. For example, the Sister's Meal Festival and Lusheng (kind of reed pipe wind instrument) Festival of Miao, New Year of Miao and Dong, etc, magnificent celebrations will be held in the towns and villages of ethnic people during these festivals. You will be invited to join them and enjoy the great fun with locals. Besides, you can witness the local elderly people's way of living.
Here below are some sample trips for adventurous retirees:
Lunar New Year Festival Tour in Guizhou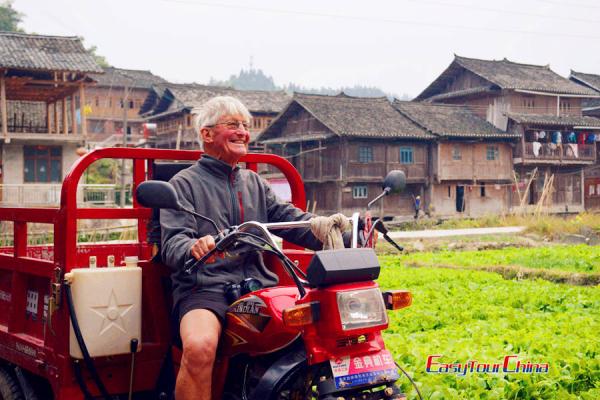 China cultural adventure with immersive cultural courses
Seniors can also be avid learners. Nowadays the hottest new travel trend for the retirees is to integrate a learning experience with their holiday while traveling. China boasts a long history and diversified culture, where offers countless chances for learning. You may choose to have a course of language, cooking, calligraphy, painting, Tai Chi, even making local handicrafts. They are not necessarily a formal class, as long as you can get involved in and enjoy the fun with an open mind. Apart from the tourist spots, these activities during the trip will surely add more flavors to your life.
In different cities, there are different featured educational and cross-cultural experiences for senior travelers like language courses in Beijing, making dumplings/noodles and calligraphy course in Xian, painting and Taichi course in Yangshuo, etc. Please check with our travel specialist for more details.
Further reading: