The Great Wall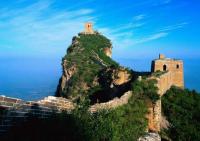 As a symbol of China's history and heritage, many foreigners believe that the trip to China is not complete without a visit to the Great Wall. Some even bought the "I climbed the Great Wall" T-shirt as a fantastic souvenir to bring home.
The Great Wall of China is a series of stone and earthen fortifications in China, built, rebuilt, and maintained between the 5th century BC and the 16th century to protect the northern borders of the Chinese Empire during the rule of successive dynasties. It originated from several separate walls built by the small kingdoms to protect their own territories during China's Warring States Period (475-221 B.C.). After the whole country was unified in 220 B.C. by the first Emperor Qin Shi-huang, he ordered his general Meng Tian to force 300,000 labours to extend and connect the north sections of these walls to keep away the invasion from nomadic tribes.
At the successive dynasties like Han (202 B.C. - 220 A.D.), Ming (1368 - 1644 A.D) dynasties, large scale of constructions were implemented as the diplomatic relations with northern nomadic tribes remained unfavourable or instable.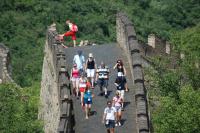 Like a huge dragon, the Wall (built in Ming Dynasty) winds its way through deserts, basins, plains and mountains of North China extending over 6,350 km (3,947 miles), from the bank of Yalu River (cross-border river with North Korea) to Jiayuguan of Gansu Province. In Chinese, the Great Wall is called Cháng-chéng, literally "long wall"; or Wàn-lǐ Cháng-chéng, literally "The long wall of 10,000 Li (Chinese unit of distance 2 Li=1 km).
No matter what to say, the Great Wall is the world's longest human-made structure, it is also the largest human-made structure ever built in terms of surface area and mass.
The most famous remaining sections of the Great Wall today were mainly built in Ming Dynasty, which were better preserved compared with other older walls. Many of them are located in the north of Beijing like Juyong Pass, Badaling, Mutianyu, Jinshanling and Simatai.

Badaling Great Wall Section
Badaling Great Wall is the most well-preserved and the most visited section of the Great Wall. It was reconstructed during the Ming Dynasty (1368-1644), commanding a strategic position for transportation and defense in ancient times. Badaling Great Wall is 3,741 meters long (2.3 miles) with an average height of 8 meters (26 feet). The highest point of it is about 1,015 meters (3,330 ft) above sea level. It was the first section of the Great Wall to open for tourism in 1957.
>> More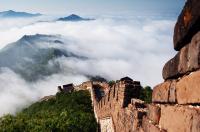 Mutianyu Great Wall Section
Located 43 miles (70 km) northeast of Beijing, Mutianyu Great Wall is 1.4 miles (2,250m) long, 26 feet (7-8m) high and 20 feet (4-6m) wide. Its specialty relays on 22 blockhouses and watchtowers on it. Climbing up into a number of watchtowers, tourists can have a bird's eye view of the snake wall and its surrounding area.
>> More

Jinshanling Great Wall Section
Located 125 km northeast of Beijing,Jinshanling Great Wall is a bit more remote and isolated than the standard and crowded sections of the Great Wall like Badaling. It is 10.5 km long with 5 passes, 67 towers and 2 beacon towers. The Jinshanling section was built from 1570 CE during the Ming Dynasty. Different from other sections of the Great Wall, Jinshanling Great Wall located in the mountainous area in Luanping County.
>> More

Simatai Great Wall Section
Unlike the Badaling and Mutianyu sections of the Great Wall, Simatai section is more authentic.
It has not been renovated or restored since it was built 500 years ago. Thus, it is the only section of the Great Wall that retains all the original features of the Ming Dynasty wall. Date on which they were made and the code numbers of the armies that made them can still be seen on the bricks of Simatai Great Wall.
>>More

Recommended Tours including Great Wall Beijing:
12 Day China Tibet Tours
20 Day China Odyssey Tours
15 Day China Impression Tour with Yangtze River
13 Day China Delight Tours for Families

More Attractions in Beijing
Recommended China Tours Including The Great Wall Beijing
Tianjin is an another dynamic metropolis near Beijing, and a large industrial and commercial city north China. In this ...

Through this tour, you will first have an overall exploration in the amazing highlights in Beijing, and then fly to Gu ...

This gold triangle tour is specially designed for women, which includes the must-visit sites in Shanghai, Beijing &amp ...
Google Search
Find something useful to you at Easy Tour China website.