There are various snacks in Zhangjiajie, where is the home to Miao and Tujia nationalities. So the local dishes are usually quite spicy like other parts of Hunan Province, and people love pickles as well in their daily life. Apart from the two features, they like the smoked meat and fish very much. The most famous dish in Zhangjiajie is Sanxiaguo, which made from preserved pork, radish and tofu. It is a must try when you travel at Zhangjiajie. One thing to be note here is the food at secnic area always more expensive than those served in Zhangjiajie city.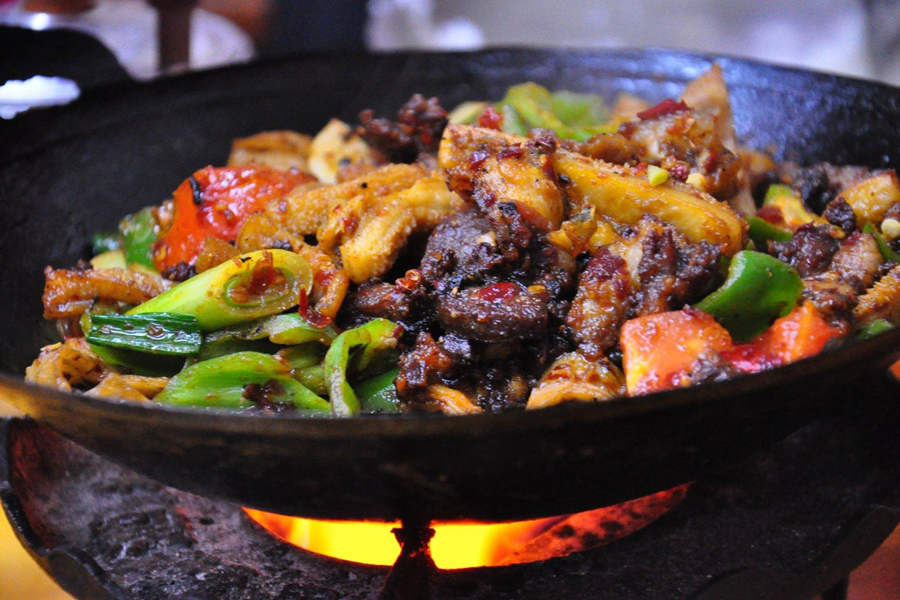 Tasty Zhangjiajie Local Foods
1. Tuannian dish
It is a dish and also called He dish that is made of boiled radish, bean curd, cabbage, shallot, pork and chili. The dish is meaningful and symbolizes harvest and the reunion of family.
2. Sangzhi salted dried bean curd (yan dou fu gan)
It is the famous local specialty made of dried tofu. It has been considered to be very good skin-care food. Since 300-400 years ago, it has been transported to the markets of major cities like Changsha, Wuhan, Guangzhou and even Beijing, and earned a fame nationwide.
3. She rice meal
The major material is sticky rice steamed with smoked meat, wild tarragon and other local wild vegetables. For Tujia minority ethnic group, it is not only for their family but also regarded as a great gift for their friends. It is also a traditional herbal meal for the locals.
4. Pueraria powder
Pueraria powder is a kind of pure natural nutriment extracted from the vine Pueraria lobata. It is rich in Kuzdu vine element, many kind of trace elements such as biological soda, protein, Fe, Zn and ca and many kind of amino acid.Pueraria powder has many good function, such as clearing heat and detoxication, promoting the secretion of saliva and quenching thirst, delaying ageing and beautifying skin, etc. Fried pork with Pueraria powder is a special dish in Zhangjiajie. First of all, mix the pueraria powder into a paste, cool it, then cut in into slices and stir fry it with local dry-cured meat. You can taste this special dish at local Tujia restaurants and the restaurant at Zhangjiajie National Park.
5. He Zha
He Zha is a typical Tujia dish, also know as "lazy tofu". Tujia people has a special attachement to Hezha, especially during wartime. Due to the extreme lack of food, Hezha saved many people's lives. The method is to soak the dry soybeans in water for one night, and then grind them into slurry with some water, add some minced green vegetable leaves after boiling, a pot of delicious Hezha is ready.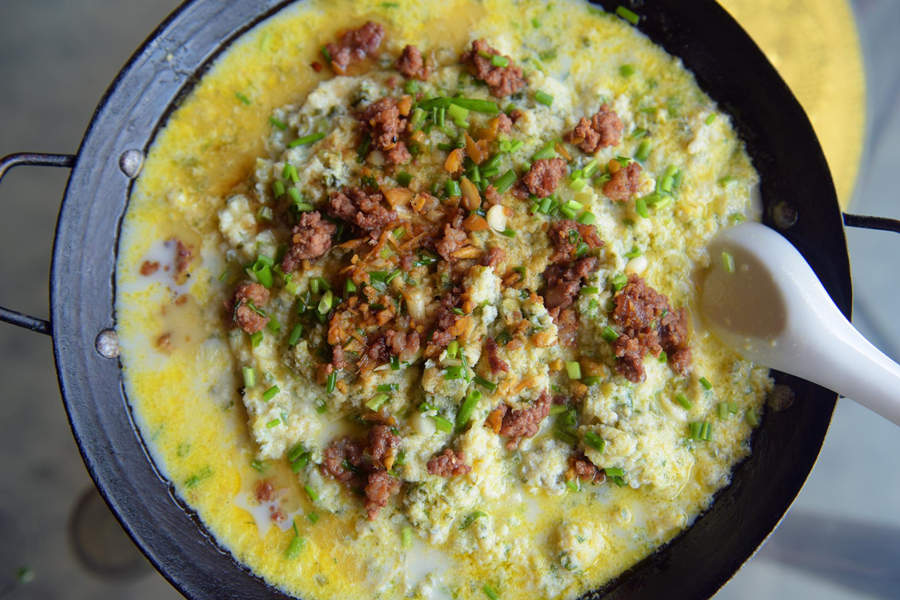 6. Tujia wine
The local ethnic Tujia people are expert in making all kinds of wine. Tujia wine can be made from a wealth of materials, for example, brewing from sticky rice, corn, wheat and sorghum.
7. Chinese gooseberry
It is a kind of famous and great fruit in Zhangjiajie. When the harvest season is coming it is handy to pick Chinese gooseberry in the mountainous area. It tastes fragrant and sweet and is good to health care, because it is rich in vitamin C.
Famed Food Street or Area
It it great pleasure to visit Zhangjiajie to taste the numerous flavor snacks. Xibu street is a large-scale commercial pedestrain street in Wulingyuan District of Zhangjiajie, which is full of Xiangxi (west Hunan) characteristics. You can taste special snacks from all over China. The food street is located on the second floor of the central area of Xibu street, covering an area of 2,500 meters, which brings together famous snacks of Hunan Province and other regions of country. If you are just travel in Zhangjiajie city, you can also go to a place called Sanjiaoping, where many local people come for supper. Here you will have chance to taste very authentic local dishes, such as sour fried fish, Sanxiaguo, Hezha and so on. If you have enough time, take a leisure walk to the adjacent pedestrain street also a good choice for food exploration.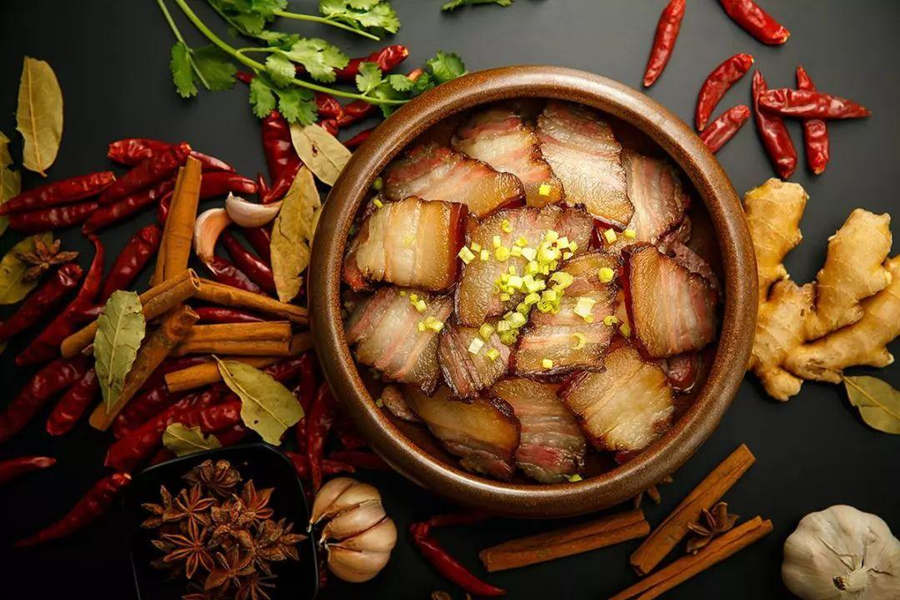 Recommended Chinese Food Restaurants
He Tian Yuan Restaurant
Near Tianmen Primary School, Guanli Road, Zhangjaijie China
Tel: 0744-2817799
Tang Shi Fu Tu Jia Shi Fu
WuLing Yuan District Wuling Avenue, Zhangjiajie China
Tel: 0744-5615089
Qian Liang Hu Shi Fu
YongDing District Daqiao Road 24, Zhangjiajie, China
Tel: 0744-8327777
Zhai Zi Li De Bo Bo Cai (Wulingyuan)
156 Wuling Road, Wulingyuan District, Zhangjiajie
Tel: 0744-5958666
Recommended Muslim Restaurant
Muslim Restaurant
No. 151 Wuling Road, Zhangjiajie China
Tel: 15907449412
Recommended Western Restaurant
Wulingyuan Mr. Cat Restaurant
No. 18 Tuofeng Road, Wulingyuan District, Zhangjiajie, Hunan, China
Tel: 0744-5555660
FA Restaurant
The Octagon Building, Shanshui Yinxiang Fountain Plaza, Dayong Road
Tel: 0744-8881314