In the northwest of Hunan province, there is a city being well known for its stunning landscape. Zhangjiejie, as a new-born hot destination, attracts more and more tourists home and abroad every year. Tourists come here to hike, to explore the Avatar world, to immerse themselves in nature, to witness the man-made wonder… We all know the natural scenery in Zhangjiajie is the highlight. When you are planning a Zhangjiajie tour, you may have some questions. How about the food? What is the culture in Zhangjiajie like? If there anything tourists can do at night? To find out the answers, please continue to read this article.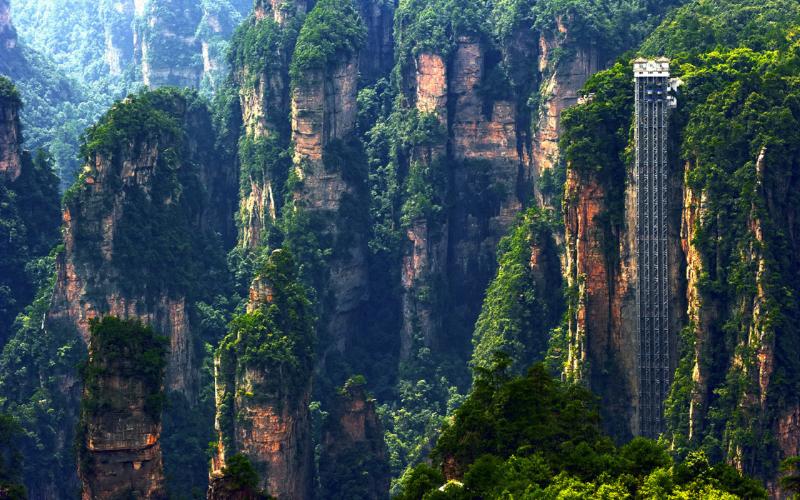 Zhangjiajie Best Travel Time
The mountainous surroundings make Zhangjiajie attractive all the year around. It has subtropical and monsoonal climate with plentiful sunshine and rainfall, summer is not hot nor winter not too cold, with annual average temperature at 16.8 C (about 62 F).
Literally speaking, the best time to visit Zhangjiajie is from April to November, and the best months are considered to be April, May, September and October, when the oddly-shaped mountains are at its most beautiful time, with mild climate. But, it's important to avoid China holidays and students' summer vacation when Zhangjiajie must be overcrowded. Knowing some weather information will be helpful to plan your Zhangjiajie tour.
How Many Days Should you Spend in Zhangjiajie?
You are suggested to spend 3 to 5 days for an essential Zhangjiajie trip. You can visit the must-see sights, including Tianmen Mountain National Forest Park, Zhangjiajie National Forest Park, Zhangjiajie Glass Bridge while taste some local specialty foods. If you are ancient town lover as well, the Fenghuang Ancient Town and Dehang Ancient Town are great choices but more days are required due to the hrs driving distance.
>> Recommended China Zhangjiajie tour packages: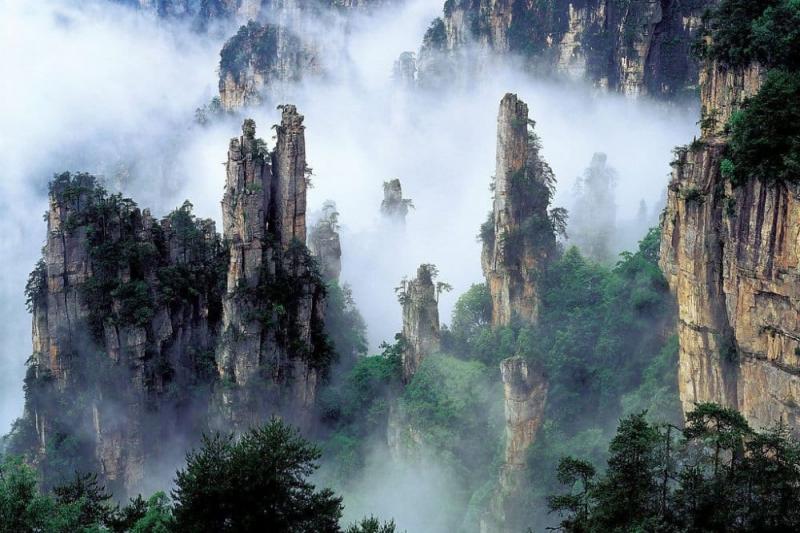 Zhangjiajie Safety Tips
1) Like other cities in China, Zhangjiajie is generally a safe place to visit. Just be careful about your belongings in crowds. Pickpockets are more common during holidays when you are on public transportation and some of the crowded resorts.
2) Watch out for the wild monkeys. They sometimes rob tourists for food. The monkeys do not afraid of tourists at all.
3) As Zhangjiajie is mountainous region, before reaching there, you have to take necessary safety precautions.
4) Be ready for the long waiting lines and try not to push and avoid potential safety issues.
5) Normally Zhangjiajie is also very safe at night, but it's better not to hang around at very late night.
How do you get around Zhangjiajie?
Zhangjiajie is a young city and due to its geography reason, its traffic capacity and convenience is not like other large cities.
Flight:Zhangjiajie is linked with some China cities with domestic flights and regular train lines, such as Beijing, Shanghai, Xi'an, Guangzhou, Chongqing and so on.
Train: High speed train between Chasha South Station and Zhangjiajie West Station has operated since the end of 2020. The train takes around 3 hours, at least one hour faster than normal trains. From Changsha, the capital of Hunan province, you can have more choices to other main cities of China via either flight or train.
Bus: Bus to Fenghuang Ancient Town is available from either Wulingyuan Scenic Area (only one bus at 8.50am in the morning) and Zhangjiajie Center Bus Station. It takes around 3 hours for the bus journey.
It is still not that satisfactory on Zhangjiajie's transportation system, but your tour consultant will always find you a solution to fix this pearl into trip plan.
Zhangjiajie Shopping Tips
Zhangjiajie, is a prefecture-level city in the northwestern part of Hunan Province, as well as an uprising tourist city. There are a wide variety of tourist products with local characteristics. Here are some unique things Easytourchina recommended to buy in Zhangjiajie, Tujia Stickup Picture, Tujia Brocade and Guiwen Stone Carving. Tujia Stickup picture is made by root, branch and bark from a tree, combining stone and grass together to create landscape or pictures; Tujia Brocade is a kind of amazing local handicraft, including weaving and embroidery.
There are many stalls or shops that sell kinds of souvenir at the commercial street in the People's Square. Different kinds of folk handicrafts, local snacks, landscape paintings, and other interesting local things can be found here. The other places for shopping in Zhangjiajie are Guanghe Shopping Center and Meini Shopping Center.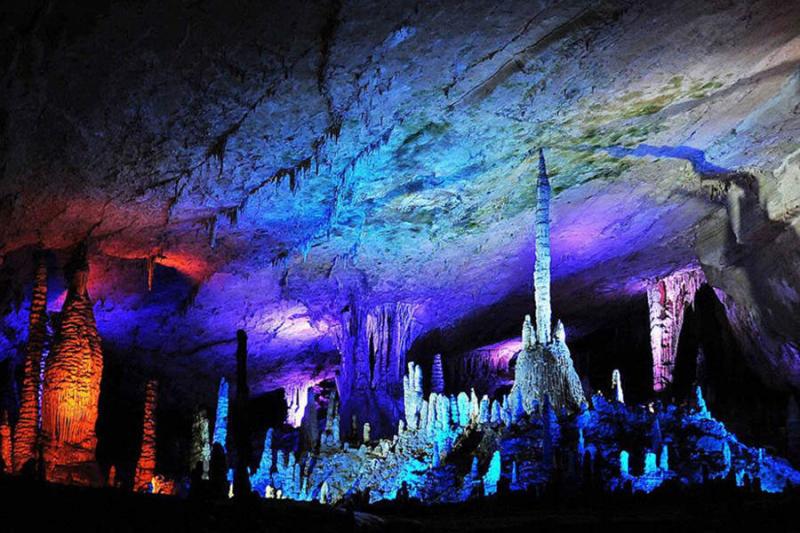 Eating & Drinking in Zhangjiajie
In Zhangjiajie, there are mostly two kinds of local flavor, Hunan-style food and the native ethnic Tujia cuisine. The Hunan-style cuisine is known for its spicy flavor. The Tujia cuisine has its own traditional style of food, with more chilies, more exotic flavors, and more wild ingredients. Here below are recommended restaurants that are popular among tourists. You may also get recommendations from your local guide if you have one.
He Tian Yuan Restaurant
Near Tianmen Primary School, Guanli Road, Zhangjaijie China
Tel: 0744-2817799
Tang Shi Fu Tu Jia Shi Fu
WuLing Yuan District Wuling Avenue, Zhangjiajie China
Tel: 0744-5615089
Qian Liang Hu Shi Fu
YongDing District Daqiao Road 24, Zhangjiajie, China
Tel: 0744-8327777
Zhai Zi Li De Bo Bo Cai (Wulingyuan)
156 Wuling Road, Wulingyuan District, Zhangjiajie
Tel: 0744-5958666
Entertainment / Nightlife in Zhangjiajie
There is a very good night show in Wulingyuan Scenic Area or Xiangxi Grand Theatre where travelers can enjoy the folk singing or dancing performance. The show name is Charming Xiangxi, which is considered to be the most popular show in Zhangjiajie. The tickets can be easily booked when you are there via your tour guide. If you stay in Yongding district, then the Tianmen Fox Fairy Show is available which tells a love story between a fox fairy and a local man.
Besides the night shows, night market and local vendors for barbecue or local snacks are available as well. But bars, pubs or cafes are not as widely access as other large tourist cities.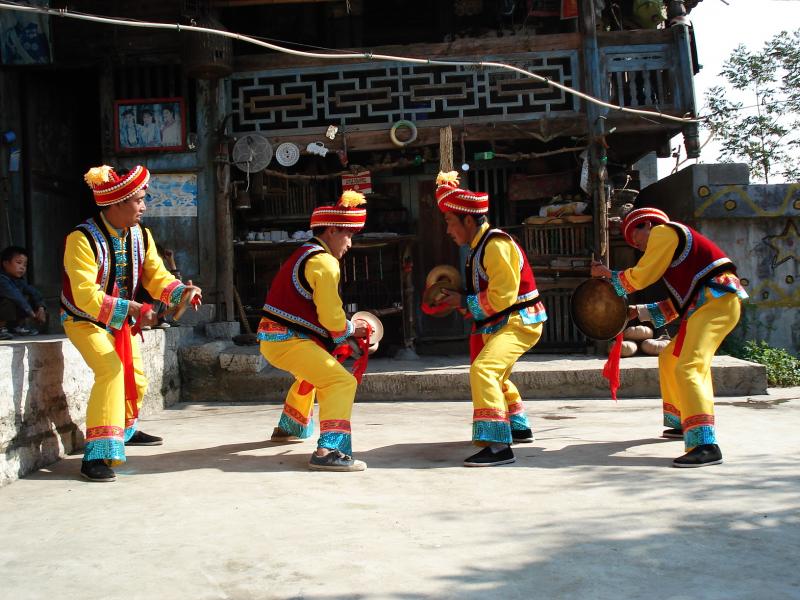 Zhangjiajie Festivals
There are different minority groups in Zhangjiajie, Miao, Tujia, Bai and other people, so there are many festivals celebrated by different minorities every year. Of all festivals, the Torch Festival held on July 25th is the biggest events for Bai minority groups, to celebrate the eradication of pests and protection of crops. In the evening of that day, every residence must ignite torches and then get together, forming a fire. People leap back and forth from the fire to pray for a good reap of the crop. The other festivals are three new years of Tujia Minority each on lunar Dec 28 or 29, lunar Jun 25 and lunar Oct 1. And lunar Jun 6 is for dry everything in sunshine, lunar Feb 2 is the birthday of the earth god. Besides their own festivals, they also celebrate public national holidays as well. If you are special interested in minority festivals, come Zhangjiajie for a tour on right dates.