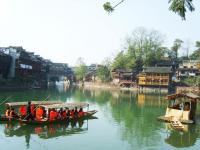 Located in the northwest of Hunan province, Zhangjiajie is a new-born city famous for the stunning landscape of Wulingyuan. In 1999 the city name was changed from Dayong to Zhangjiajie under the approval of Central Government. The municipality covers 9,563 square kilometers with a population of 1.5 million and consists of Yongding District, Wulingyuan District, Cili County and Sangzhi County. Generally Zhangjiajie is a tourism-driven city with its most important attraction at Wulingyuan. Together with Han people, Miao and Tujia, Hui and other minorities live harmoniously at this beautiful place.
Wulingyuan Scenic Area belongs to a state-level scenic spot and is made up of Zhangjiajie National Forest Park, Suoxiyu Nature Reserve and Tianzi Mountain Natural Reserve, encompassing 369 square kilometers. It gets together elegance of Guilin, strangeness of Yellow Mountain, perilousness of Hua Mountain and majesty of Tai Mountain.
Zhangjiajie boasts complicated landform, such as plain, hill, mountainous region and so on. The mountainous region accounts for 76% of the total area, and is prestigious for its quartz and sandstone geomorphologic structure rare in the world. With highest altitude 1890.4 meters and lowest 75 meters, it has a humid sub-tropical climate, which contributes to the development of agriculture, forestry, animal husbandry, sideline production and fishery.
Due to the special climate and physiognomy feature, Zhiangjiajie is also the home to rare species of birds and wild animals, and rich in forest resource.