Located in the northwest of Hunan province, Zhangjiajie (in Chinese 张家界, pinyin pronunciation: zhāng jiā jiè) is a new-born city famous for the stunning landscape of Wulingyuan. In 1999 the city name was changed from Dayong to Zhangjiajie under the approval of Central Government. The municipality covers 9,563 square kilometers with a population of 1.5 million and consists of Yongding District, Wulingyuan District, Cili County and Sangzhi County. Generally Zhangjiajie is a tourism-driven city with its most important attraction at Wulingyuan. Together with Han people, Miao and Tujia, Hui and other minorities live harmoniously at this beautiful place.
Zhangjiajie Facts
- location: Northwest Hunan, China
- Area: 9,563 square kilometers
- Population: 1.7087 million
- Nationalities: Han, Tujia, Bai, Miao
- Climate: the subtropical mountain archetype monsoon humid climate
- Elevation: 183m in city area, and 1000m in scenic areas
- Airport: Zhangjiajie Hehua International Airport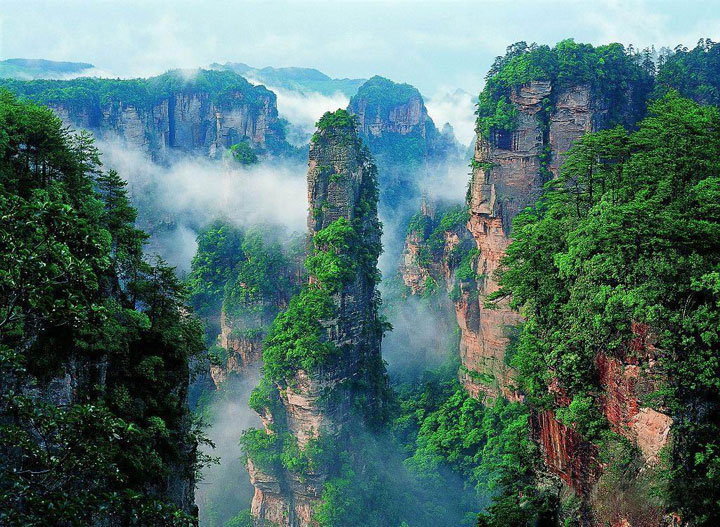 Zhangjiajie Animals & Landform
Zhangjiajie boasts complicated landform, such as plain, hill, mountainous region and so on. The mountainous region accounts for 76% of the total area, and is prestigious for its quartz and sandstone geomorphologic structure rare in the world. With highest altitude 1890.4 meters and lowest 75 meters, it has a humid sub-tropical climate, which contributes to the development of agriculture, forestry, animal husbandry, sideline production and fishery.
Due to the special climate and physiognomy feature, Zhiangjiajie is also the home to rare species of birds and wild animals, and rich in forest resource. There are 106 families, 320 genera, 850 species of woody plants and 146 species of vertebrates in Zhangjiajie. Among them, there are 56 species of state-level protected plants and 40 species of state-level protected animals. Rare plant species include ginkgo, dove tree, yew, cherry blossom, etc. Rare medicinal materials are Ganoderma lucidum, gastrodia elata, Polygonum multiflorum, Eucommia ulmoides, Mao Yan berry, etc. Rare animals include the giant salamander, suman gazelle, south China tiger, clouded leopard, macaque, civet cat and so on.
Top Things to Do in Zhangjiajie
Zhangjiajie is paradise for nature and outdoor lovers and intrepid travelers.
Wulingyuan Scenic Area belongs to a state-level scenic spot in China and is made up of Zhangjiajie National Forest Park (the first national forest park in China, where Zhangjiajie Avatar mountains are located), Suoxiyu Nature Reserve, Yangjiajie Scenic Area and Tianzi Mountain Natural Reserve, encompassing 369 square kilometers. It is one of China's first selected world natural heritages, one of the world's first geoparks, and gets together elegance of Guilin, strangeness of Yellow Mountain, perilousness of Hua Mountain and majesty of Tai Mountain.
Besides, places of interest such as Tianmen Mountain National Forest Park (which is considered as the "Spirit of Wuling" with thrilling sky walks and plank roads), Badagong Mountain National Nature Reserve (known as the Rare Species Gene Pool in the World"), "South Wudang" Wulei Mountain, "Hundred Miles Gallery" Maoyan River, Wanfu Hot Spring are also worth a visit on Zhangjiajie tours.
Zhangjiajie Glass Bridge with bungee jump in Zhangjiajie Grand Canyon is another big draw for travelers from home and abroad, with exciting hiking trails and footpaths.
For in-depth Zhangjiajie adventures, travelers are suggested to visit Fenghuang Old Town (92km), Dehang Miao Village (185km), Furong Old Town (85km), Enshi Grand Canyon (102km) and Zhangjiajie Red Stone Forest.
Climate and Best time to Visit Zhangjiajie
Zhangjiajie is located in the northern middle latitude, belonging to the subtropical mountain model monsoon humid climate, with sufficient light and heat, abundant rainfall, long frost-free period, and four distinct seasons. The average annual temperature is 17℃, the average temperature in January is 5.1℃, the average temperature in July is 28℃, and the annual precipitation is 1400 mm. >> Read more about Zhangjiajie weather and climate
April to October is the best time to travel to Zhangjiajie, when the weather is pleasant, with more sunny days and less rain, and the nature is at its best.
How to Get to Zhangjiajie
By air
Zhangjiajie Lotus International Airport was built and put into use in 1994. In 1997, the State Council approved the establishment of air ports, and opened Zhangjiajie to Hong Kong, Macao routes. Later international flights from Zhangjiajie to Seoul, South Korea, Busan, Japan Fukuoka, Osaka and other international cities have been launched. Now there are domestic flights from Zhangjiajie to Beijing, Shanghai, Guangzhou, Nanjing, Shenzhen, Xi 'an, Changsha, Qingdao, Shenyang, Zhengzhou, Chengdu, Chongqing, Xuzhou, Tianjin, Ningbo, Wenzhou, Harbin, Hangzhou, Shantou, Hong Kong, Macau.
By train
It is also possible to travel to Zhangjaijie by train. There are two railway stations in Zhangjiajie, Zhangjiajie Railway Station (Zhangjiajie North Railway Station) and Zhangjiajiexi Railway Station (Zhangjiajie West Railway Station). Zhangjiajie Railway Station connects Zhangjiajie with Changsha, Shanghai, Kunming, Beijing, Shenzhen, Guangzhou, Urumqi, and other Chinese cities by regular trains. Zhangjiajiexi Railway Station was completed in 2019, and is expected to open high speed trains to Zhangjiajie.
What to Eat in Zhangjiajie
The local cuisine of Zhangjiajie combines the rich characteristics of Tujia nationality with the essence of Hunan cuisine, and uses wax, pickled products and mountain wild vegetables as main food ingredients. Zhangjiajie dishes taste salty, spicy and refreshing. Tujia three pots (土家三下锅) is a signature dish in Zhangjiajie, which puts cured meat (Chinese bacon), bean curd and radish into a pot to stew together.
Famous Zhangjiajie local snacks include refreshing pueraria powder, kiwi fruit juice, Tujia fried rice, pig blood porridge and so on.
The popular food streets in Zhangjiajie are Dayong Fucheng (大庸府城), Nanzhuang Ping big market (南庄坪大市场) and Dongmen Bridge night market (东门桥夜市) and Xibu Street (溪布街)。
Shopping in Zhangjiajie – What to Buy
Zhangjiajie is rich in natural products, among which Zhangjiajie specialties are pueraria root powder, fern root powder, rock ear and Eucommia tea. The downtown area of Zhangjiajie is not big. The best places to shop in Zhangjiajie include Xibu Street (溪布街), People Square Commercial Pedestrian Street (人民广场商业步行街), Better Life Department Store (步步高百货).
Zhangjiajie Nightlife
■ Zhangjiajie Charming Xiangxi Dance Show (魅力湘西)
Zhangjiajie, together with other places in western Hunan, is inhabited by a dozen ethnic minorities such as Tujia, Miao, Dong, Yao, Bai and Gelao live. They coexist harmoniously and create a rich and colorful, mysterious and legendary local culture of western Hunan with outstanding wisdom and tenacious will. Zhangjiajie Charming Xiangxi Show is a perfect blend of these these cultures.
■ Fox Lady Show
Zhangjiajie Fox Lady Show is based on a folktale in Hunan, " Liuhai's Firewood Cutting- a romance between the Foxy Lady and Woodman". Known as the world's first real-scene musical drama, the show is usually staged on the bright moon night with high mountains, deep valleys and flying waterfall as the background.