It has been long that hot pot becomes the most popular food in China. It is a unique, exciting culinary treat, moreover, an adventure, and a Chinese culture, if getting under the skin of the food, the ingredients and the cooking method. To eat hot pot, you understand the real China - its philosophy that advocates "the beauty of harmony" and "conquering the unyielding with the yielding".
Hot Pot, named Antique Soup in ancient times, was created about 2000 years ago by using bronze tripod and later pottery as the pot. It got very popular since Song Dynasty and became a royal dish in Qing Dynasty. When thinking of hot pot, you may think hot and spicy taste. Actually people in different areas of China have created different flavors and different ways to eat hotpot according to local eating habits. Here below we list the top 10 most popular Chinese hot pot. Don't miss the hot pot that makes your mouthwatering most when taking a foodie tour of China.
1. Chongqing Hot Pot
Emerging in early 19th century, Sichuan hot pot is famous for its numb, spicy, fresh and fragrant taste. Spicy is the soul. The spicier, the better. Chongqing hot pot and Chengdu hot pot are two most popular and famous hot pot in Sichuan.
Chongqing hot pot is also known as cattle stomach hot pot or spicy hot pot, originated in the late Ming and early Qing dynasty, when boat trackers at Chaotianmen and other wharfs enjoyed this way of eating together. It is famous for its pure numb and spicy taste. The main ingredients are animal offal such as beef belly, pig yellow throat, duck intestine and beef blood flourishing.
Compared with Chongqing hotpot, Chengdu hotpot has a lighter taste, and prefers two-flavor hot pot. The flavor of Chengdu hotpot mainly depends on a large number of secret spices.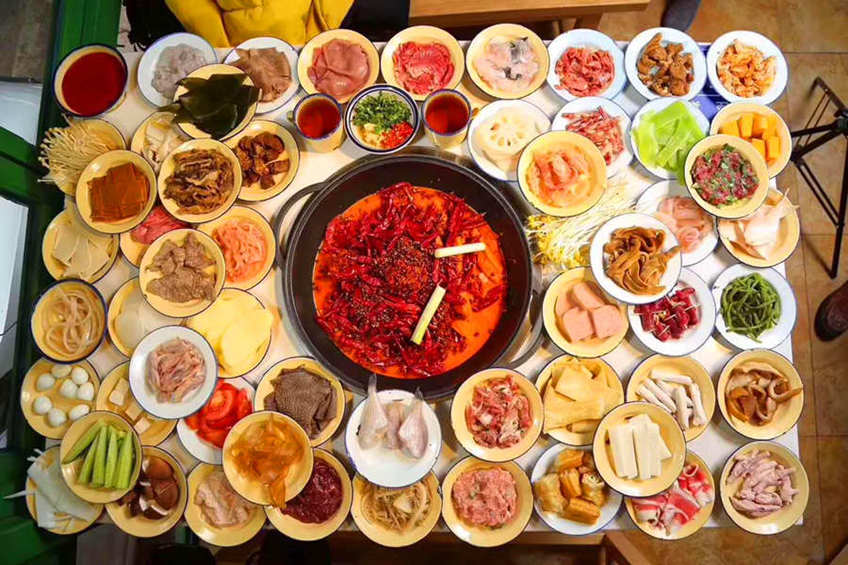 3. Old Beijing Copper-pot Mongolian Hot Pot
Also named mutton hot pot, charcoal hot pot or shabushabu, and it is a traditional old Beijing style hot pot. The thin sliced mutton is lightly-boiled in clear broth soup (with onion, ginger, and Chinese wolfberry), which ensures the freshness and tenderness. Sesame paste is the original seasoning source for copper pot hot pot, whiles beancurd and cabbage noodles are a basic accompaniment.
Old Beijing Copper-pot Mongolian Hot Pot is highly recommended in winter to nourish the body.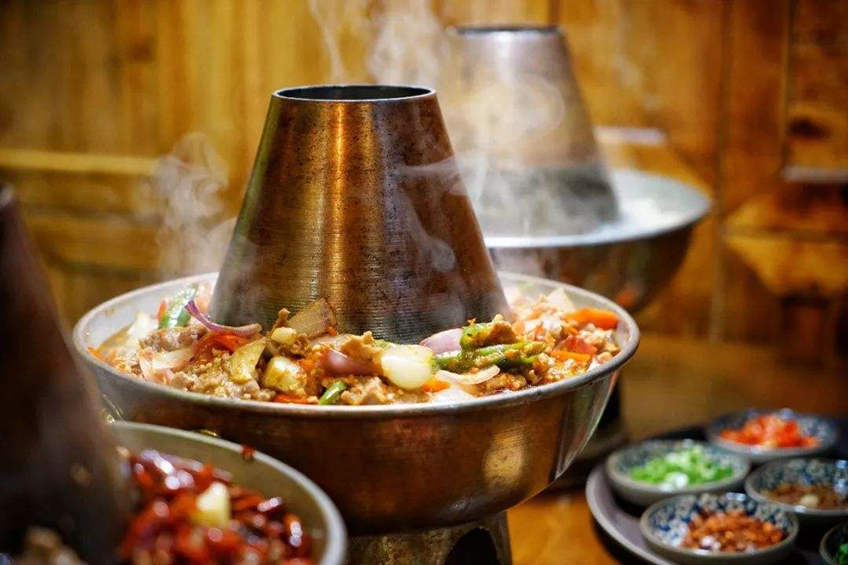 4. Chaoshan Beef Hot Pot
Another great choice for people that don't eat spicy, Chaoshan beef hot pot also features a pot of light yet nourishing soup (made of beef bone and white radish). Without soy source, monosodium glutamate or any chili pepper, the authenticity of food ingredients, especially the beef, is retained.
5. Yunnan Mushroom Hot Pot
Famous Chinese writer and foodie Wang Zengqi said in his article "The Rain in Kunming" that Kunming has so many fungi that you can see them at any time when you visit the vegetable market in the rainy season. The rainy season is the fungi season. Yunnan people have many ways to eat the mushrooms, from steaming, stir-frying, to hot pot. The essence of eating mushroom hot pot is that put various kinds of mushroom together into the pot and do not put meat.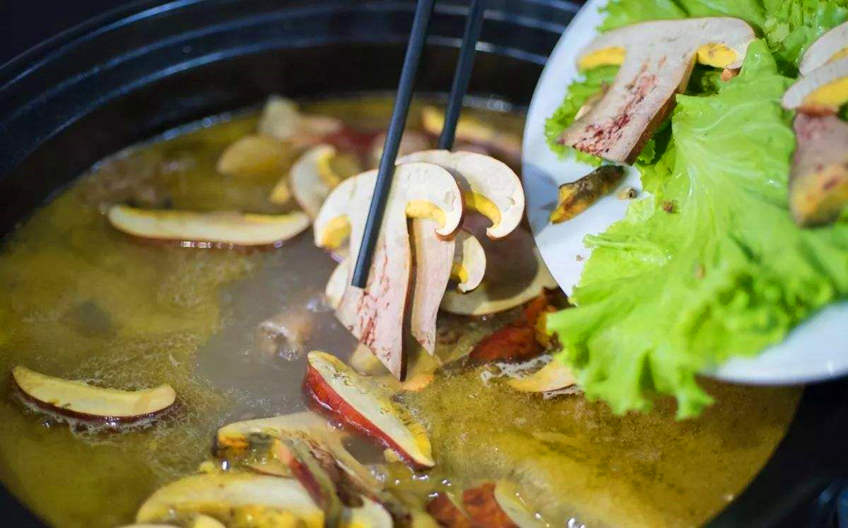 6. Guizhou Sour Soup Fish Hot Pot
The sour soup fish hot pot is inspired by the famous Guizhou dish "sour soup fish". With the soup of sour fish as hotpot soup, add spicy fruit, bad pepper and other ingredients, make the hot pot delicious, fragrant, and taste unique.

Although sour soup fish hot pot is regarded by people from other provinces as a synonym for Guizhou hot pot, each region in Guizhou has its own style of hot pot, whiles sour soup hot pot is the main pot in Qiandongnan Prefecture.
7. Porridge Hot Pot in Shunde Guangdong
Porridge culture in Shunde arose in the early 19th Century. In the middle and late 19th century, two sisters surnamed Ouyang became self-employed and went to Singapore to make a living. The Shunde porridge making skills spread, gradually became famous and improved, and finally became the intangible cultural heritage of Shunde. With the unique technology of making congee water, Shunde people create the unique porridge hot pot.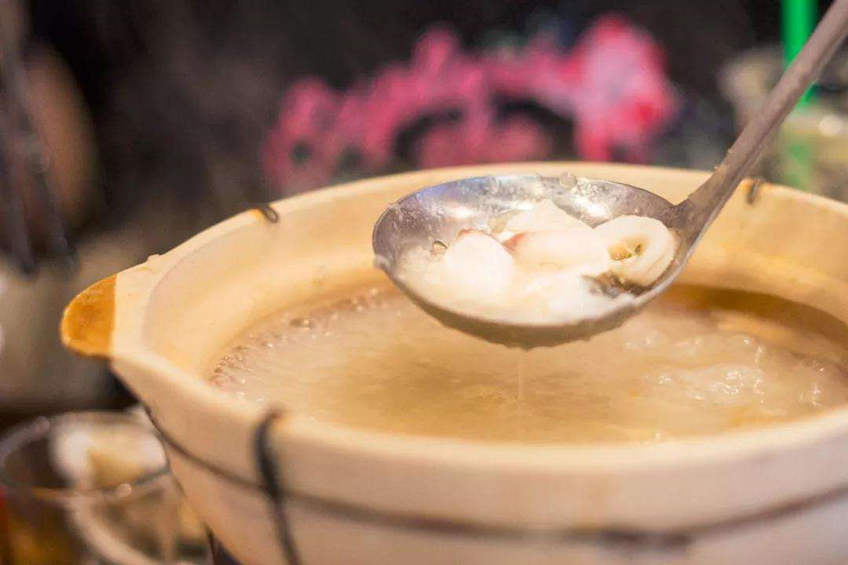 8. Sauerkraut Hot Pot with White Meat
A local specialty dish in Northeast China (Shandong, Liaoning & Jinin), this hot pot uses pickled cabbage and pork belly as the main material. Other ingredients include crab, noodles, etc., the seasoning is shrimp oil. Sauerkraut Hot Pot with White Meat is also sustenance of homesickness for the wandering people far away from NE China.

9. Side of Furnace Hot Pot in Guangdong and Guangxi Province
It is also known as the "raw pot". to avoid toothache after eating, tofu is indispensable. If there is no tofu, put a little gypsum into the soup. Additional, edge is a must-have ingredient for side of furnace hot pot. Dipping in the seasoning that mixes egg fluid when eating can avoid scald tongue and oral cavity.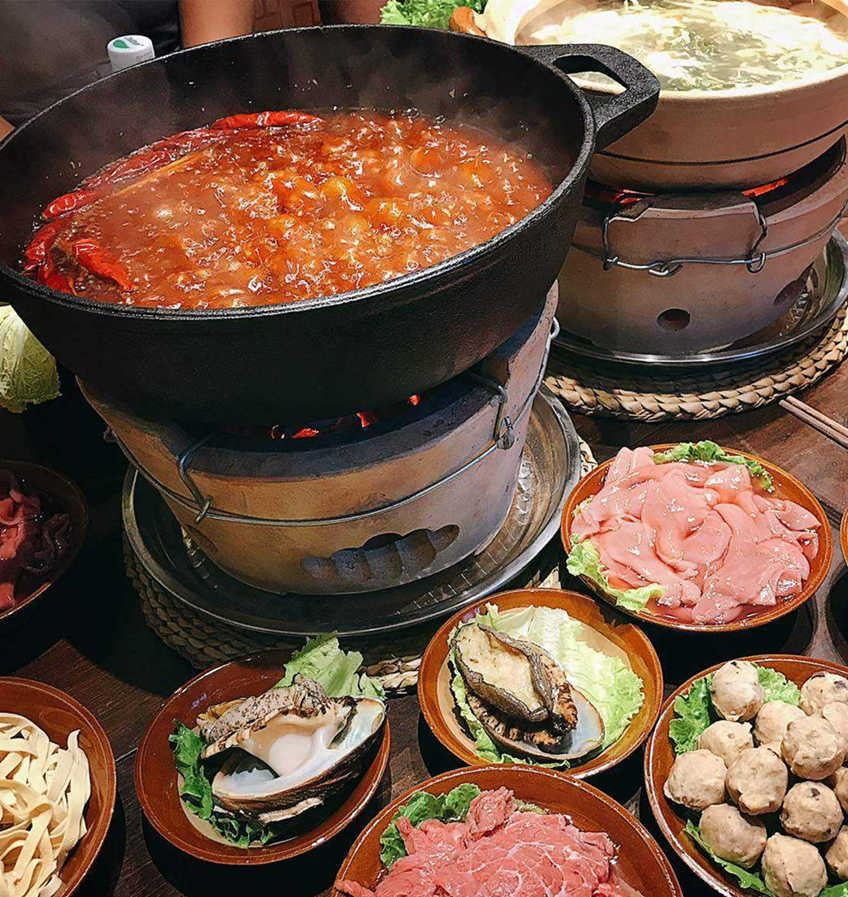 10. Anhui Style Hot Pot
One of the typical dishes of Anhui Cuisine, the Anhui style hot pot originated from Jixi County. Famous Chinese write Liang Shiqiu once wrote a detailed description about it, "A large iron pot, with a diameter of nearly two feet, was served hot and steaming, with a layer of chicken, a layer of duck, a layer of meat, a layer of oil bean curd, dotted with egg dumplings, radish, green vegetables – taste so good."
You may also be interested in:
Highly recommended China Food tours to enjoy hot pot and other Chinese delicacies:
★ 4-day Chengdu Food Tour
★ 15-day China Cooking & Foodie Tour
Do you know any other hot pot? Leave us a comment and recommend your hot pot to everyone.
Leave a Comment