A Bite of China Food Tour, Top 10 Chinese Noodles
A Bite of China Food Tour, Top 10 Chinese Noodles
A food documentary – A Bite of China, once was very popular throughout the country, even the whole world. The various mouth-watering foods from different places make so many people want to plan a culinary tour to China.
Culinary tour (Gourmet tour / Food tour) is a new way of discovering culture, heritage and distinctive regional food that attract visitors with gourmet tastes. But Chinese food culture is diverse, regional, both extensive and profound that I can't list all here, so I would like to recommend China's top 10 delicious local style noodle dishes in different places to you. And you can taste the country's rich and subtle flavors of various noodles as well as the must-visit sites of China while taking a food trip with Easy Tour China.

1. Sichuan Spicy Dan Dan Noodles (四川担担面)
The most eye-catching feature of a bowl of Sichuan Dan Dan Noodles is a bright splash of red. Of course, you can choose to add less Sichuan pepper when tasting this special dish, but trust me, a strong and pleasant spicy flavor is easily addictive.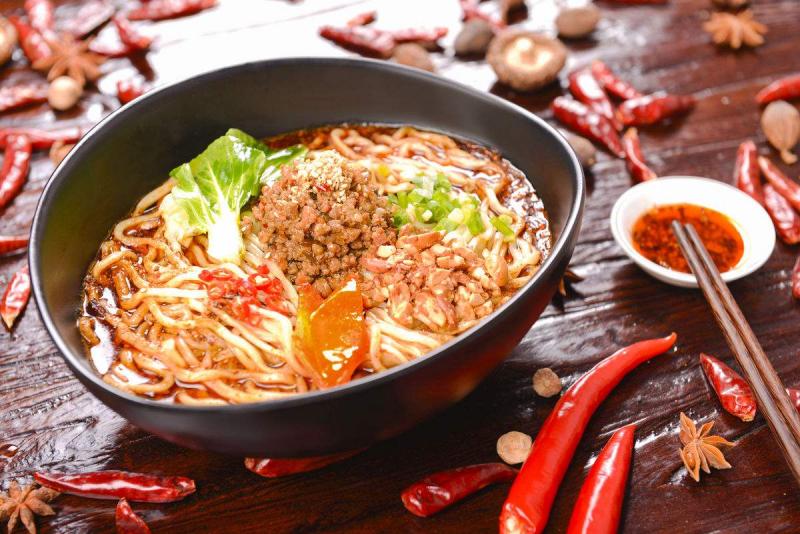 Tips:
Sichuan attractions including Jiuzhaigou Valley, Huanglong Scenic Area, Emei Mountain with the Leshan Giant Buddha, Dujiangyan Irrigation System, Mt. Qingcheng, the Sea of Bamboo in southern Sichuan, Sichuan Opera, etc.
Recommended Sichuan Tours:
https://www.easytourchina.com/tour-c293-sichuan-tours
2. Xianyang Biang Biang Noodles (咸阳BiángBiáng面)
The encounter between boiling oil and noodles burst out of a great smell of fragrance. The noodles are made from fine flour, and the flour is made from the local wheat of the Central Shaanxi Plain. Usually, the Biang Biang noodles are pulled by hand until they become wide and a little thick. Besides, some soy sauce, vinegar, pepper and other seasonings add richness into the soup without covering up the natural flavor of the ingredients.
Tips:
Xianyang City is 25 kilometers from Xian City. It is very convenient to visit Xian as well. Traveling to some famous attractions including Shaanxi History Museum, Xian Old City Wall, Big Wild Goose Pagoda, Terra Cotta Warriors and Horses Museum, the Grand Mosque, etc. is a good choice to know more about the culture and history of these China's ancient cities.
Recommended Xian Tours:
https://www.easytourchina.com/city-c15-xian
3. Beijing Noodles with Soybean Paste (北京炸酱面)
If you travel to Beijing and would like to try some local style cuisines, and then a bowl of favorite Beijing noodle dish served with pork-and-bean paste will satisfied your taste buds. Of course, adding other side dishes like cucumber, turnip strip, bean sprouts, etc., will have a distinctive Beijing style flavor.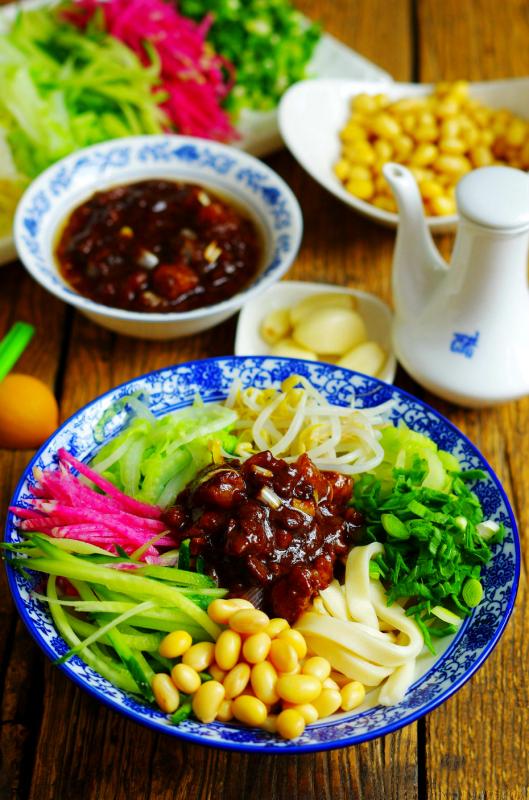 Tips:
Beijing attractions including the Great Wall, Forbidden City, Tiananmen Square, Temple of Heaven, Summer Palace, Hutongs, Beijing Zoo, Houhai Bar Street, Jingshan Park, etc. Moreover, Beijing roast duck as well as Pecking opera are the highlights for trips in Beijing.
Recommended Beijing Tours:
https://www.easytourchina.com/city-c14-beijing
4. Shanxi Sliced Noodles (山西刀削面)
Noodles are Shanxi people's daily food, which is famous for the fine slicing techniques. Having a bowl of thick center with thin edge noodles, dipping some sauce and vinegar, will definitely bring a great delight to your taste buds.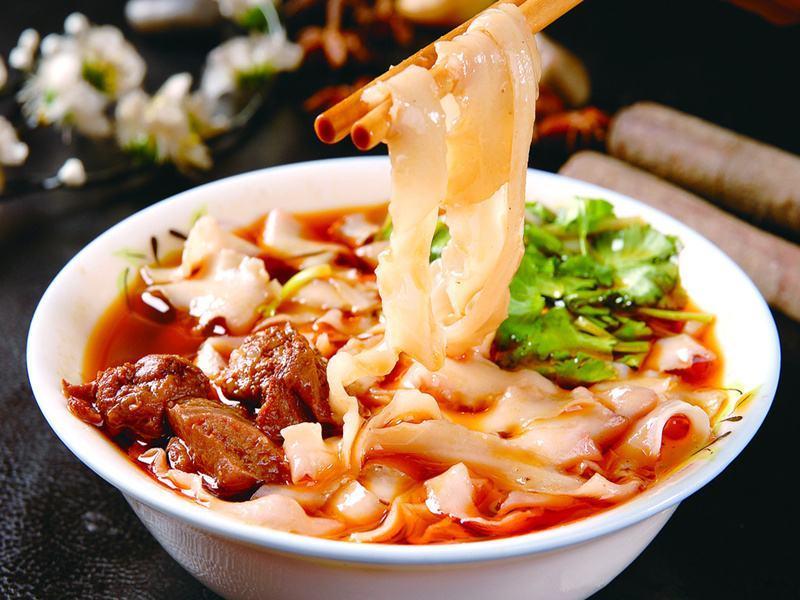 Tips:
Shanxi attractions including Yungang Grottoes, Nine Dragon Screen, Hanging Temple, Wooden Pagoda at Ying County, Mount Wutai, Jinci Temple, Longmen Temple, Fencheng ancient architectural complex, old town of Pingyao, etc. I'm sure you will be attracted by Shanxi's history, culture and landscape.
Recommended Shanxi Tours:
https://www.easytourchina.com/tour-c290-shanxi-tours
5. Shandong Qiang Pan Noodles (山东炝锅面)
Heat some oil in a pan, add some pork, stir-fry with small shrimp, scallion and other flavorful spices with soy sauce on them, and then pour some flesh soup and Chinese cabbages and soybean sprouts and keep boiling, at last, add all of them in cooked noodles. This is the well-known crispy and delicious Shandong Qiang Pan Noodles.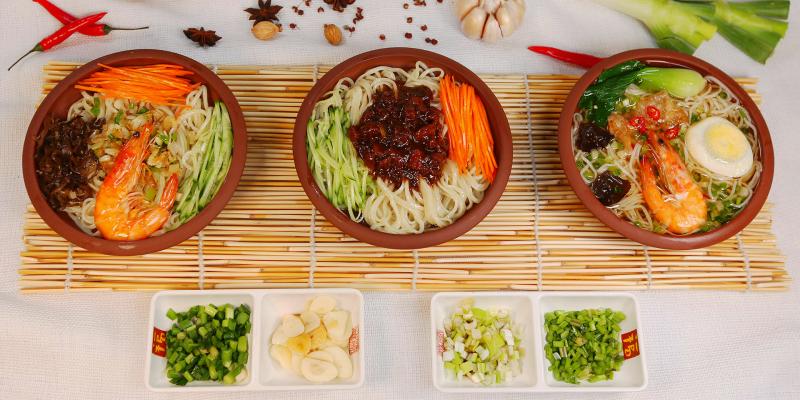 Tips:
Shandong attractions including Mt. Tai, Confucius Temple, Weifeng Kite Museum, Yangjiabu Folk Culture Village, Mt. Lao, Taiqing Palace, Badaguan Scenic Area, Qingdao Beer Museum, etc. The cultural landscape, natural beauty and leisure for your special experience will make you forget to return.
Recommended Shandong Tours:
https://www.easytourchina.com/tour-c310-shandong-tours
6. Guangdong Wonton Noodles (广东云吞面)
In Cantonese cuisine, wonton noodles are the flavor of hometown. The wonton skins are extremely thin and especially slippery, filled with fresh shrimp meat and pork, and commonly add thin egg noodles, which make a bowl of fragrant, refreshing and slippery Guangdong wonton noodles. I believe this local noodle is an attractive must-try food.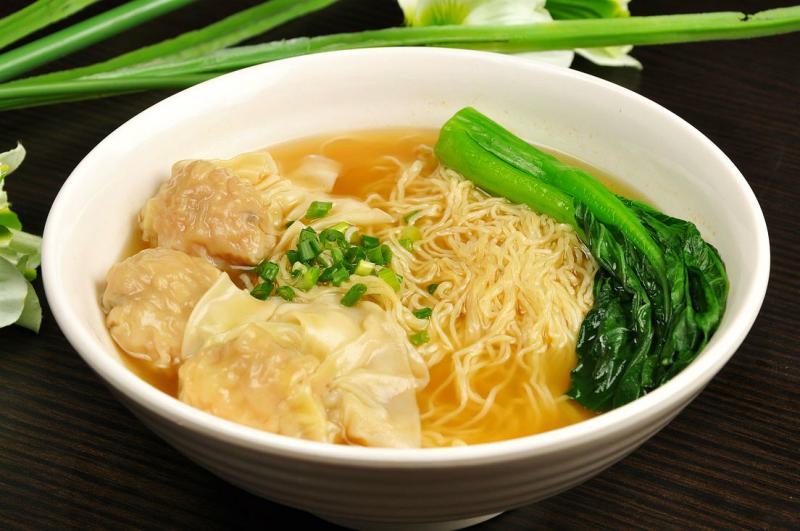 Tips:
Guangdong attractions including Ancestral Temple of the Chen Family, Splendid China Theme Park, China Folk Culture Village, Pearl River, White Cloud Mountain, Kaiping Diaolou, Wong Fei-hung Memorial Museum, Foshan Paper-cut art, Buddha Caverns, etc.
Recommended Guangdong Tours:
https://www.easytourchina.com/tour-c312-guangdong-tours
7. Henan Stewed Noodles (河南烩面)
As one of China's top 10 noodles, Henan stewed noodles has a history of 4000 years. It is a kind of traditional flavor snack mixture of meat, vegetables, soup and rice, which is famous for its deliciousness and affordable. The stewed noodles are made of strong flour, and supplement by soup-stock and a wide variety of side dishes like mutton, beef, kelp, shredded tofu, quail eggs, etc. If you prefer a spicy taste, drizzle over a spoonful of chill oil will be perfect.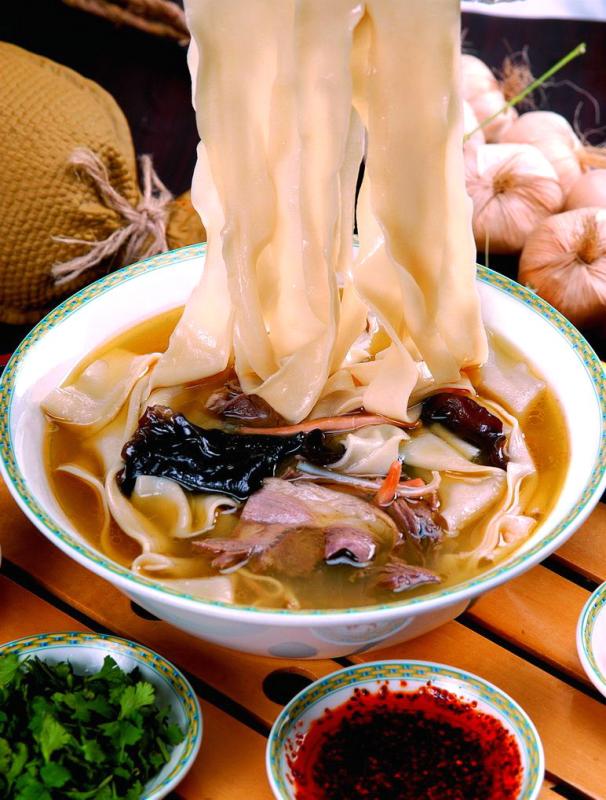 Tips:
Henan attractions including Longmen Grottos, Shaolin Temple, Henan Provincial Museum, Millennium City Park, Yuntai Mountain, Zhongyue Taoist Temple, Kaifeng Iron Pagoda, Yin Ruins, White Horse Temple, Chenjiagou Village, etc. Henan is also known as home of Chinese Kung Fu.
Recommended Henan Tours:
https://www.easytourchina.com/tour-c301-henan-tours
8. Yanji Cold Noodles (延吉冷面)
A bowl of nutrient-rich, refreshing and balance with sweet and sour Yanji cold noodles is the best choice especially in the hot and dry climate. And if you want to add a sense of ritual and fun when having this cold noodles, you may wish to choose an iron bowl. A sip of the unique sweet and sour flavor soup will give you a great appetite before having noodles.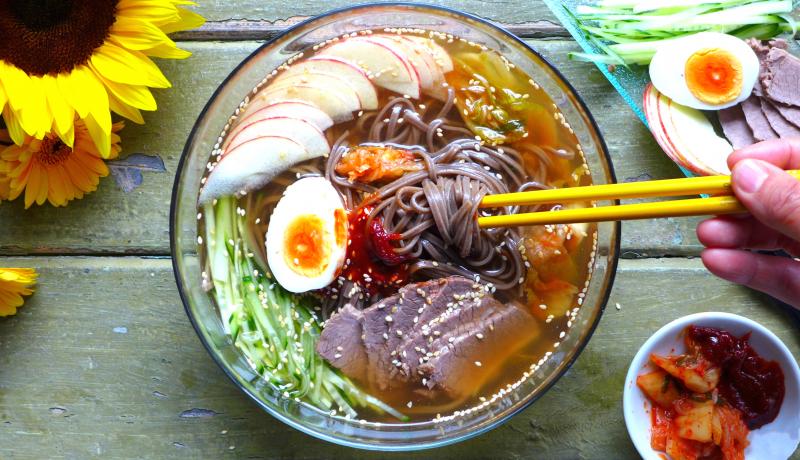 Tips:
Yanji City is located in the east of Jilin Province, which is famous for its natural beauty. The attractions including Maoer Mountain National Forest Park, Chengzishan Mountain City Ruins, Mengdumei Folk Tourist Resort, Chunxingcun Korean Ethnic Ancient Village, etc.
Recommended China Tour Packages Including Jilin:
https://www.easytourchina.com/tour-v376-11-day-northeastern-china-by-speed-train
9. Wuhan Hot-dry Noodles (武汉热干面)
The noodles are pliable and smooth, taste very good. Spoon a fragrant sesame paste on top, and sprinkle with some spicy preserved radish cube and chopped peanuts, a bowl of delicious hot-dry noodles is ready to serve the visitor who travel to Wuhan. This distinctive dish will definitely impress you.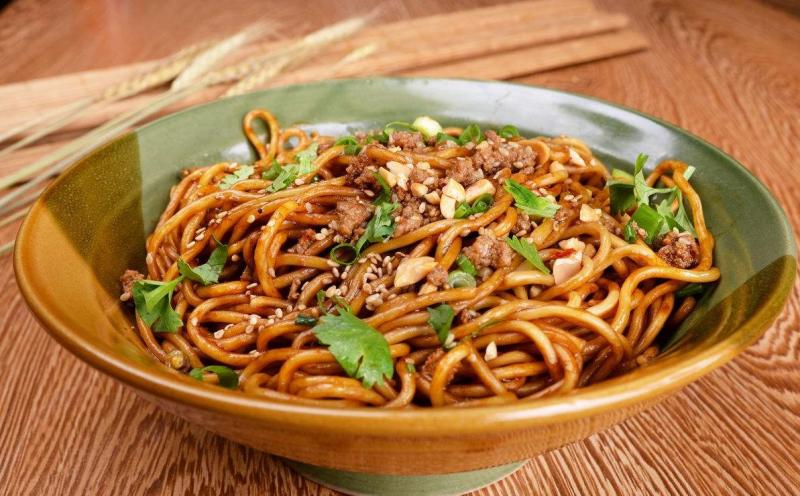 Tips:
Wuhan attractions including Hubei Provincial Museum, Yellow Crane Tower, Guiyuan Temple, East Lake, Changchun Taoist Temple, Wuhan Botanical Garden, Pedestrian Street of Jianghan Road, etc.
Recommended Wuhan Tour:
https://www.easytourchina.com/city-c55-wuhan
10. Lanzhou Beef Noodles (兰州牛肉面)
Lanzhou Beef Noodles are well-known for their delicious and affordable. The hand-pulled noodles with seasonings and various side dishes make it a favorite local delicacy. A bowl of Lanzhou Beef Noodles stress "clear, white, red, green, yellow", i.e. the soup should be clear, and the common side dishes including white radish, red chili oil, green coriander and garlic bolt, and the noodles should be bright yellow.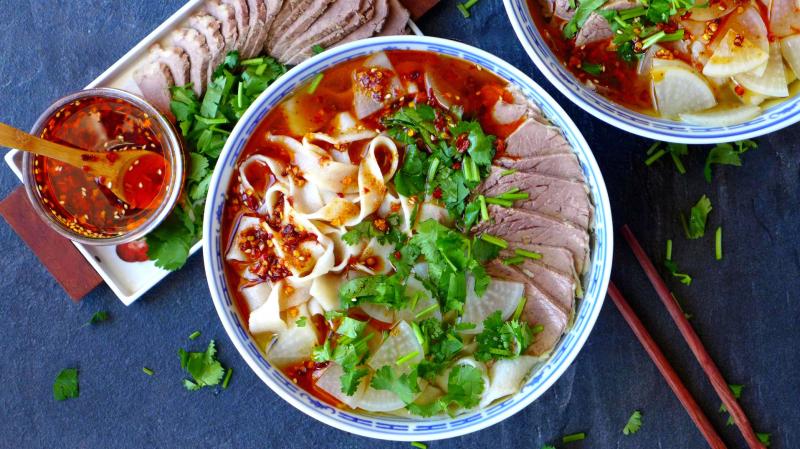 Tips:
The attractions in Lanzhou include Gansu Provincial Museum, Yellow River Mother Sculpture and Water Wheel Park, White Pagoda Hill, The Five-spring Mountain and Bingling Temple Grottoes, etc.
Leave a Comment