China high speed trains are equipped with the most advanced modern facilities onboard among all China trains, making your China train tour more convenient and comfortable. Check the following details of facilities and services on China high speed trains, including onboard WiFi, luggage racks, western-style toilet, drinking water, smoking, and more.
Seats
In general, China high-speed trains provide business class seats, first-class seats, and second class seats. There are also premium class seats on some bullet trains of China. Adjustable seatbacks allow you to be comfortable during the journey on the train. There are also first-class sleepers and second-class sleepers provided on overnight high-speed trains running in cities like Beijing, Shanghai, Guangzhou, Shenzhen, etc.
>> Read more details about seats on China high-speed trains
Luggage Racks
On each carriage of a China high-speed train, there is a luggage closet for large baggage at the connection between two carriages and overhead racks on both sides of a carriage for smaller items. There is also some space under your seat for small bags.
There are luggage weight and size allowances for train travel in China. But in fact, the allowance policy is rather loose. Normally, you can bring on train more than what's prescribed as long as your luggage could go through the entry security scanner smoothly. However, it's advisable to travel light. Better not bring more than you can comfortably carry yourself.
>> Check more details about baggage allowance & restrictions and luggage racks space on China high-speed bullet trains.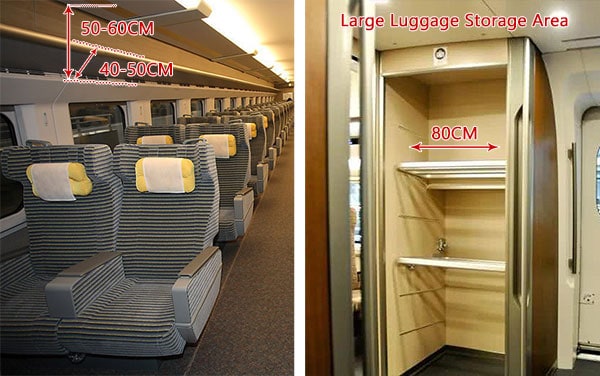 Free WiFi
Free Wi-Fi onboard is available on some China high-speed trains, including the Fuxing bullet trains. To access the free wireless internet, you may need to download an app called 掌上高铁, which unfortunately have no English version yet. Besides, a Chinese phone number is needed for the verification code. And the WiFi signal may be unstable at times under such a high mobility environment of China High Speed Railway. When the train rides in some remote regions, mountainous areas, or in tunnels, the telephone signal may be poor, not to mention the WiFi signal.
Smoking
Smoking is strictly prohibited on all China high speed trains, according to China's "Railway Safety Management Regulations". No one may smoke anything (including electronic cigarettes) in any area on all China bullet trains. Those who violate the regulation will face up to a fine of RMB 500 to 2,000 and be banned from taking a China train for 180 days.
All EMU trains in China (including C/D/G trains) are equipped with smoke alarms. Once the smoke alarm is triggered, the braking system will stop the train in preventing of fire. There are lots of non-smoking signs on high speed trains of China. Please don't attempt to smoke at anywhere onboard, not even in toilets.
Air Conditioning
All high-speed trains in China are air-conditioned. The heating and air conditioning systems on a China high speed train are set automatically, and you are not able to control it. So neither does the train crew. It's recommended to bring a jacket onboard in case you feel cold. Business class passengers can ask the train crew to bring you a blanket.
Dining Onboard
A buffet car or canteen bar which serves boxed meals and drinks is usually in the middle carriage of a China high-speed train. Generally, the dining car is in the 5th carriage of an eight-carriage high speed train. For a sixteen-carriage train, the dining car is normally in the 5th and 13th carriages or 9th carriage depending on the train type. Pay attention to the broadcast or consult the train crew.
Trolley service with a range of snacks, soft drinks and boxed meals is also available for second class and first class carriages. Passengers in these class seatings should buy food and drinks, while business class passengers will enjoy free meals and drinks. If you take a business class seat, the attendant will ask what you want to eat and drink and deliver them directly to your seat.
Food on train in China is usually comparatively expensive and with limited options. The price of a boxed meal goes from RMB 15 to 65. You may bring personal food and beverages onboard for consumption at your seat. It's common for Chinese locals bringing instance noodles to eat onboard.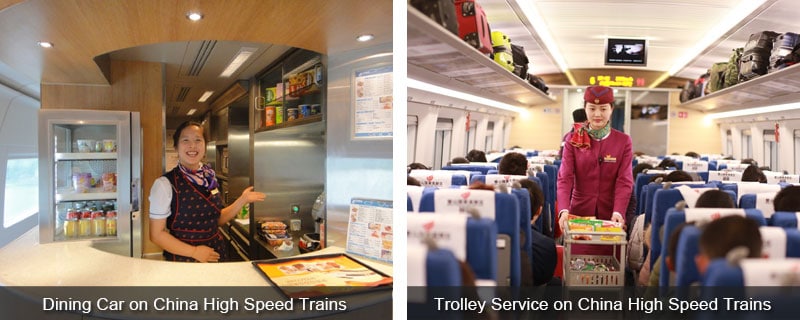 Drinking Water
All tap water in China is not suitable to drink. Free boiled water is provided at the end of each carriage on all China high-speed trains. Normally, there are three indicator lights. The green light indicates the water is fully heated. Wait for the water heater changes to green light to get hot water.
It's recommended to bring your own cup or bottle since there are no disposable cups available at times. Please be careful when getting water from the water heater because the water is very hot! It's advisable to get only a half full in case you get burned.
Toilets & Washrooms
There are three kinds of washrooms on a China high speed train or China bullet train: the washroom with western style toilet, the washroom with squat toilet, and the barrier-free washroom. Every washroom is located at the connection of two carriages.
Toilet paper is provided and some bullet trains also have disposable seat covers in western toilets. It's recommended to bring your own toilet paper or tissue paper in case the toilet paper runs out.
The barrier-free washroom easily accessible for the disabled is located between the 4th carriage and the 5th carriage of an eight-carriage high speed train. There is no separate baby care room on high speed trains in China yet, but a foldable diaper changing table is available in the barrier-free washroom.
Wash Basins
There is a separate washbasin with a mirror at the end of each carriage. The washbasin is automatic induction, or you need to press the top of the faucet to get water. Hand sanitizer and paper towels are available, but paper towels run out quickly. So better bring your tissues. There is also a power socket here.
Disabled-friendly Facilities
China high-speed trains have accessible facilities and services to passengers with disabilities. As mentioned above, there is an accessible restroom between the 4th carriage and the 5th carriage of an eight-carriage high-speed train. Besides, there are also belts to secure a wheelchair.
Useful Links for the Disabled Travelers to China:
Power Sockets
Every carriage on China high-speed train is equipped with power sockets, so you needn't run out of juice. Generally, there are one or two sharing power socket(s) under the back of the front seat of both first and second class. In business class, each seat has its power socket. So you don't need to share. You may also find power sockets next to the washbasins and inside the washrooms. Consult the train crew if you need any assistance in finding a power socket.
Please note that all power voltage onboard is 220V, 50HZ, AC.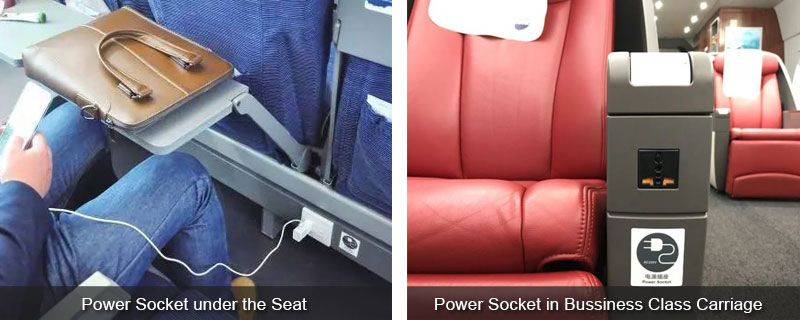 Disposal Bags
There usually is a small waste disposal bag inside the grid bag of the seat for you to put litter inside. Then you can either throw the disposal bag into the dustbin at the end of the carriage or wait for cleaners to collect them. You will get a new one if cleaners take the old one away. If not, just ask for one more.
Dustbins
You can easily find a dustbin blended with the wall at the end of every carriage on any China high-speed train. You need to push the door of the dustbin to throw trash into it.
Train Safety Facilities
Each carriage is equipped with portable fire extinguishers, emergency brake, emergency door release button, and emergency hammer to break the window.
Usually, there are two fire extinguishers on a China high-speed train: the green one is a water-type fire extinguisher, and the red one is a dry powder fire extinguisher. The green water-type fire extinguisher is suitable for extinguishing flammable solids or non-water-soluble liquids at the beginning of the fire. It cannot be used for the fire of electric equipment. Dry powder fire extinguishers can extinguish general fires. It can also be used for initial fires of combustible gas and electric equipment.
Emergency brake and emergency door release buttons are for emergency use only! Normally, only the train crew is allowed to use them.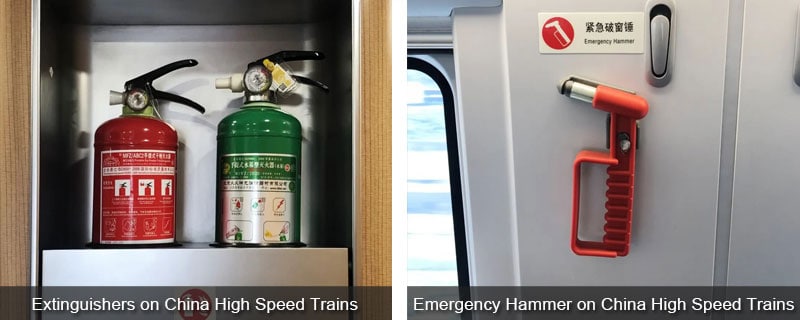 Further Reading