The Temple of Heaven (Tiantan Park) is an imperial complex Taoist buildings situated in the southeastern part of central Beijing, Chongwen District. The name literally means an altar to worship the heaven. In Ming and Qing Dynasties, the Emperors would visit here at a specific time for annual ceremonies of prayer to Heaven for good harvest.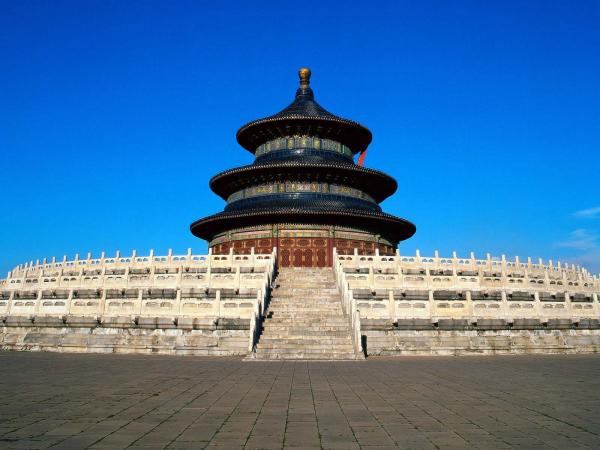 Nowadays, it is a masterpiece of architecture and landscape design, which simply and graphically illustrates a cosmogony of great importance for the evolution of one of the world's great civilizations.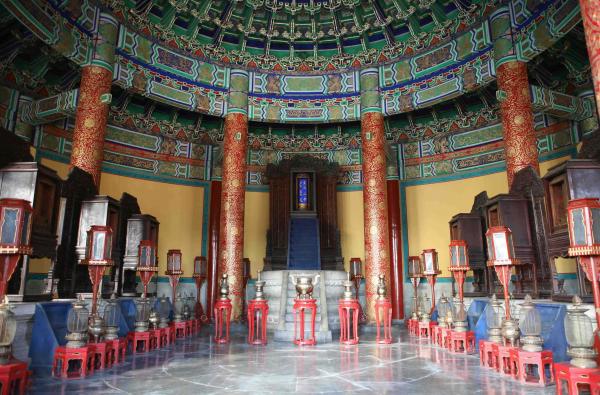 The Temple of Heaven was first built in 1420, and reconstructed in 1530, encompassing 273 hectares. The perimeter of the complex is 6369 meters long and 6 meters high. This dignified complex of fine cult buildings is surrounded by old pinewoods. In its overall layout, you will find that it symbolizes the relationship between earth and heaven, the human world and God's world, which stands at the heart of Chinese cosmogony, and also the special role played by the emperors within that relationship.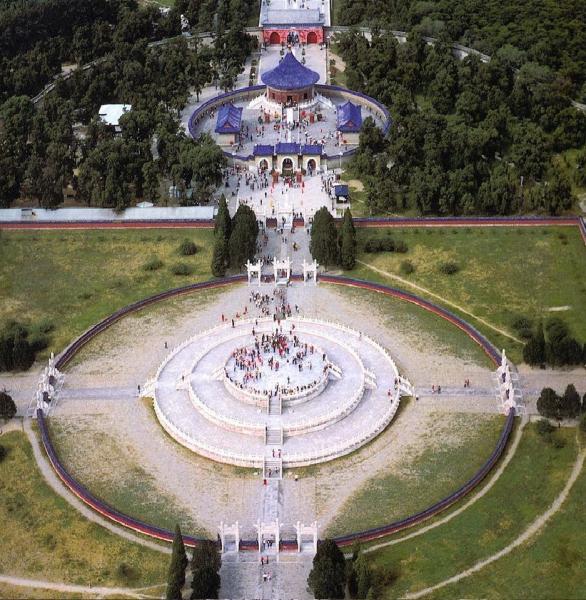 What to See
The three major structures in the complex include Hall of Prayer for Good Harvests, Imperial Vault of Heaven (with Echo Wall), and Circular Mound Altar.
The Hall of Prayer for Good Harvests
It was used to worship earth and heaven, and pray for good harvest in early spring. It is a round hall with a triple-eave roof with blue glazed tiles, culminating in a gilded sphere.
The Imperial Vault of Heaven
It is made from wood. The excusive wooden structure with a blue glazed tile roof, and a glided sphere on the top, makes it elegant and majestic.
Echo Wall
It is a circular surrounding wall of the Celestial Warehouse. If two people respectively stand behind the wall of East & West Annex Hall, one speaks with his/her face toward north, the other put his/her ear to the wall, and then they can hear each other's voice clearly.
The Circular Mound Altar
It is a triple-tiered outdoor circular platform made from white marble stone. It was used by emperors to hold the sacrificial ceremonies to the heaven on Winter Solstice.
When to Visit
Best time for visit: all year round.
Opening Time:
Gate:6:00 – 22:00
The scenic spots inside the Temple of Heaven:
From March to June: 8:00 – 17:30
From July to October: 8:00 – 18:00
From November to February: 8:00 - 17:00
How to Get There
You can get there by subway or bus.
- By subway: Line 5, Tiantan Dongmen.
- By bus: No. 2, 3, 6, 17, 20, 34, 35, 39, 41, 43, 54, 60, 106, 110, 116, 120, 122, 610, 707, 721, 723, 743, 739, 803, 957 or 958.
Travel Tips
1.Recommended time for a visit: One hour and a half.
2.Bring a map of the park.
3.If you visit here in summer, you should be careful with the searing sun.
4.Learn some Chinese Kung Fu - Tai Chi moves. If you get to the park early, you will encounter a bunch of local seniors practicing their morning Tai Chi in the park. It is a good chance to learn some moves, and it will also be an interesting experience in your China tour.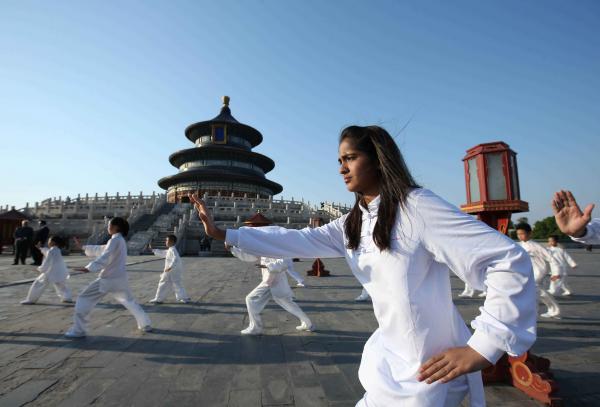 More Attractions in Beijing
Recommended China Tours Including Temple of Heaven Beijing