Nestled at the foot of Jade Dragon Snow Mountain, 6 km northwest of Lijiang old town, Shuhe was once a staging post at ancient Tea & Horse Road. With an altitude of 2440 meters above sea level, it is a tranquil town with a population of about 3000 people. Along with its sister town Lijiang, it is also part of the UNESCO Heritage site. Shuhe is the earliest settlement of Naxi people in Lijiang when their ancestors first moved to this region.
Shuhe town is just like a small-sized Lijiang with a similar layout, which boasts a Square Street (Sifangjie) and rivers flowing at downtown. It is really a delight to visitors who first come here. Compared with Lijiang, the town is less touristy and polished with more original characters. In recent years, Shuhe ancient town has gradually become a popular place for Lijiang tour.
In history, with the rise of Tea & Horse Road, Shuhe town was a major producer of leatherworking in the region.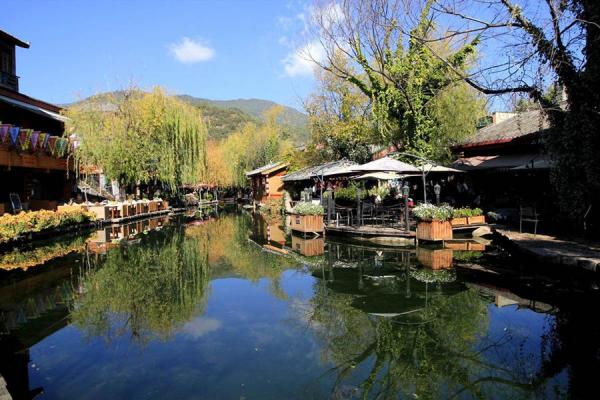 Shuhe Old Town Facts
-Chinese name: 束河古镇
-Location: Shuhe Road, Lijiang City, Yunnan Province, China
-Time needed: 3-4 hours
-Entrance Fee: RMB40/person
-Opening Hours: All day
-Best Time: All year round
What to See at Shuhe Old Town
Entering Shuhe Ancient Town, you can directly reach the central market of Shuhe Ancient Town. This is a square that similar to Sifang Street in Lijiang Old City, covering an area of about 250 square meters, it is also called Shuhe Sifang Street. It is very busy on the market day, and it's used to be the Lijiang fur trading center. Walking 100 meters along the street, you can find "Jiuding Dragon Pool", the source the stream. The water in the pool is crystal clear and the spring springs day and night, local people regard it as a holy spring. Therefore, there is also a Longquan Temple in the ancient town which was built in Qing Dynasty. The Temple worships Sun Bin, the founder of cobbler.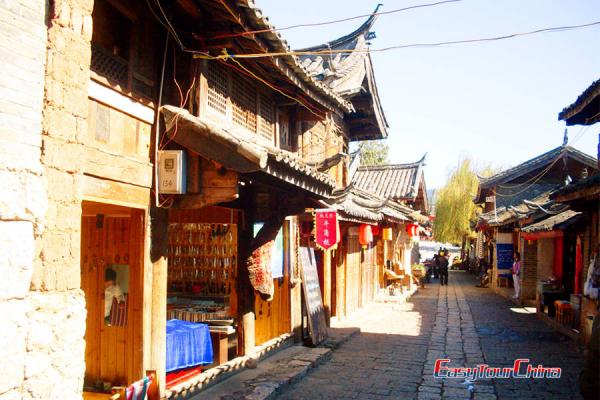 Major Attractions
Qinglong Bridge
Qinglong Bridge was built in Wanli period of Ming Dynasty, has a history of more than 400 years. It is 25 meters long, 4.5 meters wide and 4 meters high, all the bridge was built with stones. According to legend, there was an immortal that stepped from the bridge to Baisha village, and ascended to Yulong Snow Mountain. There are still can see immortal's footprints on the bridge. Every spring, the willows on both sides of the bridge grow new buds, as if the green waves are coming to the bridge deck. What a beautiful view!
Square Street (Sifang Streeet)
The Square Street of Shuhe Old Town is only about 30 meters long and wide. There are four roads leading to all directions. Surrounded by the stream, it is one of the oldest markets in Lijiang. In ancient times, there was a night market on Sifang Street, where people strolled leisurely with torches. It is said that Sifang Street was opened by chieftain of Mu family in the Wanli period of Ming Dynasty. Farmers and merchants from all areas of the country were often gathered here. Walking throung Shuhe Square Street, you can often see some old people sitting or squatting on the steps or benches, telling endless stories inside and outside of the village.
Tea-Horse Museum
The Tea Horse Road Museum area is the best preserved and largest ancient building complex in Shuhe Old Town. At present, there are 13 local cultural exhibition halls, displaying more than 800 cultural relics of the ancient Tea-Horse Road. It is the first private museum with Tea-Horse culture theme. Dajue Palace is the main building of the complex, which was built around 1567 AD. After more than 400 years, some of the painted and carved parts in have faded. The doors and windows of Dajue Palace has been rebuilt, while the main structure is well preserved. There are six murals in the main hall of Dajue Palace, which are rare treasures in temple wall paintings in China.
Jiuding Dragon Pool
Jiuding Dragon Pool is a famous scenic spot of Shuhe Old Town, it also known as "Dragon Spring(Longquan)" by local people. The water in the pool comes from the crevices at the foot of Longquan Mountain. The pool is not deep, but it is very clear. The fish in the pond are regarded as God fish by local people, the locals say anyone who eat the fish of the Jiuding Dragon Pool will suffer disaster.
Red Leaves at Xishan Mountain
There are many lacquer trees on Xishan Mountain, the leaves will turn red when autumn comes, which is a really enjoyable sight. This is also one of the eight famous sights of Shuhe Old Town.
How to Get to Shuhe Old Town
1. From Lijiang Old City
By Bike: Shuhe Ancient Town is about 6km away from Lijiang Old City, you can ride a bicycle to go there.
By Bus: You can take No.111 bus from Lijiang Old City to Shuhe Old Town
By Taxi: It is easy to take taxi to Shuhe Old Town, the cost by meter is around 20 Yuan.
2. From Lijiang Train Station
By Bus: You can take No.103 bus to Shuhe Old Town
By Taxi: It is easy to take taxi to Shuhe Old Town, the cost by meter is around 40 Yuan.
3. From Lijiang Sanyi International Airport
By Taxi: It is easy to take taxi to Shuhe Old Town, the cost by meter is around 100 Yuan.
By Private car: Easy Tour China can arrange private Lijiang trip to Shuhe Ancient Town which will be more comfortable and convenient.
More Attractions in Lijiang
Recommended China Tours Including Shuhe Old Town Lijiang