Guilin Flying Tiger Heritage Park ((full name: American Flying Tiger Heritage Park in Guilin) is to commemorate the United States' volunteer air corps, commonly known as " Flying Tiger", which aid China during the Second World War. The park is located on the site of Yangtang Airport in Lingui District, Guilin city, Guangxi Zhuang Autonomous Region. Currently, there are cultural relics such as the Cave Command Post, General Claire Chennault Observation Stone, aircraft bunker, etc. It is the only remaining site of the American Flying Tiger command post.
On March 28, 2015, Guilin Flying Tiger Heritage Park opened, when China and the United States commemorated the 70th anniversary of the victory of the world anti-fascist war.
Facts
- In Chinese: 飞虎队遗址公园
- Location: Lingui District, Guilin city, Guangxi, China
- Opening hours: 9:00am - 5:00pm (Tuesday – Sunday)
- Entrance fee: Free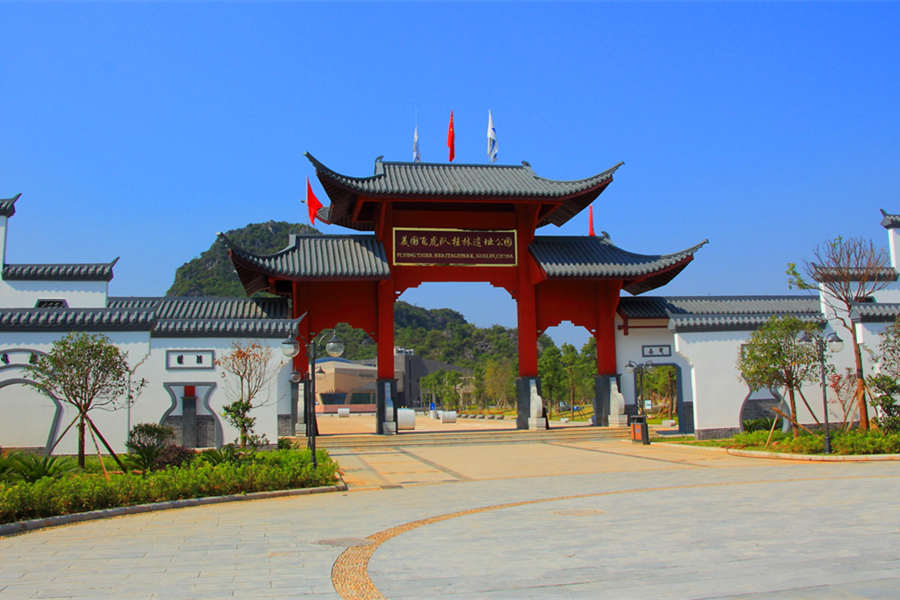 History
On June 11, 1942, when WWII was still on, American flight instructor Claire Chennault built the "Flying Tigers", flying four P-40 fighter planes and eight P-40B fighter planes stationed in Guilin, with Yantang Airport as a forward base, to fight against Japan. The "Flying Tigers" were incorporated into the 14th air force in 1943. The headquarters and command post are located in the caves of the two mountains of Yantang Airport.
In October 1944, "Flying Tigers" evacuated from Yangtang Base. The flying tigers and the 14 Air Force used nearly a thousand planes and tens of thousands of aviation ground crew, to deliver more than 70 ten thousand tons of supplies and more than 30,000 staff. They shot down more than 2600 Japanese planes, hit 44 Japanese warships, effectively supported the Chinese Anti-Japanese War, and made outstanding military achievements to defend the south China region.
The Heritage Park Construction
China and the local government spent years on the construction of the American Flying Tiger Heritage Park, and arranged several visits of the old flying tigers and their relatives and friends to the site. In July 2011, the 250-acre Guilin Heritage Park of the American Flying Tiger started construction, and constantly received more than 600 historical relics, such as Flying Tiger uniforms, medals and old photos donated by the historical committee of the American flying tigers, as well as nearly one million US dollars as the project construction funds.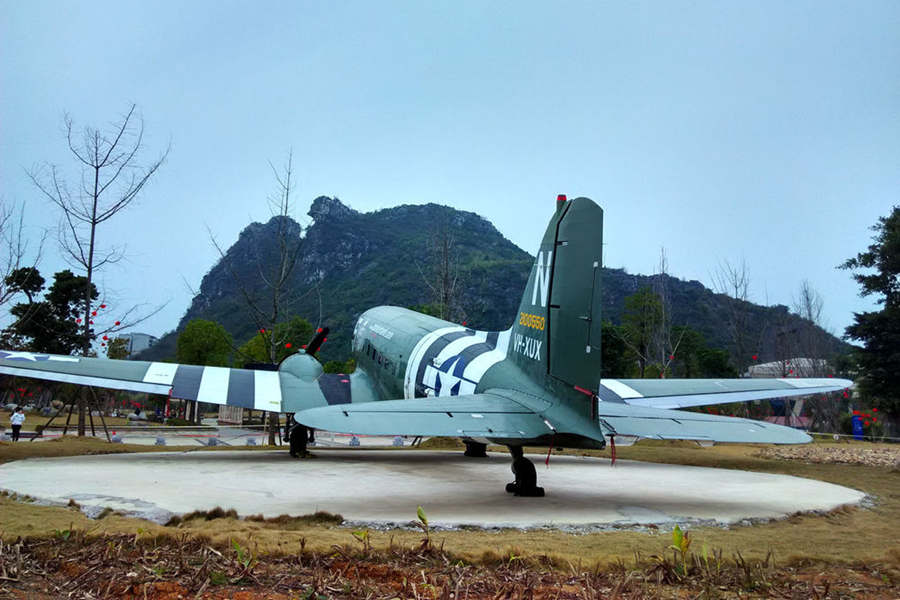 On March 25, 2015, in the testimony of the two peoples of China and the United States, the Flying Tiger Historic Commission formally donated world's last flight capable C – 47 fighter plane, which used to contribute to the Anti-fascist War in WWII, to the Heritage Park. This plane will be permanently displayed in the land where the Flying Tigers used to fight for.
How to Get there
From downtown Guilin, take bus No. 88 to the Jinshan Square Stop. Walk up to the square and catch bus No. 61 to Taian Road. Get off and walk along the road for another 500 meters, and you see the Heritage Park is on your right.
Attractions near Flying Tiger Heritage Park
Recommended China Tours Including Guilin Flying Tiger Heritage Park Guilin