Best Travel Time to Visit Guilin
Guilin enjoys a subtropical monsoon humid climate with clear-defined four seasons, characterized by heavy humidity. Its yearly average temperature is around mid 20ºC make it a year long visiting available and new beauty in each season. The best travel time to Guilin is from April to October.
Spring is warm with some rain with rivers, city and peaks are in the shower of mist, which is definitely amazing; summer is hot and humid and a cruise down the Li river or would be quite comfortable; Autumn is the best time to enjoy kinds of fun activities and overlook the golden Longji terraced fields in Longsheng, like hiking along li river, biking, kayaking...there are snow occasionally, cold and humid especially in Jan and not a good time to visit since water is low in the river and scenery not the best.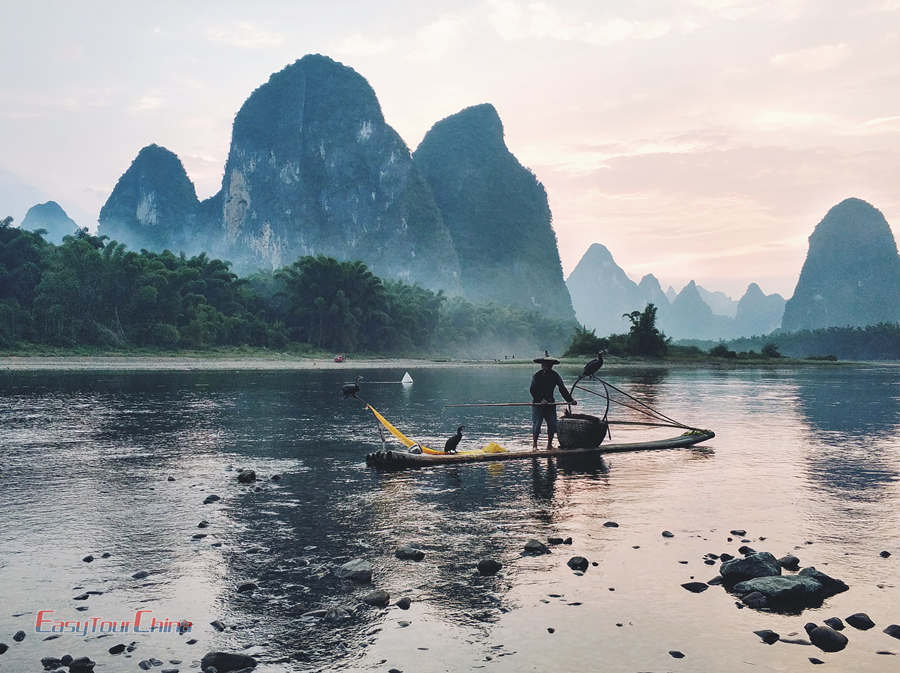 Safety in Guilin
Guilin is a great and safe tourist city just watch your valuable belongs in the central city since pick-pocketing is a common occurrence in tourist locations; also be careful about the begging people in the city park.
How to get to Yangshuo from Guilin?
From Guilin to Yangshuo you can take regular bus, boat cruise, bamboo raft and even bullet train.
By regular bus: There are dozens of bus departing from Guilin Qintan Bus Station to Yangshuo, priced at around 25 yuan. It takes about 1.5 hours.
By boat: The boat starts from the Mopanshan dock and takes about 4.5 hours to reach yangshuo.
By bamboo raft: You need to get to the Yangdi dock first, get aboard, and floating about an hour and a half to Xingping, where there is bus to Yangshuo.
By bullet train: It takes only 25minutes and the price is about 25yuan.
How to get to Longji Rice Terraces from Guilin?
By public transport: Take regular bus from Qintan Bus Station (depart every 40 minutes between 7:00am and 7:00pm) to Longsheng County directly (about 2 hours), and change for another bus to Ping'an or Dazhai Rice Terrace (run between 7:00am and 18
Shopping in Guilin
Guilin which means "osmanthus forest'' " is particular famous for its sweet scented osmantus products, like osmanthus tea and wine; and the three treasure of Guilin, Three-Flower Liquor, Guilin Fermented Bean Curd, and Guilin Chili Catsup are worth a taste; other local products or specialities are Gingko, Shatian pomelo, Lipu taro, cumquat, Luo Han Guo, chufa and momordica grosvenor; There are many other souveniours available in Guilin, like stone scultures and jade scultures, landscape paintings, pottery, porcelain, hand-painting screens, combs, kinds of fans and emboridered balls. Some of the places to buy these kinds of cute things in Guilin are Guilin International Tourism Commodity Wholesale Street and Yangshou West Street.
Eating in Guilin
What to eat in Guilin - Guilin rice noodle is eaten by local people for breakfast, lunch and dinner which are some chain stores or family-owned ones; rice noodles have a very smooth white and strong texture, always served with some soup, spring onion, groundnuts and marinated meat; Yangshuo Beer Fish made from fresh caught Li River carp, fried in a work along with bear, hot & green peppers, garlic, onions, tomatoes, soy and sugar; Lipu Taro Looped Meat is a famous traditional dish served in the traditional Guilin banquets. It is always found during festivals or important events, combined with streaky pork, red pepper, garlic spread, Guilin fermented bean curd, wine, honey and many other seasonings; Girdle Cooked Beef Steak (Niupai ganguo) is one of Guilin's most well known local spicy dishes. This kind of beef steak is cooked with different seasonings, such as chili, cassia bark, and fennel. It is similar to eating hot pot, except no broth is used in the wok, which is totally different from western beef...where to eat local cuisines and food in Guilin, please come to Guilin Food and Restaurants page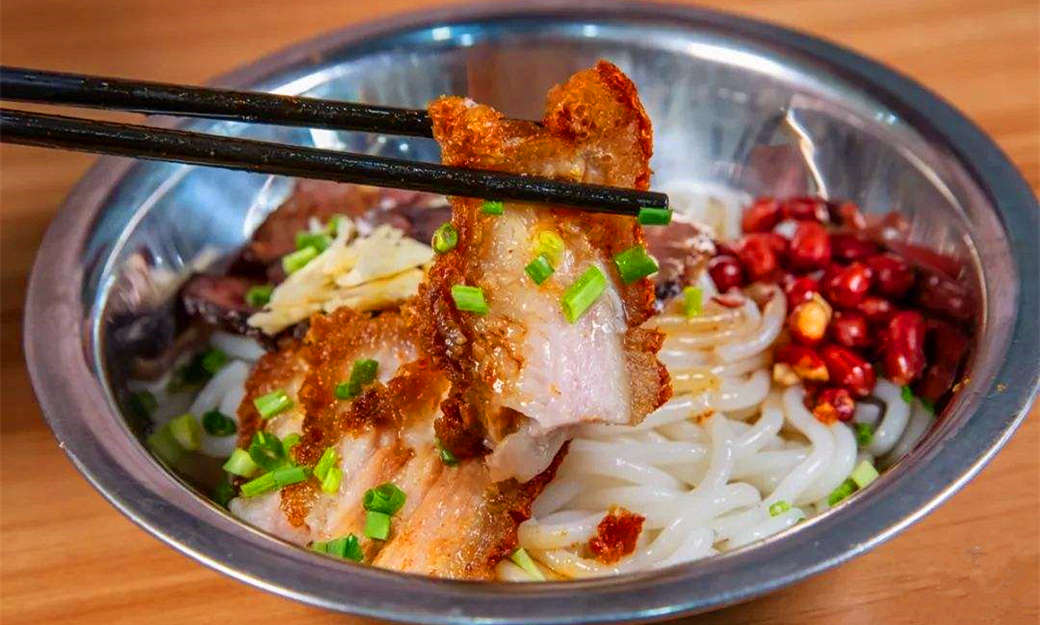 Nightlife / Entertainment in Guilin
Guilin offers a very active nightlife and entertainment activities, ranging from night shows featuring ethnic culture of the region as well as clubs, pubs, cafe open late in night.
Impression Liu Sanjia is a major show in Yangshuo, directed by Zhangyimou, a world-renowned Chinese film director. The performance venue is at the riverbank surrounded by 12 mountains, boasting 200 seats. There are 600 local actors in the 1-hour show, dressed in different styles of Zhuang, Miao and Yao ethnic groups' clothing, and will jointly sing folk songs, popular both at home and overseas.
A night cruise along the Guilin water system two River and Four lakes is another popular activity; the charming scenery along the round-city waterway can compare in beauty to the Amsterdam Canal, the Scenic of Paris and the waterways of Venice. It is just like wandering in fairyland even just strolls along the lake banks with lamplights glittering on the pristine river.
The performance in Dreamlike Theater in downtown Guilin combing acrobatics, modern circus and ballet, tells the local fairy tale.
Guilin Festival
Guilin Landscape Tourism Festival falls from late October to early November every year; during the festival, tourists will attend the opening ceremony, the autumn lantern festival on the Lijiang River, and the bonfire party on Love Island, watch performances of folk songs and dances, participate in the barbecue of game, join the Guilin ancient culture tour, and take Longsheng and Ailing hot spring tours.