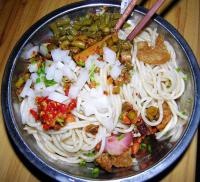 Guilin enjoys its fame for its exotic dishes and the sights of dogs, birds, turtles, snakes and other weird animals in their cages at restaurant. Don't be afraid though, if you are not feeling extremely intrepid, there are plenty of tasty options for those who prefer their regular food.
Guilin cuisine is a combination of Hunan and Cantonese cuisines, which means it serves not only dishes with spice and chili, but also emphasize on freshness and use of selected sauce.
Often characterized by its sweetness and a touch of spice, the flavor of Guilin is indeed unique. Traditional ingredients of Guilin recipes include (somewhat to the horror of animal lovers) dog, bamboo rat and turtle meats! However, the vast variety of local dishes here make it possible for one to sample the distinct flavor of Guilin without having to come into contact with those meats.
Famous Local Delicacy:
Lipu Taro looped Meat
: This famous dish is made of taro from Lipu (104km south of Guilin) combined with streaky pork with skin, pepper, mashed onion, preserved bean-curd of Guilin, cooking wine, sugar etc. The final product is golden and aromatic with taro's scent.
The Guilin Rice Noodle:
The Guilin rice noodle is the most popular local snack and the residents' favorite. The rice noodle is prepared with gravy, fried peanuts or soybeans, chopped scallions and slices of beef.
Pickled Vegetable:
The Chinese pickles are made of selected vegetable soaked in vinegar and sugar and preserved for a couple of weeks. It tastes sour and sweet and is used to serve with meat dishes. Local people believe the dish can arouse the appetite and help digestion.
Beer fish
: the dish was first created in Yangshuo ( 64 km south of Guilin). Mixed with other ingredients, fish is stewed with beer, which forms very delicious gravy in the pot. It has become the No.1 dish in Yangshuo. Every year there is a beer fish contest in town for the best taste prepared by the chefs.
Oil-tea
: Originated in the areas of ethnic group like Dong and Yao, oil tea was first created to ward off the moisture entering people's body and keep warm. People there boil the tea with ginger, scallion and serve with fried rice, peanut. Now the habit has been widely spread in North Guangxi, and the most famous one is Gong Cheng oil-tea.
Restaurant:
Yi Yuan Restaurant:
Add: 17 Nan Huan Road , Guilin
Tel: 0773-2820470
Chun Ji Roast Goose (chun ji shao e):
Add: 2 Zhong Shan Zhong Road , Guilin
Tel: 0773-2806188
Add: 32 Qi Xing Road , Guilin
Tel: 0773-5808518
Jin Long Zhai Restaurant:
Add: Wen Ming Road , Guilin
Tel: 0773-2821889
Add: San Li Dian, Guilin
Tel: 0773-5808889
Zheng Yang Soup City :
Add: Zhen Yang Road , Guilin
Tel: 0773-2858553
Hao Da Ma Food Plaza :
Add: Zhong Shan Zhong Road , Guilin
Tel: 0773-2869999/2863333