The landscape of Guilin is outstanding in the world, and the cuisine here is delicious as well! Though Guilin cuisine is not below to top eight Chinese cuisine, it has its own features with strong local characteristics and adapting to the tasted of people from the east, west, north or south. The Li River feed Guilin people, so of course, Guilin food culture is closely related to the river and the fields.
Located between Hunan and Guangdong Provinces, Guilin cuisine is a combination of Hunan and Cantonese cuisines, which means it serves not only dishes with spice and chili, but also emphasize on freshness and use of selected sauce. Often characterized by its sweetness and a touch of spice, the flavor of Guilin is indeed unique. There are many ethnic minorities living in Guilin, which savors up a lot of ethnic and rural flavor to Guilin cuisine. Hence, the real Guilin cuisine is often some seemingly insignificant and simple rural dishes, but the taste can definitely let you remember forever.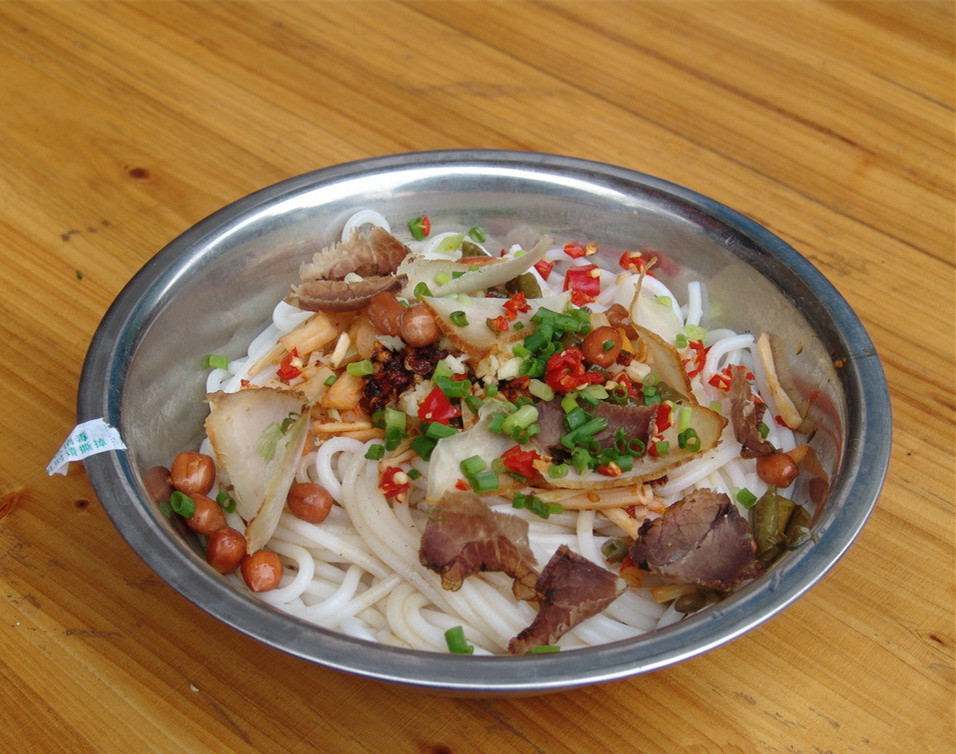 Tasty Guilin Local Food & Snacks
1. The Guilin Rice Noodle
The Guilin rice noodle is the most popular local snack and the residents' favorite. It can be breakfast, lunch or even dinner for the locals, you can find diners of rice noodle everywhere in Guilin. But not everyone is tasty. The marinade is the spirit of rice noodle, prepared with gravy, fried peanuts or soybeans, pork and slices of beef, a bowl of rice noodle is ready, and then you can add some ingredients like chopped green onion, chili, pickled Chinese cabbage or kelp for your preference. In general, good diners are hidden in residential areas, near alleyways.
2. Beer Fish
The dish was first created from Yangshuo. Mixed with other ingredients, fish is stewed with beer, which forms very delicious gravy in the pot. It has become the No.1 dish in Yangshuo, and has been a popular Guilin cuisine for a long time. Every year there is a beer fish contest in town for the best taste prepared by the chefs.
3. Oil-tea
Originated in the areas of ethnic group like Dong and Yao, oil tea was first created to ward off the moisture entering people's body and keep warm. People there boil the tea with ginger, scallion and serve with fried rice, peanut. Now the habit has been widely spread in North Guangxi, and the most famous one is Gong Cheng oil-tea.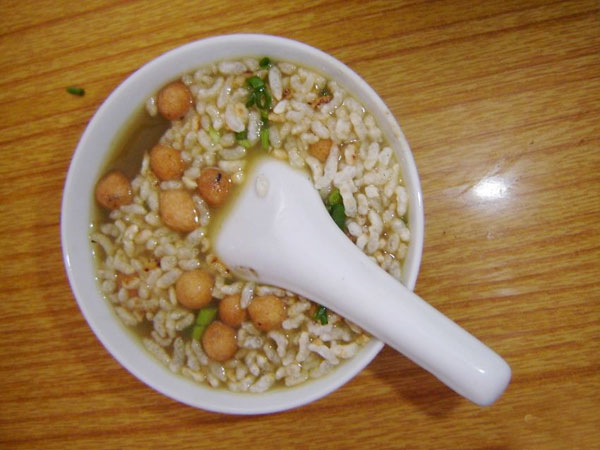 4. Pickled Vegetable
The Chinese pickles are made of selected vegetable soaked in vinegar or salt brine, and preserved for a couple of weeks. It tastes sour and sweet and is used to serve with meat dishes. Local people believe the dish can arouse the appetite and help digestion.
5. Glutinous Rice Roll
Glutinous rice is the main ingredient in many Guilin foods, and Glutinous Rice Roll is the most popular street food, cheap and tasty. It is completely different from Japanese Sushi, with a strong and warm taste. When steamed, the glutinous rice is soft and tender, and is served with mashed beans, tofu, chopped sausage and crispy cookie. Many students like to buy a large rice roll for breakfast.
6. Spirrali Piain
The Spirrali Piain originates from Liuzhou, a city next to Guilin. It is famous for its strong flavor of snail soup and spicy taste. Spirrali Piain became popular in Guilin because guilin also abounds in snails and prefers spicy taste. Authentic Spirrali Piain dishes have plenty of ingredients besides snails, fried beancurd sticks, black fungus, green vegetables, peanuts and sour bamboo shoots are essential essences of it. It also has a wide selection of flavors, if you can't eat spicy, you can taste non-spicy or mild spicy one.
7. Meat Stuffed Tofu
Guilin people are especially fond of stuffing different kinds of food into another kind of food to cook together. This cuisine is the most popular "stuffed foods" in Guilin families, easy to cook and good implication. Generally, it is round, which means reunion in Chinese, hence, besides being a daily dish, it is a must-eat dish during festivals.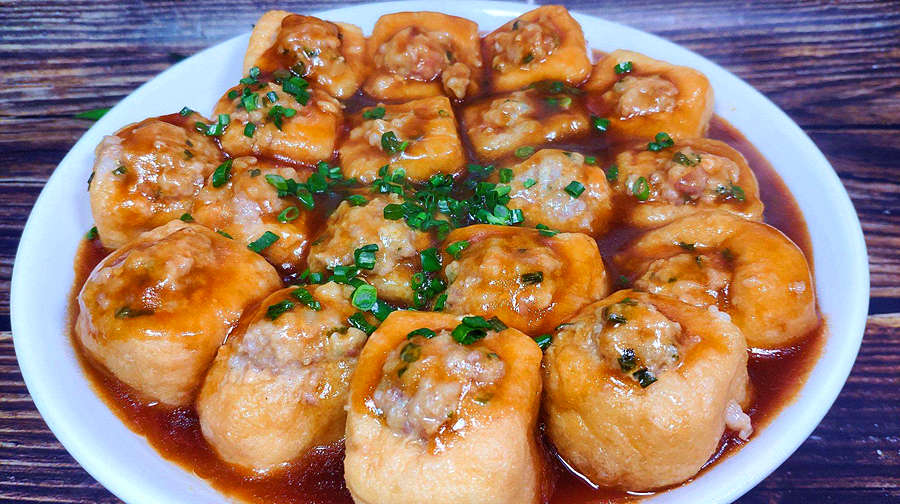 Famous Food Street or Area
Guilin locals like delicious food very much. If you want to try Guilin cuisine, wander around Xicheng Road or Xicheng Pedestrian Street and it's easily to find out local food. If you're a foodie, not just for Guilin food, we recommend you looking for foods in Miaojie Zone near the Center Square. East & West Alley and Shangshui Street are also good choice.
Recommended Chinese Food Restaurants
Yi Yuan Restaurant
Add: 17 Nan Huan Road, Guilin
Tel: 0773-2820470
Chun Ji Roast Goose (Chun Ji Shao E)
Add: 2 Zhong Shan Zhong Road, Guilin
Tel: 0773-2806188
Add: 32 Qi Xing Road, Guilin
Tel: 0773-5808518
Jin Long Zhai Restaurant
Add: Wen Ming Road, Guilin
Tel: 0773-2821889
Add: San Li Dian, Guilin
Tel: 0773-5808889
Zheng Yang Soup City
Add: Zhen Yang Road, Guilin
Tel: 0773-2858553
A Gan Restaurant
Add: Mid Zhongshan Road, Xiangshan District, Guilin
Tel: 0773-2808080; 0773-2806060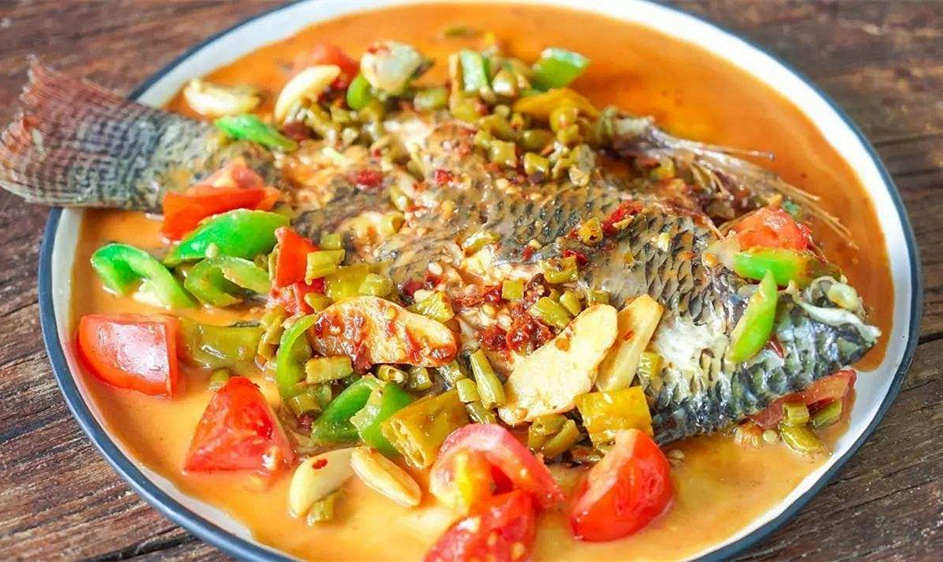 Recommended Vegetarian Restaurants in Guilin
Cha Su Ji Vegetarian & Tea House
Add: No. 22 East Chuanshan Road, Qixing District, Guilin
Tel: 0773-5887599
Nengren Temple Vegetarian Restaurant
Add: No. 6 Lijun Road, Xiufeng District, Guilin
Tel: 0773-2868845
Ai Su Su Vegetarian Buffet
Add: No. 7 Xinyi Road, Xiangshan District, Guilin
Tel: 0773-7590963
Kali Mirach Indian Cuisine
Add: Shangsshui Street, Xiufeng Distreet, Guilin
Tel: +86 13737396451
Yangshuo Ganga Impression Indian Restaurant
Add: D, Sunshine 100, Yangshuo County, Guilin
Tel: +86 18511890743
Recommended Western Restaurants
Annecy French Musical Restaurant
Add: No. 38 Wenhuagong Palace, Xiufeng Discrict, Guilin
Tel: +86 18172660812
Ru Zhou Restaurant
Add: No. 258 Linjiang Road, Qixing District, Guilin
Tel: 0773-8282263
Jolie Vue Boutique Hotel Restaurant
Add: No. 8 Binjiang Road, Xiangshan District, Guilin
Tel: 0773-2325888
Unicorn Craft
Add: GB123, East & West Street, Xiufeng District, Guilin
Tel: 0773-8283819