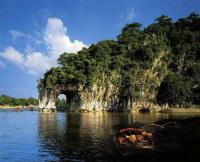 Named after osmanthus tree, Guilin (pop. 630,000) is one of the most-visited Chinese cities (pop. 630,000), located in the northeastern part of the Guangxi Zhuang Autonomous Region. It has long been famous for its limestone karst hills. Formed more than 200 million years ago when the oceans receded from this area, the hills sprout from a patchwork of paddy fields and flowing streams, creating a dreamy, seductive landscape that leaves few souls unstirred. Though there are a few hills in the city that can be explored, the Li River cruise from Guilin to Yangshuo is the top attraction in town. Increasingly, Guilin is also being used as a base to visit the Zhuang, Yao , Miao, and Dong minority villages to the northwest.
The whole Guilin covers an area of 27,809 km² with a population of 4.76 million, while the urban area is 565 km² with 603,500 populations. It administers twelve counties including Lingui County, Yangshuo County, Lingchuan County, Xing'an County, Quanzhou County, Yongfu County, Ziyuan County, Guanyang County, Pingle County, Lipu County, Gongcheng Autonomous County and Longsheng Autonomous County.
Parallel to the Li River runs Zhongshan Road, Guilin's main street. In the middle of the city on both sides of Zhongshan Road are Banyan Lake and Fir Lake respectively, each a beautiful park in its own right. To the north stands Solitary Beauty Peak, Guilin's most prominent karst peak. Along the Li River are two more peaks, Wave Subduing Hill (the north stands Solitary Beauty Peak, Guilin's most prominent karst peak. Along the Li River are two more peaks, Fubo Hill) and Elephant Trunk Hill, each proudly showing off Guilin's unique scenery. Elsewhere in the city is the big Seven Star Park with seven peaks and six caves as well as pavilions and gardens to enjoy. Lastly, on the northwestern outskirts of town is Reed Flute Cave, a fantastice limestone cave in the area, nicknamed as "Natural Art Gallery".
With summer's heat and humidity and winter's low rainfall affecting water levels in the Li River, April, May, September, and October are the best months for cruising. April to August also marks the rainy season, however, so be prepared with rain gear. Avoid the first weeks of May and October, when China celebrates national holidays, the Li River becomes even more congested with tourist boats than usual, and the price of everything doubles at the very least.