Just like the old saying "The landscape in Guilin ranks the best under heaven", Guilin has been long eulogized for centuries due to its mesmerizing sceneries. Its name means "Forest of Osmanthus", which is a type of evergreen bush with strong fragrant flowers in autumn. The whole Guilin covers an area of 27,809 km². It administers 6 districts, 1 county-level city Lipu and eleven counties including Lingui, Yangshuo, Lingchuan, Xing'an, Quanzhou, Yongfu, Ziyuan, Guanyang, Pingle, Gongcheng and Longsheng.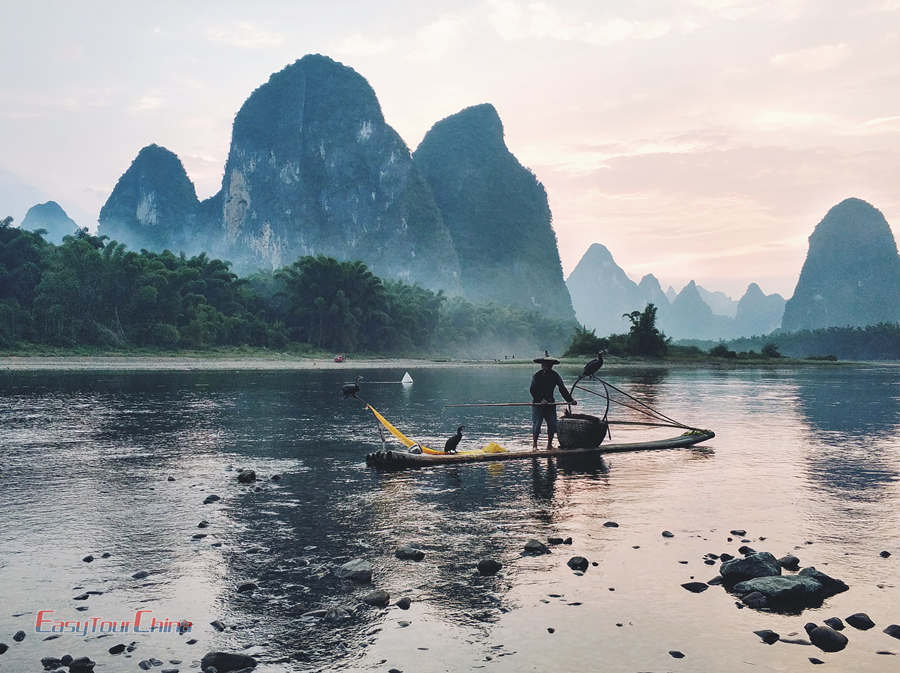 Archeological discoveries showed that 30,000 years ago a small group of humans (Late Paleolithic H. sapiens) lived in the Baoji Cave at the foot of Baoji Hill at city downtown. According to the recorded history, the First Emperor Qin Shihuang launched his ambitious campaign to conquer the south China and built the oldest contour canal in the world (in 214 BCE) called – Ling Canal in the north of Guilin. After he united the whole country, a prefecture was set up to administrate the area. Since then, Guilin has been a major town in the province. Now Guilin is the third largest city in Guangxi with a population of 5.35 million.

Home to sheer limestone peaks and emerald rivers (karst topography), Guilin has long been well-known for its stunning landscape. About more than 200 million years ago when the ocean receded from this area, deep erosion made the limestone plateau gradually disappear and left a multitude of tall weirdly-shaped pinnacles and tranquil rivers with clear water, creating a dreamy, seductive landscape of South China. Though there are a few parks in the city worth exploring, the Li River cruise from Guilin to Yangshuo is the top choice for tourists.
Compared with Beijing, Xian and Shanghai, Guilin is a lovely smaller town, which is an ideal place for international travelers to have a break and relax, especially after a long trip in China. It can also be considered as a hub to go further to unveil the mysteries of the neighboring hot spots like Yangshuo, Longji Rice Terraces, Xing'an Ling Canal, Bajiaozhai of Ziyuan, Wind & Rain Bridge at Sanjiang, etc.
Other places in Asia also have unique karst rocks similar to those in Guilin. Ha Long Bay in Vietnam and Phang Nga Bay in Thailand both are home to limestone hills rising out of the ocean.

Where is Guilin

Bordering Liuzhou city to the west and south, Hunan province to the north and east, Guilin is located in the northeastern Zhuang Autonomous Region of Guangxi, southern China. It covers an area of 27,809 km² (10,737 sq mi) with longitude 110°17′46″ E, latitude 25°16′30″ N. Due to its strategic position, Guilin was an important outpost in history integrating barbarian areas with the Middle Kingdom. After hundreds of years of development, Guilin has turned into a key industrial base in the north of the province, as well as a world famous tourist city with a large number of connections to other cities in and outside China by air and train.
Top things to do

Guilin is the starting point of the Li River cruise. Taking a leisurely cruise to Yangshuo along the Li River is a perfect way to enjoy the natural scenery of the area. The 4-hour boat trip down the river offers gorgeous views of dragon-teeth-like karst hills, joyful cascades, terraced rice fields and idle water buffalo. Nowadays bamboo rafting on the river is also available, which runs between Yangdi and Nine Horses Mural Hill near Xingping. It is said to be the most impressive part along the river. The so-called bamboo rafts are made of big PVC pipes with 4 passenger seats, propelled by a small gas engine. This is another unique experience for more adventurous travelers.
Praised as "the Palace of Natural Arts", Reed Flute Cave is a landmark of Guilin. You will see an array of stunning rock formations of stalagmites and stalactites, most of them are illuminated by the vivid, multi-colored lights that have been placed inside beforehand. A well maintained pathway was built in the cave, which can allow you to easily walk on and explore the wonder of nature. If you have some time in Guilin to hang around, Reed Flute Cave should definitely be on your must-do list.
Visit old village and meet the locals
There are some well-preserved ancient towns and villages in Guilin area, such as Daxu old town, Xiong Village, Jiangtouzhou Village, etc. In these places, you will still catch a glimpse of old way of life and aged architecture, and can even sit down and chat with some of them at their home. If including Yangshuo, Longsheng and Xing'an counties, there are many more chances to see the traditional side of China.
Hike and cycle in the countryside
Thanks to its natural beauty and slower life pace, Guilin is one of the best destinations for hiking and cycling in this country. You don't have to travel far to go to the less-visited country to hike and cycle, enjoying the fantastic landscape, plus the unique experiences. Even to have a walk around the lakes at city downtown is also pleasant and rewarding. ETC has crafted dozens of routes designed for outdoor travelers in Guilin and surrounding areas.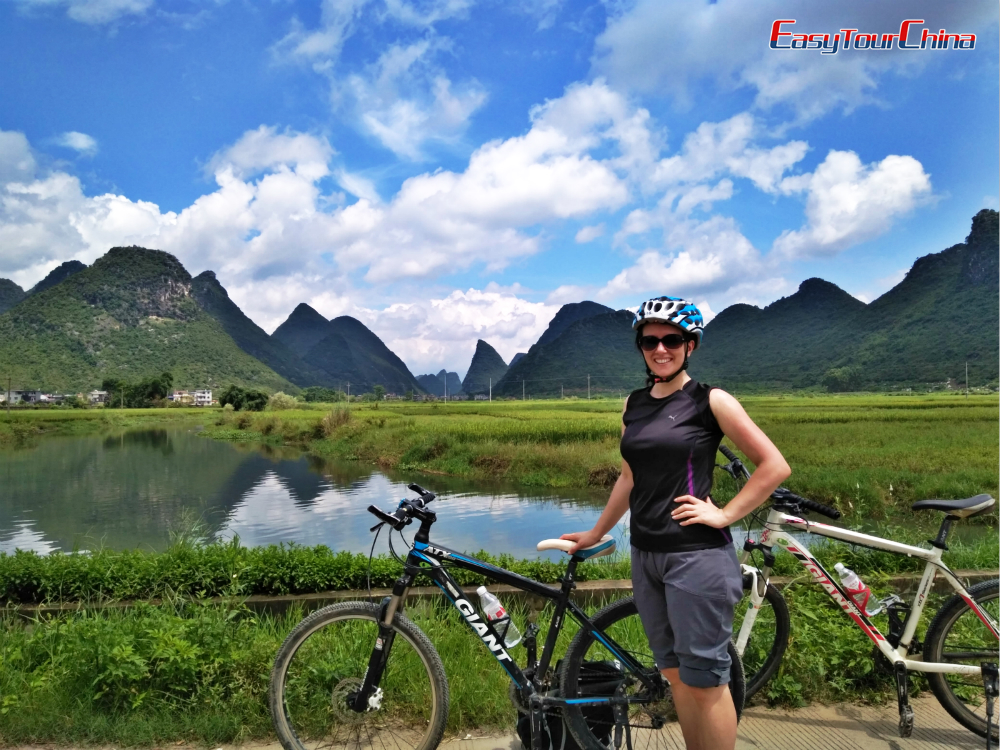 Try tea leaf picking and taste Chinese tea at Tea Science and Research Institute

8km away from city downtown, Guilin Tea Science and Research Institute is a lovely place for western travelers to visit. Here is the only research organization specializing in tea plantation and processing in the province. An English speaking tea specialist will give the visitors explanations of tea leaf picking, processing, then invite them to attend a Chinese tea ceremony so that they can have a better knowledge of Chinese tea culture.
Take once-in-a-life-time photos in Guilin

In history countless painters and poets were inspired by the stunning landscape of Guilin. Nowadays, it became a paradise for photographers from home and abroad. There are various great themes for professionals and amateurs: natural sceneries at sunrise and sunset, ancient village and architecture, portraits for locals, terraced rice fields/farmland, etc. ETC team has worked out many successful and fruitful trips for photographers and those taking up photography as a hobby.
Try local snacks

Many travelers agree that food tasting is a vital component of travel experience while you visit a new place. The local cuisine of Guilin reflects the features of combination of Hunan (spicy) and Guangdong (fresh, tender and light) cuisines due to the strategic locations between the 2 provinces. There are also many well-known snacks in the area: rice noodle, Mugwort sticky rice cake, hammered tea cooked with oil, sticky rice balls, steamed muffin and braised water snails, etc. ETC offers a half day food tour for travelers to see and try different types of local food.
How to get to Guilin

Guilin has been opened to the outside world in early 1970s. Being one of most popular destinations for tourists in China, Guilin has one international airport and 3 train stations. People can easily arrive or depart here via flight or train as it is well connected with all the major cities in China: Beijing, Shanghai, Xian, Guangzhou, Chengdu and Hong Kong, etc.
By air

Located 28km (17mi) away from the city downtown, Guilin Lijiang International Airport (IATA: KWL, ICAO: ZGKL) is the major airline hub in Guangxi Zhuang Autonomous Region (provincial-level). In 2018, around 8.7 million passengers transit through this airport as it has connected 76 cities at home and abroad with 112 airline routes. After the opening of Terminal 2 on 30 September, 2018, it can offer the passengers more comfort and convenience with its brand-new design and facilities.
With the development of high-speed rail network in China, more and more people choose to take train for short distance travel, which affects the frequency of short flights between the adjacent cities. Generally speaking, ETC specialists are likely to arrange clients a flight for the travel distance of 1000km or more, while a train trip less than that (travel time less than 5 hours by bullet train). In this way, clients can save time by air for long distance travel, and save money and travel more punctually by train.

By train

Guilin has 3 railway stations: Guilin Railway Station, Guilin North Railway Station and Guilin West Railway Station, plus one in Yangshuo. Guilin Railway Station is located at city downtown, which is the most convenient for you to go to the hotel or catch a bus/taxi to Yangshuo. Guilin North Station, finds its place on the northern edge of the city, while Guilin West Station is in the suburb, about 12 km from downtown. When you book the train ticket to or from Guilin, please ascertain which train station you are going to arrive or depart at.
Yangshuo Railway Station is actually located near Xingping Town (a picturesque fishing town), about 35 KM away. It takes nearly 1 hour to get to the station from downtown Yangshuo. Yangshuo Station is a small one, hence, there are few tickets available, and most of the trains stop here only for 2 minutes.
Travel beyond Guilin, extension to nearby spots
As the old saying goes, "the landscape in Gulin is the best under heaven, while that of Yangshuo ranks the best in Guilin". 25 years ago Yangshuo was just a small and peaceful town nestled among karst limestone hills, 65 KM south of Guilin city. Now it is becoming a prosperous and busy destination in this country. Despite the fast urbanization, Yangshuo still has so much to offer in its vast countryside, such as hiking, cycling, bamboo rafting, taking cooking classes, learning Kung Fu, etc., which makes it a fun place to stay in China for international travelers.

82 km north of Guilin, Longsheng is a multi-ethnic autonomous county located in the mountainous areas, which is the habitat for some minority groups like Zhuang, Yao, Dong, Miao, etc. The Longji Rice Terraces is a big draw in the area, consisting of two sections: Ping'an Rice Terraces and Jinkeng Rice Terraces. Besides the stunning view of rice terraces, staying overnight at village is also a great experience for western travelers. If you are an active traveler, this is a pleasant spot with various hiking routes ranging from 1-5 hours.
If you are a hot spring goer, there is a good hot spring resort hidden in the national forest park of Longsheng. Soak yourself in the steaming water, relax and wash away the tiredness.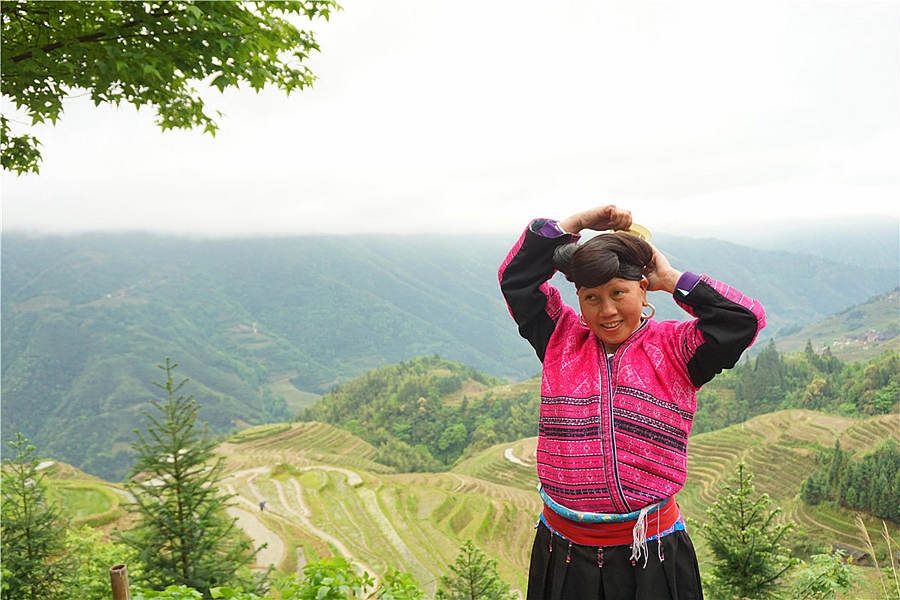 132 KM northwest of Guilin, Sanjiang is a region traditionally inhabited by the Dong people, bordering Qiandongnan Miao and Dong Autonomous Prefecture of Guizhou to the north. So it is also a gateway traveling from Guangxi to Guzhou province. Dongs are talented architects in China. In every Dong village, you will see a covered Wind & Rain Bridge and towering Drum tower. The Chengyang Wind & Rain Bridge at Chengyang village of Sanjiang is the masterpiece of Dong architecture.
To protect the traditional Dong houses and enhance the travelers' experience, ETC company worked with an international designer to rescue 4 aged ramshackle wooden houses at this village, restored and developed them into guestrooms – Lost World Sanjiang. Many clients appreciated what we have done and enjoyed their stay there.

Good times to visit Guilin

Guilin can be an all-year-round destination, though in winter it is chilly when the cold front comes. The temperature seldom drops below zero. Generally April to September is considered to be the best time to visit Guilin. From April to June, it is the rainy season. Most of the western travelers hate to go out during the raining days, while it is one of the most beautiful moments to appreciate the landscape of Guilin. If you prefer sunshine, then September, October and November are the perfect time to suit you. Please bypass the first week of October, which is the National Day holiday in China. Everywhere will be packed with Chinese tourists during the period.
Dining

Guilin is featured with a unique cuisine, heavily influenced by Hunan and Cantonese cuisines. Therefore, many local dishes have a spicy and sour flavor, while others may focus more on freshness, tenderness and slow-simmered soup. Since 1970s Guilin has been opened to the outside world and become a tourist city, travelers will never be let down by the food options with various kinds of restaurant here, no matter it is a local food stall or restaurant. If you want a break from Chinese food, there are some cuisines of other countries available at city downtown.
There are tons of local restaurants for you to choose. The locally acclaimed chain restaurants like Chunjin Roast Goose (椿记烧鹅), Xiao Nan Guo (小南国), A Gan Jiu Jia (阿甘酒家) and Zeng San Jia Wei Guan (曾三家味馆). These restaurants are quite well known among locals, value for money with a few branches at different corners of the city. If you want to try typical local food, they are good options. The food quality is guaranteed. During meal times, some restaurants can be very busy.
During your stay in Guilin, one meal can possibly be alternated with a different cuisine like Indian, or Western styles. We would recommend Mcfound Restaurant (mix of Chinese and Western food,麦香坊), Rosemary Café (迷迭香披萨店), Kali Mirch Indian Cuisine(黑胡椒印度餐厅), Café Nissi (尼西咖啡), etc. If you intend to dine at a decent restaurant with great view, then Elysée Bistro on the 7th floor of Jolie Vue Boutique Hotel (璟象酒店.爱丽坊景观餐厅) is a good choice.
Rice Noodle is the most popular snack among local people. You can choose to try at the high-profile Rice Noodles Pub (乱了粉库), or simply at Chong Shan Rice Noodle (fast food restaurant chain, 崇善米粉). For those vegetarians, you may try the Buddhist vegetarian meal at Nengren Temple Restaurant (能仁素食馆) and Tian Fu Lou Restaurant (添福楼素食会所).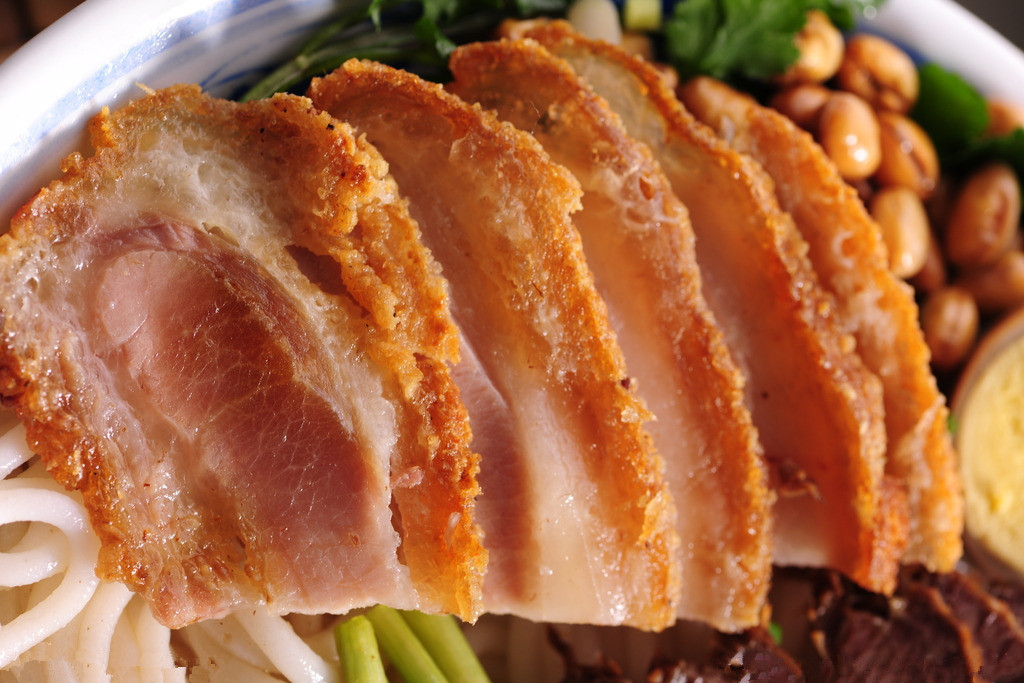 Guilin nightlife

Compared with Yangshuo, Guilin is not a good place for nightlife. There are very limited options for international travelers. You can go to Zhengyang Pedestrian Street. There are some bars and cafés. You may feel more comfortable at Houyuan Irish Pub (后园爱尔兰酒吧). If you are more adventurous type, trying the local street food and snacks at Xicheng Pedestrian Street is a delight in the evening.
What is more, you can walk around the lakes at city downtown when the light system is turned on at night, or book a boat cruise on the lakes.

Shopping in Guilin

As a 3rd-tier city in China, Guilin is of no big difference from other medium-sized cities in consumption. While there are still something unique to buy here, you may consider as a traveler. Mailing a post card of Guilin to your relatives and friends at the post office of Elephant Hill might be a delightful surprise to them. There are also some small souvenirs like scroll painting, painted folding fan and embroidery ball (a love gift of Zhuang people), which can leave you a good memory of this place.
To hunt for some lovely souvenirs, you are recommended to visit East & West Lanes (东西巷), a newly restored shopping area for locals and tourists. The night market at Zhengyang Pedestrian Street (at Lijiang Water Hotel side) is also fine.