Gubeikou Great Wall is located in the southeast of Gubeikou Town, Miyun District, Beijing, which is the most complete Great Wall System in history, and remained authentic and wild. In the broad sense, it is composed of four sections: Wohushan, Panlongshan, Jinshanling, and Simatai. But in the narrow sense and to visitors, it is composed of Wohushan and Panlongshan. In A.D 555, a Great Wall of more than 1,500 kilometers was built from Western River (now Yulin River in Shanxi Province) to Shanhaiguan Pass, Gubeikou is the key fortification point of this section of the Great Wall. In the 11th year of Hongwu in the Ming Dynasty (1378), Gubeikou Great Wall was extended and enhanced with more pass gates and beacon towers. The last construction took place in 1567, Wangjing Tower is the highest point of this section of the Great Wall (986 meters above sea level). The Gubeikou Great Wall has never been reconstructed in modern times, and it is somewhat dilapidated but retains its original beauty.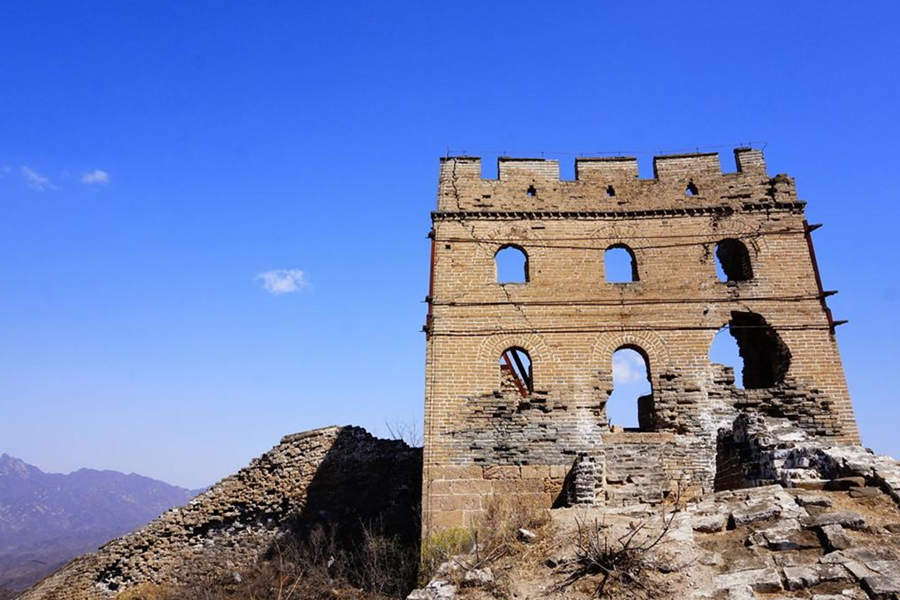 Gubeikou Great Wall Facts
-Chinese name: 古北口长城
-Location: Gubeikou Town Miyun District, Beijing
-Time needed: 1 Day
-Entrance fee: CNY45
-Best Time to visit: Spring and Autumn
Best Time to Visit Gubeikou Great Wall
Generally speaking, it is available to travel Gubeikou Great Wall all the year around. In different seasons, you can savor different beauty of Gubeikou. The best time to Gubeikou Great Wall would be April, May, September, and October when the temperature is comfortable and the scenery is delightful. It is always hot in summer and cold in winter. It is worth to mention here that a lively and large-scale temple fair is held at the King Medicine Temple on each September 14th of Chinese lunar calendar. It will be a very special experience to take part in a Temple Fair during your Beijing tour.
What to See at Gubeikou Great Wall
The Great Wall of was composed of the Northern Qi Dynasty Line and Ming Dynasty Line. It is a wild Great Wall section and retains its original composition. It is more suitable for people who love history and hiking. Hiking at Gubeikou is moderate, the mountain where the Gubeikou Great Wall is located is not high, while the roads up the mountain are covered with gravels and some sections are dilapidated, it is better to go with companions, and should avoid climbing under bad weather conditions, such as rain and thunderstorms. There are 143 watchtowers, 14 beacon towers, 16 gateways, 3 water passes, 6 fortresses and 3 barbicans in Gubeikou section with a total length of more than 40 kilometers. Among them, the famous ones are Dahualou beacon tower, Wangjing Tower, Sister Tower, Fairy tower, General Tower, 24-Eye Tower, etc.
>> You may also be interested in Best Great Wall Hiking Routes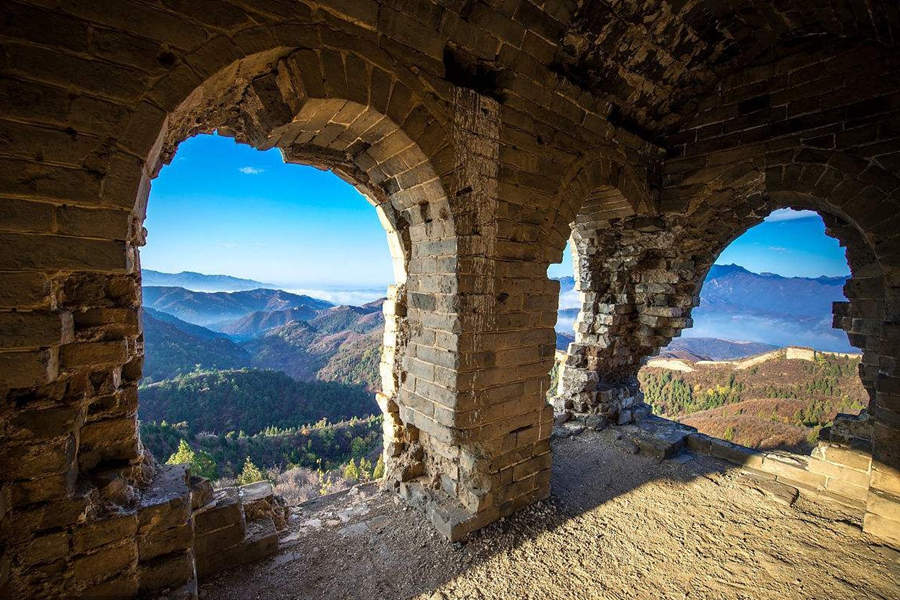 Major Attractions
Double-lined Great Wall
Gubeikou Great Wall was first built during the Northern Qi Dynasty, In the year of 1368, general Xuda was ordered to rebuilt it. The defensive capacity was enhanced by adding more stones on the basis of the Northern Qi Dynasty Great Wall. In the year of 1569, when Qi jiguang repaired the Great Wall in Gubeikou, he retained the great wall of Northern Qi Dynasty and pasted more bricks outside of the wall, forming the famous Double-lined Great Wall in Gubeikou. The famous Dahualou beacon tower and seven famous gateways are still preserved on the Northern Qi Dynasty Great Wall.
General Tower
The General Tower is a two floor watchtower with a height of 10 meters. There are three arrow windows in the east and west, four arrow windows in the north and south, and there is one door in each direction. This tower was once attacked by enemy's fire, and the crenels on the top have been completely destroyed by the gunfire. In the famous Great Wall War that against Japan, the fiercest battle between the enemy and us was happened at the General Tower.
24-Eye Tower
24-Eye Tower is the end of the Great Wall of Gubeikou section, it is the landmark building in Panlongshan section of Gubeikou Great Wall, and echoes the famous General Tower in the war. The 24-Eye Tower has three floors, the first and second floors have three arrow windows on each side, and the top floor is surrounded by crenels. It was named because there were 24 arrow windows on all sides, but the northwest part of it had been collapsed, and only the east and southwest wall were still standing there. Because of its important strategic position, the tower is very tall and unique, even a little bit of the feeling of ancient Roman coliseum. It is said that it used to be Qi Jiguang's office in Gubeikou.
Gubei Water Town
Gubei Water Town is located in Gubeikou town, leaning against the famous Simatai Great Wall, and only 10 kilometers driving distance from the entrance of Gubeikou Great Wall. Regarded as 'Wuzhen in Beijing', Gubei Water Town boasts a combination of mountains, water and ancient villages. The architectural features of the whole town are typical northern architectural style. Most buildings are reconstructed in the traditional courtyard style. The renovation of this 1000-year-old town has been beautifully done. Visitors now can combine Great Wall and water town for an innovative Beijing trip.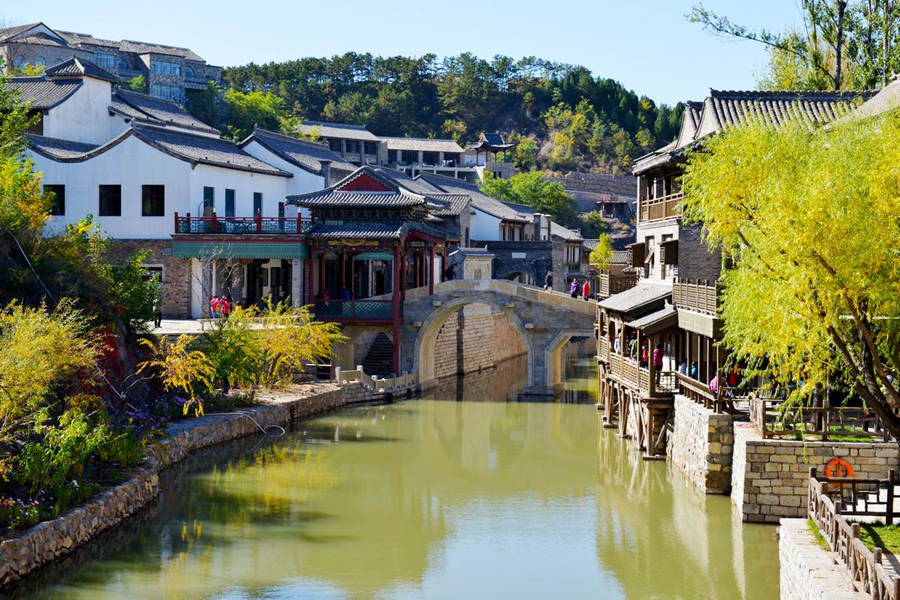 How to Get to Gubeikou Great Wall
1. Bus: Take tourist bus from from Dongzhimen Wai Station to Gubei Water Town (the departure time are: 09:00, 12:00, 15:30, there is an extra bus departs on 14:00 on weekend), transfer to bus Mi 25 to Er Zhai Cun Kou, then walk about 1.4 km to the entrance.
2. Private car: Easy Tour China can arrange private China Great Wall tours to Gubeikou Great Wall which will be more comfortable and convenient.
More Attractions in Beijing
Recommended China Tours Including Gubeikou Great Wall Beijing