The same idea as that in Longsheng, you have to go out of town to seek new experience. About 13 miles (20 km) northeast of town Chengyang Wind & Rain Bridge and the surrounding Dong villages are so peaceful and attractive. The bridge is more than 80 years old, this elegantly-covered bridge is considered by the Dong to be the finest of the 108 such structures in Sanjiang county, and took the local villagers 12 years to build. If we have a panoramic view of this area, it looks out over a lush valley dotted with Dong villages and water wheels.
Dong villages are famous for their wind and rain bridges. Chengyang Wind and Rain Bridge is the largest and the best amongst them. Chengyang Wind and Rain Bridge, also known as Yongji Bridge or Panlong Bridge, was built in 1916. It is 64.4 meters long, 10.6 meters wide and 10.6 meters high. Completely made of wood and stone, it is one of the most magnificent wooden architectural structures.
You will be amazed that the bridge was constructed using not a single nail or rivet! Pieces of wood are closely jointed to each other. Though decades old, it is still very sturdy and in use. The bridge is inlayed with railings on both sides, and on the bridge there are 5 tower-shaped kiosks with many horns. Many huge wooden mill wheels dotted on the hillsides beside the village, you can see or even hear the water running slowly to turn around the wheels.
Many visitors come here to experience the pastoral life, Dong customs and enjoy the charming sceneries. There are several hostels near the bridge, offering spectacular views around. You can see tea trees growing on the hills, rivers winding along their way, local farmers working hard in the fields.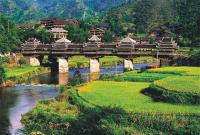 More Attractions in Sanjiang
Recommended China Tours Including Chengyang Wind and Rain Bridge Sanjiang