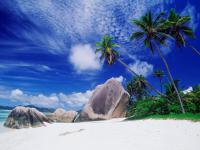 By the foot of Maling Mountain stands a wonderful land - Tianya Haijiao. It means the end of the earth and sea in Chinese. There are three carved rocks that are regarded as the symbol of Tianya Haijiao - "Tianya", "Haijiao" and "Nantian Yizhu".
These three rocks are full of beautiful legends. Long, long ago, two beautiful fairies descended to the human world and served as the guide for the fishermen in the South China Sea. Then Heavenly Queen Mother was quite angry about that and ordered them to go back. However, these two girls refused and turned into the stones. It is the "Nantian Yizhu".
Another story: It is said that a boy and a girl were in love with each other. But there was the feud existed between two families for a long time. Hence their love was also opposed by their families and both of the young couple threw themselves into the sea. Finally, they became two stones and have been facing each other all along. That is the stones of "Tianya" and "Haijiao".
Every year Tianya Haijiao International Wedding Festival is sponsored here, thousands of newlyweds coming from home and abroad have celebrated their wedding ceremony at Tianya Haijiao since 1996.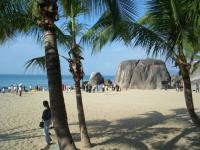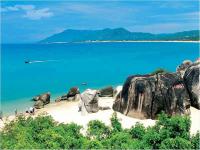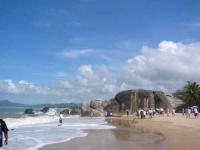 More Attractions in Sanya
Recommended China Tours Including Tianya Haijiao Sanya