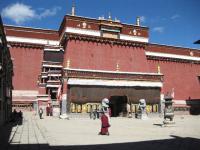 Some 180 km southwest of Shigatse, Sakya Monstery is the most important monastery of the Sakyapa Sect of Tibetan Buddhism. In Tibetan, Sakya means 'grey soil'. Originally the monastery consists of northern and southern temples. The northern temple was built by Khonchok Gyelpo, the founder of Sakyapa Sect in 1073 near the north bank of Zhong Qu River, but later ruined. The southern temple was constructed as a fortress-like complex in 1268 after Tibet was unified by Yuan Empire, covering an area of 14,760 square meters.
During the 13th century, Sakya Monastery was the administrative organization of whole Tibet. After the downfall of Yuan dynasty, they were eclipsed by the rise of the new Gelugpa sect. Anyhow, they still have many followers in Tibet.
Sakya Monastery is regarded as the "second Dunhuang" in China, which boasts a large collection of Buddhist sutra, murals and Thangkas. Sakya has a history of more than 900 years, and ruled the Tibet about 70 years. In the monastery, about 24,000 volumes of sutras and other books were well preserved here as well as the official documents during the ruling period. These are the valuable materials to study the history and culture of Tibet in the 13th century. Besides, The Yuan Emperor Kublai Khan presented Phakpa (the fifth descendent of Sakya Sect) a gift - a white conch contained in a black wooden box.
The Main Chanting Hall, also called Lakhang Chenmo in Tibetan, is very impressive to all visitors. Covering an area of about 5,800 square meters (1.4 acres), it can accommodate about ten thousand monks chanting sutras together.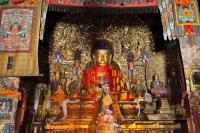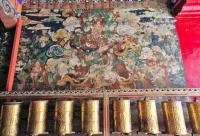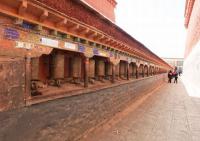 More Attractions in Shigatse
Recommended China Tours Including Sakya Monastery Shigatse