Nestled in the Flaming Mountain, 10 km northeast of Turpan, the Grape Valley runs 8 km from north to south at a width of 0.6-2 km. In the green valley, an area of 285 hectares has been planted with grapes, producing 14932 tons of all kinds of grapes. Surrounded by stark desert and summer heat, it is a small paradise with a thick maze of vines and grape trellises.
Long time ago, the local people built up the Karez systems in the valley, channeling the glacial melt water for irrigation and daily use from Tianshan Mountain. Grape Valley is very famous for growing all kinds of fruits like grapes, melons, peach, apricot, pear, etc. And all these fruits are exceptionally a lot sweeter than those produced in other places.
You can take some nice walks along the grape corridor, there are drying rooms on nearby slopes. The tour guides sometimes let the tourists to visit the local people's house, and they are always greeted by the hospitable Uygur people with all kinds of snacks and fruits.
Nowadays Grape Valley has been turned into a top tourist attraction in Xinjiang attracting thousands and thousands of tourists every year. It was granted the title of "5A Tourist Attraction" (the highest level) of China in May, 2007.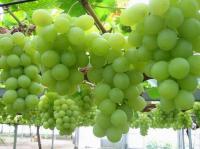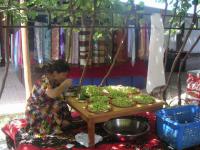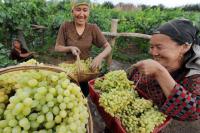 More Attractions in Turpan
Recommended China Tours Including Grape Valley Turpan