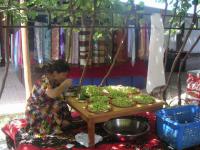 Best travel time Turpan
Turpan is surrounded by the Gobi desert with a typical climate feature of desert area, with hot, windy and dry summer days; but autumn is the best time to visit Turpan, with comfortable daytime and cool nighttimes; further more, it is also the harvesting time of local fruits like watermelon, grape and Hami melon.
Turpan Safety Tips
Respect the traditions or habits of local people
Grapevines and fruit trees area eve present, but the fruit is not free. Don't pick fruit from the trellises randomly
Turpan Shopping Tips
The grapes and raisins in Turpan are incredibly delicious, so don't forget to take some home as gift. Some other local products are locally made knives, ethnic caps and knitted carpets.
Eating in Turpan
Unless grape and raisins, Turpan is famous for delicious Uygur snacks which could also be found at Urumqi. Kebas, Nang, Zhua Fan are representative Turpan food and available at every corner of this city.
Other famous cuisines in Turpan are roasted dumplings, Sanzi and Ququ (Wonton). See detailed info on Turpan food and restaurant page
Nightlife / Entertainment in Turpan
Nightlife in Turpan is not as developed as that in big cities, but there are also some bars, discos, cinemas and clubs available.
Turpan Tourist Culture Square is an ideal place to enjoy the Uygur people's singing and dancing performance.
Turpan Festival
Fall is probably the ideal time to be here though the winter can come on fast, bringing with it the biting cold of the desert. Every August 25 there's the annual Silk Road Turpan Grape Festival at the Turpan Travel and Culture Square.