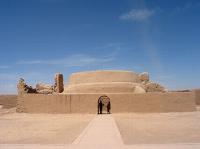 Located in the middle of Turpan Basin in Xinjiang Uygur Autonomous Region, Turpan is a county-level city with a 2000-year history. 154 m below sea level, Turpan Basin is the lowest spot in China and the second lowest depression in the world after the Dead Sea. The city has a population of 579,000 (2005) with a little more than 70% of Uygurs, the rest are Han, Hui and other minority people.
The center of the city is the Turpan oasis, a small city set in a vast tract of grain fields. Nicknamed as "the Oven", Turpan is one of the hottest place in China. Summer temperatures hover around 40 degree Celsius (100 F), and can sometimes reach as high as 48 degree Celsius (118 F). Despite its hellish climate, Turpan is rather pleasant, relaxing place. It is a most famous fruit producer in China like grapes, multicolored melons, cantaloupes, apricots and raisins.
In the town many of the smaller streets have pavements covered with grapevine trellises, which are a godsend in the scorching heat of summer. Moving further out of the town, the narrow streets are lined with mud-brick walls enclosing thatch-plaster houses. Open channels (Karez System) with flowing water run down the sides of the streets; local people draw water from here for daily use.
Turpan holds a special place in Uygur history, since nearby Gaochang was once the capital of the Uygurs. It was an important staging post on the Silk Road and converted to Islam in the 8th century. Nowadays, the popular attractions include Grape Valley, Flaming Mountain, Emin Minaret, Jiaohe & Gaochang Ancient City Ruins, Astana Ancient Tombs and Bezeklik Thousand Buddha Caves.