Nanputuo or South Putuo is a famous 1,000-year-old Buddhist temple in Xiamen, a seaside city in East China's Fujian Province. The temple is so named because it is south of the Buddhist holy site Mount Putuo in Zhejiang Province.
Situated at the foot of Wulao Peak on the southern end of Xiamen, the temple's Heavenly King Hall, the main prayer hall, the Hall of Great Compassion and the Shrine of Buddhist Scriptures are all graced with painted brackets.
The temple was first built during the Tang Dynasty (618-907). Rebuilt during the Qing Dynasty (1644-1911), it is now an imposing multi-layered trapezoidal structure that overlooks the sea. The Shrine of Buddhist Scriptures houses a huge collection of Buddhist cultural relics, including a Burmese jade carving of the Buddha and many important Buddhist literatures. It is one of the sacred places of Buddhism in Southern Fujian. Inside the temple there are the Heaven King's Hall, the Daxiong Hall, and the Great Compassion Hall, all of which are built in an exquisite and grand style.
In the temple there are preserved many inscriptions, among which the stone inscriptions written by Chen Di and Sheng Yourong in the Wanli period of the Ming Dynasty and the one on a stone stele written by Emperor of the Kangxi period of the Qing Dynasty are most famous.
Behind the temple, inscribed on the wall of a rock is a large word "Buddha" which is 4.66 meters tall and 3.33 meters wide. And farther behind, high up on the mountain stands a screen of five peaks colored by green trees and bamboos and marked by serene valleys and rocks of pleasing shapes. They are called "Five Old Gentlemen Reaching the Clouds," and are one of the eight grand sights of Xiamen. Coming to the top, you not only have a view of the mountain undulating in the wind, but also the view of the sea surging in the distance.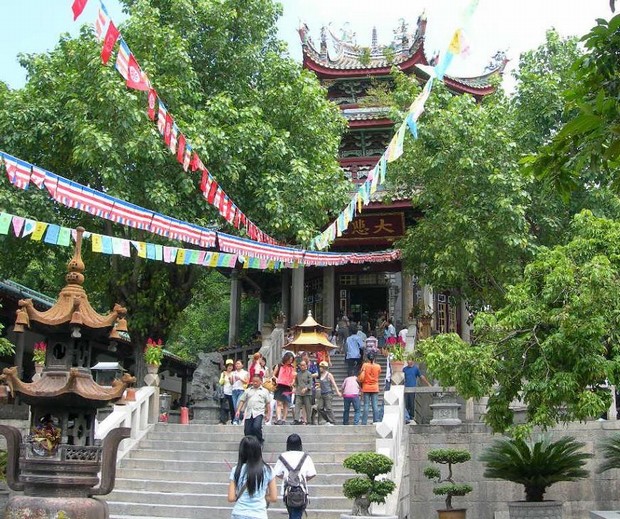 Every day, monks do their morning and evening chanting to purify the minds. For visitors, they would burn incense and pray here. And, the vegetarian food, with a uniquely light and fresh taste, is also a big draw.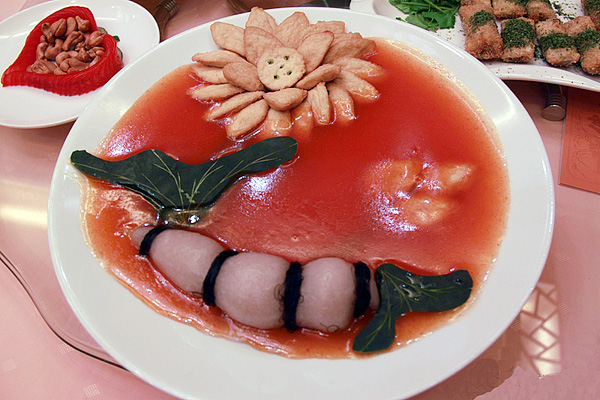 More Attractions in Xiamen
Recommended China Tours Including Nanputuo Temple Xiamen