Water-splashing Festival is the New Year for Dai minority and one of the most important festivals in Xishuangbanna. It usually lasts at least three days from 13th to 15th, April (It is the sixth month in Dai calendar).
When comes to April every year, the Dai people always finish their farm work and start preparing for their New Year's ceremony: Water-Splashing Festival. It is the ceremony to wash off the dirt and bad luck of the past year and spread blessings and happiness in the New Year.
During the festival, everyone is dressed in beautiful clothes and ready for blessing and receiving wishes from others. Don't be shy - just splash water on everyone whether you know them or not. Don't worry about your clothes, the more soaked you get, the more blessing you've received from others. Being splashed and blessed during the festival is an experience there. For many visitors, water-splashing festival is the main reason to visit Xishuangbanna.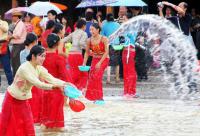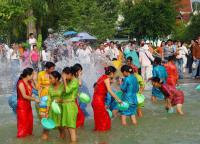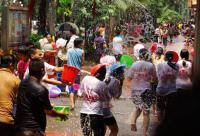 More Attractions in Xishuangbanna
Recommended China Tours Including Water Splashing Festival Xishuangbanna