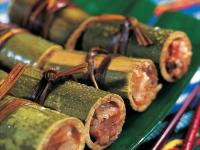 Xishuangbanna is the major habitat for Dai people. The food here is featured with Dai style, which enjoys the great fame in Yunnan Cuisine. Dai people love sticky rice and pickled food in their daily meals, and they also eat barbecued meat and fresh water fish a lot. Since long time ago, the locals have learnt how to use the plants to make their special seasonings and spice for cooking, the people can taste the unique flavor of Dai people's food. The popular place for local food in Jinghong city includes Manjinglan Food Street, Manla Village and Jinshatan Barbecue Night Market.

Local featured cooking style - Baoshao
It is a popular Dai-style way of cooking. The local people use banana leaves or other leaves to wrap up the food like meat, fish, etc, and barbecue on the charcoal fire. Any meat can be cooked in that way. It tastes delicious and unique.
Recommended Xishuangbanna Tours