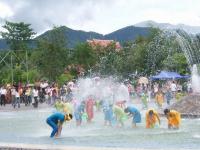 Best travel time Xishuangbanna
Xishuangbanna has tropical monsoon climate with abundant sunshine and rainfall; the annual temperature is 20℃. There are two mainly seasons in Xishuangbanna, dry season from November to next April while rainy season from May to October. The best time to visit Xishuangbanna Yunnan is from October to next June.
Xishuangbanna Safety Tips
Take umbrella, sunscreen lotion, insect repellent as well as anti stroke drugs are recommended for travelers in Xishuangbanna
Respect the Dai and other minorities customs or habits when you traveling there
Carefully selected jade and other jewelry before making purchase decision, and when buying, don't forget to ask for an invoice
T-shirt or shorts, as well as a thin coat are recommended clothes for this area; while all locals wear slippers due to the heat of day.
Don't take taxi to some scenic spots since taxi drivers would stop and force you to a number of stores for shopping and they have some commissions there; and if you don't agree, they will take you the desired destination without any money refundable.
Xishuangbanna Shopping Tips
A wide variety of tropical fruites are available in Xishuangbanna all the year round, like banana, pineapple, mango, plum, grapefruit, sweetsop, passion flower and so on. There are also many precious plants grow in Xishuangbanna area which are mostly used as medical herbs. Xishuangbanna is home to the famous Puer tea and don't forget to take some if you are a tea fan.
Women of Dai, Hani, Laku, and Jino weave cloth by themselves, and have the tradition of embroidering the clothes of their own. Therefore, brocade and embroidery with local ethnic characteristics are also favored by visitors.
Silver ornaments are popular within the minority groups in Xishuangbanna, like hairpin, earring, chaplet, bracelet, armlet, ring and waistband. The traditional silver jewelry was handmade but the items for sale on the market are produced in large factory.
Women of Dai, Hani, Laku and Jino weave cloth by themselves and have the tradition of embroidering the clothes of their own. Black pottery is the traditional handwork product of the Dai minority nationality.
Eating in Xishuangbanna
The cuisine in Xishuangbanna is mainly Dai ethnic dishes, renowned for either sour or spicy flavor; the representative foods are Fragrant Bamboo Rice, Boiled Fish with Pickled Bamboo Shoot and Chili and Fish Grilled by Fragrant Grass and Charcoal.
Xishuangbanna Nightlife / Entertainment
The singing and dancing of Dai people are the must see activities when travelling to Xishuangbanna; and in some tourist sports, travelers are welcomed to dance with local people. Pubs, bars and cafes in hotels are also great place for night activities.
Xishuangbanna Festivals
The most celebrated festival in Xishuangbanna is the Water Splashing Festival in the New Year in Dai calendar, around April 13th to 18th each year, which is also known as the Festival for Bathing the Buddha.
Celebrations of Water-splashing Festival:
Day 1: song and dance, dragon boat racing, launching of rockets and flying of Kongming lanterns.
Day 2: parades and fairs; local people wear traditional clothing and offered home-made stuff on the fairs.
Day 3: exciting water splashing activities!
Guanmen and Kaimen Festival are another two festival celebrated by Dai people: Guanmen festival comes in the middle of July with all people go to some temples and pray; Kaimen festival comes after 3 months of Guanmen Festival, symbolizing the ending of rainy season; young people begin to love freely or hold weddings which are not allowed during Guanmen festival.
Recommended Xishuangbanna Tours