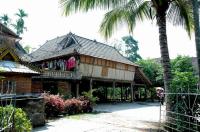 550 km south of Kunming, capital of Yunnan, Xishuangbanna Dai Autonomous Prefecture is a very attractive destination for tourists. It was known as Mengbalanaxi in old time, referring to a piece of utopia in Dai words.
Xishuangbanna is the only oasis preserved in the tropic of cancer and also the unique tropical forest in China. It shares 996 km boundary with Burma and Laos, being an important gateway to Southeast Asia.
Covering 19,185 square kilometers, Xishuangbanna consists of three parts: Jinghong county-level city, Menghai and Mengla counties. There are totally over 800 attractions in Xishuangbanna, where there also live various wild animals and plants. Hereby it is regarded as Kingdom of Animal and Plant.
Xishuangbanna is the home to Dai nationality that holds rich folk customs, such as, Dai minority dance, water-splashing festival, etc. Such activities can allow many visitors to join in and you can share much fun with the locals.
Xishuangbanna has wet and dry seasons. The wet season is between May and October, its rains almost every day. Its day season is from November to April in next year. The annual average temperature is 21 ℃, neither hot summer nor cold winter. It owns pleasant climate. The best time traveling to Xishuangbanna is between October this year and June next year.
Recommended Xishuangbanna Tours