When the people first arrive at Dalian, they are usually amazed by the colorful squares of different styles here. There are so many large-sized squares at city downtown, which add more charm to this modern city. Here below are some most famous ones:
Zhongshan Square

Also called Nikolayevskaya Square, Zhongshan Square was first built during the Russian colonial period. It is the Dalian's hub, leading 10 roads to different directions. Many aged buildings of European styles, most from the early 1900s, encircle a huge roundabout. It has become a popular site for the locals to enjoy their pastime. If you come in the evening, the square is beautifully illuminated.
People's Square (Remin Square)

Covering 125 thousand square meters, People's Square is surrounded by the municipal administrative and judicial organizations. The feature of this square is the amazing musical fountain in the south of it.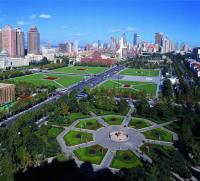 Friendship Square

It is built to commemorate the friendship of China and the former Soviet Union. A huge crystal-ball like architecture is situated in the square, with the five hands underneath. This stands for the unity and cooperation among the people coming from five continents. At night, when the 3-color lights inside are turned on, the visitors can see a stunning view. The square is close to the shopping centers and nigh clubs on the city.
Haizhiyun Square

It is located at the entrance of the northeastern section of Binghai Road. The artificial waterfall at the center of the square is a dazzling spot. You can see a series of sculptures, which were for the celebrations of the 100th anniversary of the establishment of Dalian city in 1999.
Xinghai Square
Encompassing an area of 1.1 million square meters, Xinghai Square may be the largest one in Asia of the same type. It was open to public in June 1997 in memory of the Hong Kong SAR's return to the mainland.
More Attractions in Dalian
Recommended China Tours Including The Squares in Dalian Dalian