Qinghefang Ancient Street is a tourist-oriented shopping and dining street will allow for shopping and dining catered to tourist tastes, which is located close to Wu Hill and the West Lake. Being one of the oldest streets and the only well-persevered antique historic street in Hangzhou City, Qinghefang Ancient Street got its name in Southern Song Dynasty and became prosperous in Qing Dynasty. After Hangzhou had been chosen as the capital of Southern Song Dynasty, Qinghefang witness many luxurious residence and prosperous restaurants, teahouse and stores.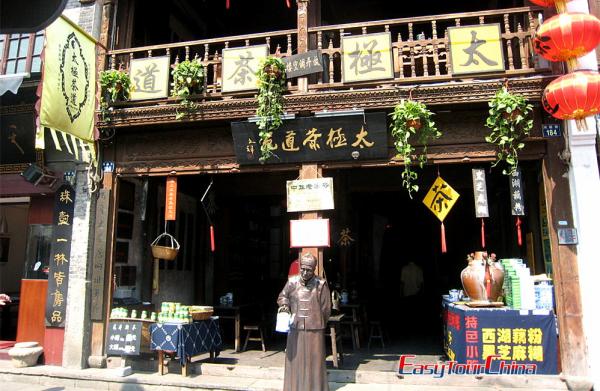 Qinghefang Ancient Street is a prosperous business area in Hangzhou. Many famous century-old shops are located in this ancient street, including Wang Xing Ji Fan Store, Zhang Xiao Quan Scissors, Wanlong Ham Stack, Hu Qing Yu Hall, Bao He Hall, Zhuang Yuan House, Wang Run Xing, Yi Yuan Jin Dian, Jing Yang Guan, Sheep Soup Restaurant, etc. Wang Xing Ji Fan Store is a traditional fan-making handicraft store that mainly produces black paper fans, sandalwood fan, fragrant wood fans, white paper fans, silk fans and dancing fans. Zhang Xiao Quan Scissors was established in 1633 by Zhang Xiaoquan. It gains a good reputation throughout China because of the outstanding quality. Hu Qing Yu Hall is traditional Chinese pharmaceutical factory rivaled only by Tong Ren Tang in Beijing. The two were regarded as the most famous pharmacy in south and north of China.
The Qinghefang Ancient Street now exudes an atmosphere of its past and is boastful of its street-culture, entertainment, commerce and the tours that are the attention of its citizens and visitors home and abroad. During the certain period or according to season, the hilarious gatherings and the folk festivals are held at Qinghefang History Street. The shops of Qinghefang Ancient Street are mainly oriented for tourists, and they sell curios, paintings, souvenirs, crafts products, and works of art. There are also restaurants where you can try the cuisine of Hangzhou and Zhejiang Province.
More Attractions in Hangzhou
Recommended China Tours Including Qinghefang Ancient Street Hangzhou