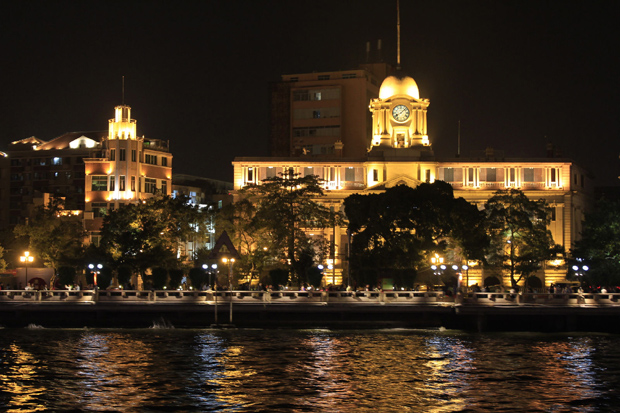 With night breeze gently caressing your face, appreciating the magnificent blend of old and new architecture covered in colorful city lights passing by, nothing is more romantic than take an evening cruise on Pearl River, especially for lovers. Pearl River, or less commonly, the Canton River, is the third longest river (measuring 2,129 meters in length) and second largest by volume (after the Yangtze). The Guangzhou section of the river is where Guangzhou's most stunning and historic scenic spots are located, clustering along the river. It is for this reason that river cruise on Pearl River is popular among both tourists and locals as the perfect way to take within the ideal of Guangzhou.
The beautiful night scenery of Pearl River can be compared with that of Hong Kong's Victoria Park. A two hour evening cruise on Pearl River starts at White Goose Pool and ends on the historical Guangzhou Bridge to the east or the White Crane Cave to the south. The highlight of a Guangzhou Pearl River Cruise is undoubtedly the White Goose Pool, which seems among the eight foremost attractions within the city.
Standing on the banks of the river are star-graded hotels and commercial buildings, White Swan Hotel, Hotel Landmark Canton, Nanfang Mansion, Aiqun Hotel, Guangzhou Hotel, Gitic Riverside Hotel, all like sky-scrappers. Activities offered by the cruises like tea ceremonies and Cantonese operas are also quite enjoyable. Moreover, you can appreciate the elegant night scenery while enjoy the delicious cuisines in a luxury cruise ship.
More Attractions in Guangzhou
Recommended China Tours Including Evening cruise on Pearl River Guangzhou