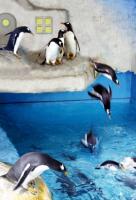 Occupying an area of 13,000 square meters with more than 200 kinds of fish and many other rare ocean creatures, Guangzhou Ocean World is the biggest inland ocean world worldwide. It was built in the Guangzhou Zoo as a hi-tech building integrating sightseeing, entertainment, scientific research and education. With a total investment of 50 million US dollars, the most advanced techniques and materials in 90s are adopted in exhibit material, seawater prefabrication, life-maintenance system and machinery equipment.
Guangzhou Ocean World is divided into different areas to exhibit different aspects of the underwater life, including some rare underwater species. At the entrance of the Ocean World is the Ocean Square, where you will get to know everything about the evolution of aquatic animals. Interestingly enough, these stories are told through sculptures. Getting out of this, you will enter the largest exhibit tank in China: Deep Ocean View Tank, which is 10 meters deep with the capacity to hold about 1100 cubic meters of water.
As a microcosm of the real marine world, Deep Ocean View Tank enables you to see different types of fish swimming through colorful coral reefs, including rock fishes like Longcu and rock fishes like tiger rock fish. Move on to the Freshwater World which consists of 4 exhibits of fish from high mountains waters to low land pools. Visitors can see scenes of sharks hunting, seals swimming, and southern China snowing, etc in specialized areas. Interactive projects are also offered here, such as feeding the ocean creatures, swimming in the pond with trained sharks and turtles. Wonderful performances are also highlights in Guangzhou Ocean World, including dolphins flying, sea lions catching lassoes and playing goal throwing, sharks hunting and mermaids dancing.
More Attractions in Guangzhou
Recommended China Tours Including Guangzhou Ocean World Guangzhou