Langde Miao Village is situated on the crystal Danjiang riverside and circled by green Leigong Mountain, 32km southeast of Kaili. It is one of the best places in Guizhou to experience the authentic ethnic Miao culture. The villagers in Langde are "Long Skirt Miao" as they wear long skirts (other Miao tribes identified by dress are Short Skirt Miao, Black Miao, Flowery Miao and Long Horned Miao).
Langde Miao Village is considered small with around 500 villagers in ten families. However, the unique welcoming ceremony, Miao-style residence Diaojiulou and featured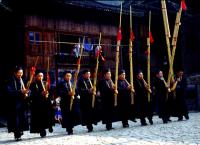 festivals will enrich your trip. On arriving at the entrance of the Langde Miao Village, tourists will be welcomed by the twelve courses of "block-the-way" rice wine ended up
with firecrackers and sweet Miao folk songs. It is the most ceremonious etiquette in Miao villages to welcome their honored guests. The typical Miao-style residence Diaojiulou is made up of wood and high above ground with several wood pillars as support.
It is usually two to four stories with provisions in the upper layer, people live in the middle while fowls sheltered below. Among all the festivals of Miao minority, Lusheng Festival, Sisters' Festival and Dragon Boat Festival are the most well-known. Ladies young and old put on their traditional skirts and headwear with silver ornaments twinkling lightly, dance on the grounds while the men play Lushengs (a kind of ancient reed-type wind instrument prevailing in Miaos' area) as well as a traditional drum.
More Attractions in Kaili
Recommended China Tours Including Langde Miao Village Kaili