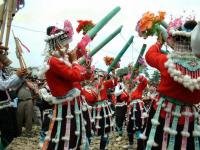 Kaili is the capital of Miao and Dong Autonomous Prefecture in southeast of Guizhou province and about 190 kilometers from Guiyang. It is also one of the very few cities in China where Miaos constitute a large percentage of population. Through 50-year development Kaili is turned into a new-born city covering 88 square kilometers from a small town of only 0.3 square kilometers before. By the end of 2004, the city population has reached 450,450 with 344,440 of minority people.
Kaili is the gateway to the minority areas of southeast Guizhou and also is regarded as home to hundred festivals activities due to colorful folk culture and many folk holidays here, such as, Miao nian, Papo, Chixin, etc. Tourists from home and abroad can enjoy different folk customs here.
Diversified cultures honor the southeast of Guizhou province one of 18 minority culture protection regions. Ancient history, special historical sites and places of interest make it a popular destination of tourism. There are numerous ancient towns and splendid cultural relics here. The southeast of Guizhou province is also characterized by the famed mountains, which are famous for grandness, danger, ruggedness and beauty. Rivers here are incised after long-term corrosion and shape lots of deep gorges.