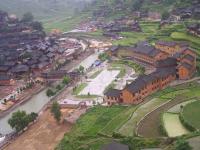 Kaili is a "City of Festival", and minority celebrations are lively events and often include singing, dancing, horse racing and buffalo fighting. There are some tips for your travel plan to Kaili.
Best Time to Kaili
The best time to visit Kali is from March to May, or from September to November. Of course, you can also plan your itinerary catering for local festivals:
1. Miao New Year is celebrated on the first four days of the 10th lunar month;
2. Lusheng Festival, held in either spring or autumn, depending on the village;
3. Sharing the Sister's Meal Festival (equivalent to Valentine's Day in the West), from the 15th day to the 17th day of the third lunar month;
4. Dragon Boat Festival: 24th day - 27th day of the fifth lunar month;
Body Health & Safety
1. If you visit Kaili in the monthes of May, June, July, August, and September, take a raincoat or umbrella with you, for it is in the rainy reason.
2. In winter, it can be quite cold, so travelers are advised to take good warm clothing, including a hat and gloves.
3. Take a pair of good walking shoes. Tours to Kaili and nearby villages can involve plenty of walking, usually on uneven surfaces, as well as steps.
Other Travel Tips
1. Kaili is a nice base for visiting Miao & Dong minority villages. Please do as the Roman's do and respect their traditions and customs of the locals.
2. If you have meals at local people's home, they will invite you have wine fervently, please refuse them at the very beginning if you can not drink.
3. Please get the permission of the locals if you want to take photos with them in Basha.
4. Special local products and souvenirs, like Tainyin green tea, fine rice wine, lusheng, Miao embroidery and brocade, are famous among visitors.