Located at 292 Changjiang Road, in the Xuanwu District of Nanjing, Presidential Palace of Nanjing used to be the Office of the President of the Republic of China before the republic relocated to Taiwan in 1949. It has been 600 years since the Marquis of Guide's Palace and the King of Han's Palace were constructed in the early Ming Dynasty.
In the Ming Dynasty, this site was the location of two successive ducal palaces. In the Qing Dynasty, this site became the Office of the Viceroy of Liangjiang, the chief government official in charge of what is today Jiangsu, Anhui, and Jiangxi. In1911, Sun Yat-sen was sworn in at the Presidential Palace as the provisional President of the Republic of China. In the late 1980s it was transformed into a museum detailing China modern history. It is now one of the few places in mainland China where the Flag of the Republic of China is publicly displayed.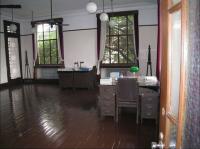 Besides typical Chinese palatial style architecture, there are also some sections with the design of the style of Chinese garden in the Presidential Palace of Nanjing. On the other hand, western style architecture as well as the building style during the period before liberation of China can be found as well. Through the gate of the Palace, there is a long corridor, along which are hall, foreign guest's reception room, lobby of president and some offices. At the end of the Palace is Zichao Building, which got the name by another name of Hushen, the chairman of National Government at that time. Apart from the various office buildings, Xi garden is also attractive where exists a pool shaped like a vase, called Taiping Lake. On the east and the north of lake are respectively Wangfei Building and Xijia Building. Wangfei Building was built in Kangxi period, Qing Dynasty. It got the name by the legend that the birds rested here after a long flying, then forget to depart because of the beautiful view.
More Attractions in Nanjing
Recommended China Tours Including Presidential Palace of Nanjing Nanjing