Enclosed by the buildings of the Leal Senado, the General Post Office, and St. Dominic's Church, Largo de Senada is a paved area in the centre of Macau. Having been the urban center for Macau for centuries, Largo de Senada is still the centre of attraction for throngs of tourists and visitors to Macau today.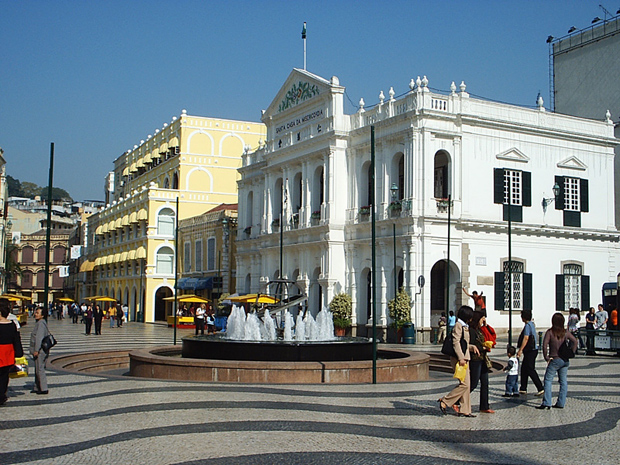 Covering an area of 3,700 square meters, Largo de Senada is one of the four largest squares in Macau. The square is paved in the traditional Portuguese pavement. During the era of Portuguese control this is where the Macau authorities used to review the troops on their inaugurations. In the early 1990s, the authority hired some Portuguese experts to pave the square with a wave-patterned mosaic of colored stones. From then on this area has become a popular place for cultural activities in Macau.
The buildings around the Largo de Senada have a long history and have many western features. The main road of Macau's historic centre, Avenida de Almeida Ribeiro passes through the square. A number of heritage buildings surround the square including the Post Office, the Holy House of Mercy and St Dominic's Church. In the middle of the square near Avenida de Almeida Ribeiro is a fountain. Across the street is Leal Senado, the former senate building for the colony of Macau.
In addition to be a heritage square, Largo do Senado is a shopping centers with many Chinese and Western restaurants around. Fashion clothes, famous snacks and the scenic environment make it a famous attraction in Macau. Boa Mesa, a small café, serves excellent Portuguese fare in a nice and homey environment. Platao, another great restaurant on this tiny street, has a lovely outdoor courtyard where you can dine "alfresco" or enjoy a sundowner. On special days, such as the Chinese Spring Festival and Christmas, firework displays, lion and dragon dances are usually held in Largo de Senada.
More Attractions in Macau
Recommended China Tours Including Largo de Senada(Senate Square) Macau