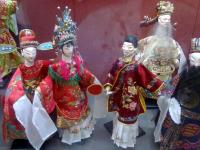 Suzhou is not only famous for its elegant classical gardens and traditional culture but also famous for its gorgeous operas. Suzhou is considered to be the cradle of Kunqu Opera, which is supposed to be the ancestor of all the operas prevailing around the country, such as Beijing opera. Those who want to learn about operas in Suzhou can not miss Suzhou Opera Museum.
Located in Zhangjia Lane in Suzhou City, the museum is a provincial heritage conservation unit of art and history. The construction started in 1982 and completed in 1986. Suzhou Opera Museum consists of buildings well preserved from the Ming and Qing Dynasties with elegant carvings. The main building is a classical stage with the arched roof and caisson ceiling so designed that a very good sound effect is produced. Its perfectly-thought-out design makes it the most delicate of Suzhou's surviving stages. In addition, the museum has four showrooms respectively for Kun Opera, Pingtan (a local folk art of storytelling), Suzhou opera and classical instruments. Visitors will be surely impressed by the unique local art and great achievements made by groups of middle-aged and young artists since liberation and their successful performances in and out of the country.
The museum houses a collection of over 10,000 exhibits which showcase the development of Kunqu Opera and Pingtan Song, including several block-printed editions of the Kunqu opera left from the Ming Dynasty, the original rubbings of the local opera scripts, the rare handwritten copies of the Kunqu opera, the Suqu opera and Pingtan left from the Qing Dynasty, the original handwritings and things left behind by the well-known deceased singers, etc.
More Attractions in Suzhou
Recommended China Tours Including Suzhou Opera Museum Suzhou