Jiaohe Ancient Town is an island-shaped plateau situated at Yar Town, 13 km west of Turpan City. It looks just like a small island in the middle of the Jiaohe River. The whole area of Jiaohe Ancient Town is 1650 meter long from the south to the north and the widest distance is about 300 meters from east to west. Judging from the constructive structure, Jiaohe Ancient Town is the largest, oldest and well preserved earth-structured city in the world. The old town has a long history of 2000-2300 years.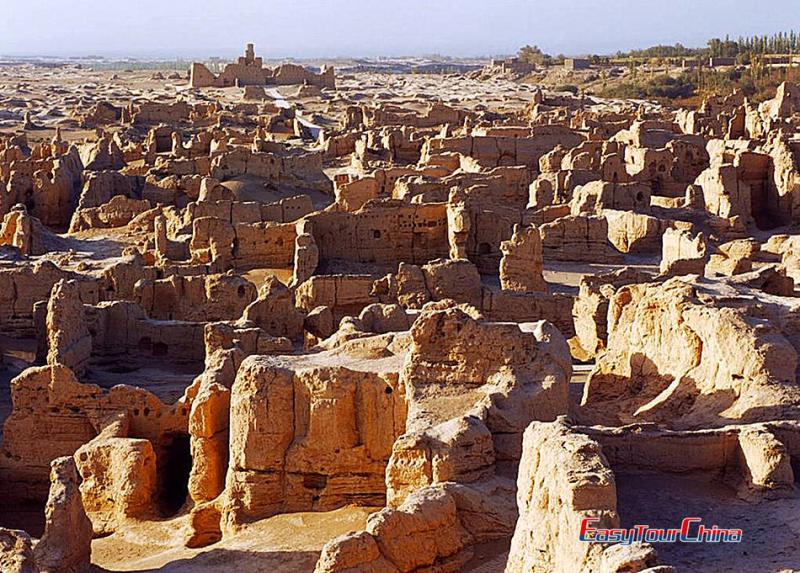 This City used to be the capital of "Anterior State of Cheshi", one of the 36 kingdoms in the West Region in the Western Han Dynasty. It functions as the political, economic, military and cultural center of the kingdom. Jiaohe Ancient Town was an important site along the Silk Road trade route leading west, and was adjacent to the Korla and Karasahr kingdoms to the west. From 450 AD until 640 AD, the government of the Tang Dynasty established Jiaohe County here that was under the jurisdiction of West Prefecture of the Tang Dynasty. From 640 AD until 658 AD it became the seat of the "Anxi Frontier Command", the highest military and administrative organ established by the Tang Dynasty in the West Region. Since the beginning of the 9th century Jiaohe County had become Jiaohe prefecture of the Uyghur Khaganate, until the kingdom was conquered by the Kyrgyz soon after in the year 840.
Jiaohe was finally abandoned after its destruction during an invasion by the Mongols led by Genghis Khan in the 13th century. All the surface constructions in the ancient town have been destroyed nowadays only some remains of frescos survived inside. In recent years, an underground Buddhist Temple, a burying yard for nobles of Cheshi Kingdom, together with some earthen peals, ashes of Buddhists, and many other valuable relics has been unearthed.
More Attractions in Turpan
Recommended China Tours Including Jiaohe Ancient Town Turpan