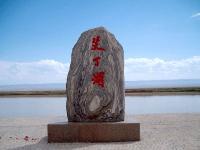 Located in the Turpan Depression, 50 kilometers from Turpan City in the south, Ayding Lake is a dry lake which used to be a scenic spot with a salt lake. At an altitude of 155 meters below sea level, it is the fourth lowest land point on Earth (after the shores of the Dead Sea, the Sea of Galilee and Lake Assal). Now the lake is used now as a setting for extreme sports or hikes.
Ayding Lake means Moonlight Lake in Uighur language; however, the enchanting scenery of the moon reflected in the water in the early days has disappeared. The lake came into being owing to the mountain building movement of the Himalayas and was formed about 249 million years ago and used to be an inland sea with an area of about 50 thousand square kilometers. But tragedy came when people started diverting the water. karezes were built to irrigate their fields. Then in this century, the people drilled modern wells and diverted water using surface canals and pipes, which eventually leading to the dry up of Ayding Lake.
Nowadays the lake is covered with silver white salt crystals, which shines sparkling like the moonlight on a clear cold night in the sunshine. What left is the uniquely developed salt carapace on the surface of the earth, the extremely desolate lake scenery and the mirage occurring now and then.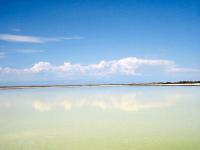 Among the four extremes:the hottest, the driest, the sweetest and the lowest, Ayding Lake has become a spot for extreme sports and tests of endurance. In July 2011, a new unofficial China-wide high temperature record was set near Ayding Lake, with a temperature of 50.2°C. The 2008 Taklamakan Rally went through the spot with both cars and motorcycles took part in it. It was part of an extreme ultra-marathon route in 2010.
More Attractions in Turpan
Recommended China Tours Including Ayding Lake Turpan