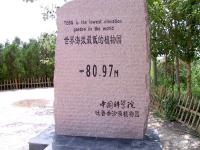 10 km southeast from the center of Turpan, Turpan Desert Botanical Garden is situated on the ventral portion of Turpan Basin. Established in 1976, it is the largest botanical garden in China, with altitude of -95 ~-76 meters below sea level. 80% of the desert plants of China are collected here, 43 of which are rare or endangered species. The garden was entitled with "national educational base" in 1999, "3A scenery spot" in 2006 and "national wild germplasm conservation base" in 2008. It has been a national popular education base and an ideal place for scientific research on eremophyte plants.
The climate of Turpan Desert Botanical Garden belongs to continental arid desert climate of warm temperate zone while its landform is the improved shifting-sand land in hinterland of Turpan Basin which is the second lowest ground in the world and has been known as the "Wind Pool" and "Flamming Land". The area is in gale for one to two months each year, with wind levels often exceeding 8 points on the 12 point scale (according to the Beaufort Wind Scale), dramatic temperature fluctuations (from highs of 48 C (118 F) to lows of -28 C (82 F)), and in summer, the surface of the sand reaches temperatures of up to 80 C (176 F).
As one of the 12 botanical gardens directly under the lead of Chinese Academy of Social Sciences, the garden was established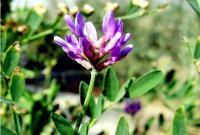 to import, domesticate, and expand sand-fixation plants, so as to show the characteristics of desert flora. Turpan Desert Botanical Garden boasts for more than 600 species of eremophytes and 10 special gardens, including Eremophytes systematic garden, Tamarisk collection garden, Calligonum collection garden, Ethnic medicinal herbs garden, Arid rare and endangered plants ex-situ protection districts, Grape germplasm collection, Desert fruit tree and ornamental plant collection, desert ornamental plants garden, halophytes garden and Junggar desert landscape exhibition area.
More Attractions in Turpan
Recommended China Tours Including Turpan Desert Botanical Garden Turpan