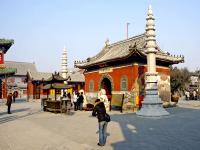 Situated on the northeast side of Tianwei Road Hebei District, Dabei Buddhist Monastery is one of the largest and well preserved temples in Tianjin. The well-preserved Monastery was built in 1658 during the Qing Dynasty and underwent significant renovations later on. Various Buddhist artifacts from various time periods collected here make the monastery an interesting sight to explore the Buddhism history and culture. The name Dabei comes from the Dabei Arya Avalokiteshvara.
Dabei Buddhist Monastery was once famous for holding a skull of relic of Xuanzang in ancient times, however, the relic was offered to India in 1956 allegedly from the Dalai Lama. Now the relic is kept in the Patna museum. From then on, Great Compassion monastery takes place of Xuanzang Master and become the worship place of the Buddhist.
Dabei Buddhist Monastery consists of two sections - old monastery and new monastery. The old monastery in the west yard refers to three great halls which was start off within the beginning of Qing Dynasty, and was renovated within the eighth ruling year of Kangxi Emperor in Qing Dynasty. The new monastery in the east yard lies the Daxiong Palace and inside it resides a statue
of Sakyamuni that weighs 6 tons and stands at a height of 7 feet. On the lotus base of this statue 9,999 Buddha statues are intricately carved.
The Dabei Monastery is also famous for the exquisite vegetarian meals it is the only one provides vegetarian food in Tianjin. Longevity Perch present basket, soybean vegetarian, muti-vitamins-calcium noodles, deepfreeze eight precious vegetarian steamed-buns and vegetarian dumplings are famous vegetarian dishes offered here.
More Attractions in Tianjin
Recommended China Tours Including Dabei Monastery Tianjin