Visit Yunnan in Winter - How to Plan Yunnan Winter Tours
Yunnan Travel Guide Visit Yunnan in Winter - How to Plan Yunnan Winter Tours
For those planning China winter tours, Yunnan is one of the most popular winter holiday destinations in China given a winning combination of mystic minority tribal culture, UNESCO-protected ancient towns of Middle Age, diverse gastronomic delights, and the amazingly beautiful wilderness that never dims even in a cold temperature. Visit Yunnan in winter, you need to research first the weather, where to go, what to eat, and how many days needed. Hence we come up with the tips on how to plan Yunnan winter tours, as well as the Yunnan winter itinerary.
Why Visit Yunnan in Winter
Yunnan is a top pick for a winter getaway in China, mainly for four reasons.
1. Mild Weather
Yunnan winter months are from December to February, generally keeping a temperate climate. Yunnan temperature in winter is between 12ºC - 18ºC (average), yet the the weather is varied across the province (thus a varied landscape) and the temperature can differ dramatically between day and night. So bring layers.
Visit Yunnan in winter, you can expect mostly sunny days, making it a the perfect time to be close to nature for walking and hiking.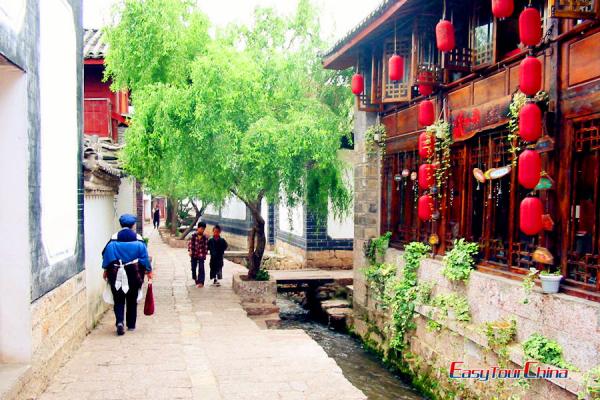 2. Fewer Tourists and Lower Cost
While Yunnan can be packed with tourist crowds during the peak season, it is quite a haven of peace and tranquility in winter. The beautiful old towns of Lijiang and Dali are back to normal life, so that you can enjoy the brisk strolls all around. Besides, given less tourists, you can save budget on the accommodation, yet expect even more excellent tour guides.
3. Diverse Landscapes
Yunnan's terrain is high in the northwest and low in the southeast, and the altitude difference is extremely wide. In the east (Kunming, Zhaotong, Wenshan, and Qujing), on the eastern and central Yunnan plateau, the terrain is undulated in wavelets, with an average elevation of about 2000 meters. It is characterized by low hills and round hills with gentle undulation, and various types of karst terrain. In the west (Dali) is the longitudinal valley region of Hengduan Mountains, alternating with high mountains and deep valleys. The relative height difference is large and the terrain is steep. The altitude in the southwest (Pu'er) is generally 1500-2200 meters, but reaching below 500 meters on the border (Xishuangbanna), forming the main tropical and subtropical areas of Yunnan, and in the northwest (Lijiang, Shangri-La) the altitude is generally 3000-4000 meters.
Thus, visit Yunnan in winter, you can enjoy the diverse nature from karst peaks, wetlands, valleys, grassland to snow mountains and glaciers.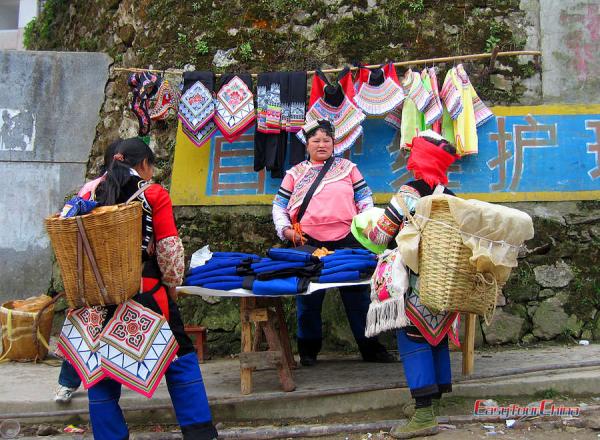 4. Happy Festival Mood
The ethnic minority kingdom, Yunnan features a range of festivals throughout the year. Visit Yunnan in winter, enjoy yourself a special Christmas + New Year holiday out of the noisy cities, the Chinese Lunar New Year usually falling on late January to early February, with a series of celebrations and activities like hot spring bath, folk song competition among Lisu people, Naxi's Worshiping Dragon Festival, Lisu's Sword Pole Festival, to understand the many traditions and cultural heritage of Yunnan's minority groups.
Visit Yunnan in Winter - Where to Go
Kunming, Jianshui, Yuanyang, Dali, Lijiang, Shangri-La, and Xihuangbanna are the best places to visit Yunnan in winter.
Kunming is usually the gateway city for a Yunnan trip, and features the Stone Forest, the geopark is a must-visit sight in Yunnan with a intensive concentration of Karst formations. Travel from Kunming to Jianshui and further Yuanyang, picture this -- the over 1200-year old Jianshui Old Town, the ancient 17-arch Double Dragon Bridge, and the Yuanyang UNESCO-listed Cultural Landscape of Honghe Hani Rice Terraces at its mot beautiful season -- you'll get a perfect photo opportunity.
Travel afield to the west and northwest of Yunnan in winter, you discover different nature and culture. One of our favorite pastimes is enjoying a drink in the old town of Dali and riding a bike to the nearby additional wet market and fishing village. Leave Dali to Lijiang, and visit Shaxi Old Town en route, where you can seek traces of the caravan that used to travel on the old Tea-horse Road. Lijiang is a perfect destination for couple or family on the hunt for a luxury winter adventure or a relaxing winter vacation, where there are luxury hotels overlooking Jade Dragon Snow Mountain. The mystic Shangri-La can be cold in winter, with temperature around -8~8℃, but the scenery is sheer awesome.
For those looking for a warm winter holiday, escape to Xishuangbanna, temperature 13℃ ~ 24℃, the tropic forest, warm people, the Dail lovely food are awaiting you this winter.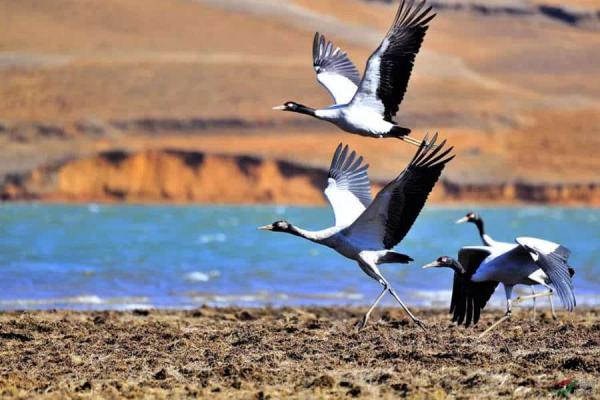 Suggested Yunnan Winter Itinerary
Based on your time and interest, you can plan a 6 to 12 days Yunnan tour. Here are we recommend 2 Yunnan winter itineraries for your consideration.
Destinations: Kunming, Dali, Lijiang, Shangri-La
Best for: culture, nature, first-timers, family, couple
Highlights: Kunming Stone Forest, Xizhou Old Town, Dali Ancient Town, Erhai Lake cruise, Three Pagodas of Chongsheng Temple, Jade Dragon Snow Mountain, Lijiang Old Town, Tiger Leaping Gorge, Ganden Sumtseling Monastery, Napahai Nature Reserve
Destinations: Kunming, Jianshu, Yuanyang, Kunming
Best for: photography, walking
Highlights: Kunming Stone Forest, Jianshui Old Town, Zhu Courtyard House, Double Dragon Bridge, Yuanyang Rice Terraces, Shengcun Village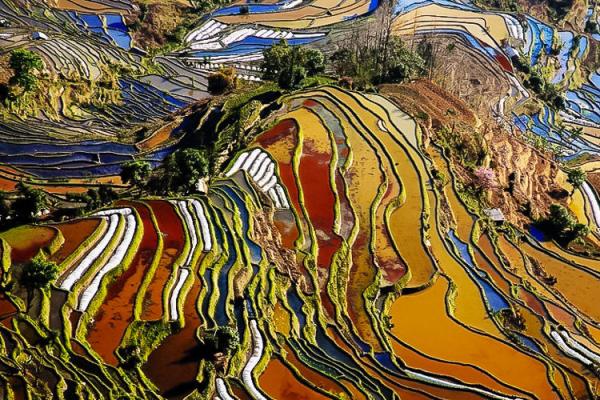 Plan a trip to Yunnan in Winter - How to Get there
Most people take Kunming as the first stop for Yunnan winter tours, but you can also fly to Lijiang, Shangri-La or Xishuangbanna directly.
By Air
Kunming Changshui International Airport (KMG) has flights from 173 cities and areas including 122 national cities and 47 international cities, including Hong Kong, Seoul, Osaka, Singapore, Bangkok, Chiang Mai, Ho Chi Minh City, Vientiane, Phnom Penh, Siem Reap, Kolkata, Dubai, Paris, Vancouver, Sydney, San Francisco, etc.
Lijiang Sanyi International Airport (LJG) has flights from international cities like Hong Kong, Bangkok and Singapore, and national cities like Beijing, Shanghai, Chengdu, Xian, Shenzhen, Guangzhou, Guilin, etc.
Xishuangbanna Gasa International Airport (JHG) has flights from international cities like Luang Prabang, Chiang Mai, Chiang Rai, and national cities like Kunming, Beijing, Shanghai, Chengdu, Changsha, Guangzhou, Guilin, Guiyuang, etc.
By Rail
There are high speed trains to Kunming from Nanning, Guilin, Chengdu, Guiyang, Shanghai, Guangzhou, and slow trains from most Chinese cities.
In Yunnan, high speed trains has collected Kunming, Dall, Lijiang, Jianshui, Chuxiong and will reach more places in the province. gastronomic delights
Further reading: