Nestled deep in the Himalayan foothills of southwest China's Yunnan Province, Shaxi is a culturally diverse town to the Bai and Yi minority peoples. Shaxi was once an important branch of the Silk Road and a main trade station on the Tea and Horse Caravan Road. Shaxi Town was selected as one of the world's 100 most endangered sites listed by the World Monuments Fund.
Since the successful biding of the endangered sites by WMF, Shaxi Town has undergone massive efforts to preserve ancient architecture and culture. Through the trade by Horse Caravan Road stopped, the border-town flavor of Shaxi can still be sensed, not only from the old cobble-stoned alleyways which still look like they did a thousand years ago, but more from the Sideng Friday Market.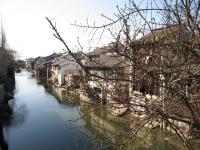 If you have never seen what an ancient Chinese market looks like, your will surely feel excited in joining the Sideng Friday Market. Different minorities gather every Friday on main road in Sideng when mountain villagers come down from the hills to trade their goods.
Another attraction of Shaxi Town is the Stone Treasure Mountain with numerous temples and grottoes on it. It was designated as one of the first officially protected sites by China in 1982 as a fantastic nature reserve and religious site. The fresh mountainous landscape and pleasant weather, combined with Shaxi's unique history and culture, make for a completely enjoyable experience. To get to Shaxi Town, you can take public bus from Dali or Lijiang to Jianchuan first, and then transfer to minibus (8RMB per person) which goes there all the time.
More Attractions in Dali
Recommended China Tours Including Shaxi Town Dali